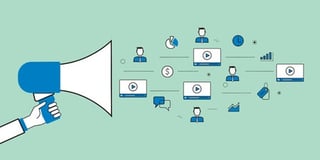 Advertising has been around for a long time. In fact, the first paid advertisement was a Coca-Cola ad in a French newspaper in 1836.
Today, there are boundless advertising strategies that credit unions and banks can learn from and leverage.
But, what makes a truly effective advertising strategy?
Subscribe to Credit Union Webinar updates
To create an effective digital advertising strategy, for any business, first, define your specific goals.
For some businesses, there will be one single objective (usually to generate sales) and for others, there will be several goals, from generating sales to establishing brand recognition.
When it comes to bank and credit union advertising, there are typically two main objectives:
Introduce and sell products to potential (new) customers
Present and sell additional products to existing customers
Of course, these won't be the focus for all credit unions or community banks, but these are the two main objectives that I see most often.
With that in mind, this article is broken down into two sections – one for each of those objectives.
Credit Union Advertising For Prospective Customers
The main thing to keep in mind when advertising to new customers is that people will usually fall into one of two buckets:
They're familiar with your brand (they drive by your branch every day, their sister banks with you, etc.)
They know nothing about you
When targeting people familiar with you, there's an advantage.
Brand recognition is incredibly valuable, which is why businesses pay for branding, so having established familiarity will bring you closer to a relationship with those potential members. If a potential member knows someone who banks with you, that's even better – it's like having a free testimonial.
The rest of your potential members know nothing about you. Think about it: There are a million other financial institutions out there and most look pretty similar at a glance. That statement tends to be even more true for credit unions, especially when terms like "financial credit union" or "federal credit union" account for half of the name.
So, while you know that your credit union is special, potential customers have no idea. Reaching your objectives with them typically takes a little more effort and the sales cycle is longer.
Remember that they are not familiar with your credit union, so it's important to clearly communicate the advantages of banking with you. Unfortunately, there's no easy, consistent way to segment these two groups of people, so you'll have to settle with just knowing that this is your audience.
But knowing who you're talking to is half the battle and that puts you ahead of many of your competitors. Keep that in mind as we walk through the following digital advertising strategies for new credit union members.
Social Media Advertising
The 2022 CMO Survey by Gartner shows that financial institutions expect to spend 28.7% of digital budgets on social, search, and display advertising. When you advertise with social media, you get exposure at a time when people tend to be more open to new things.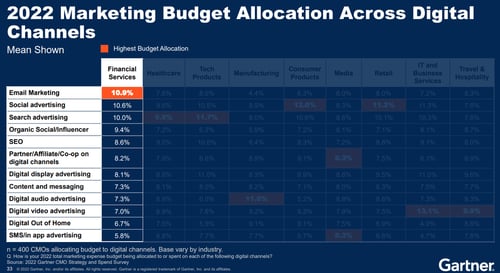 In addition to the audience's heightened receptiveness, the tools for audience targeting are becoming incredibly robust, making it easier to focus on people who may be interested in your products and easier to filter out those who you know won't be a good fit.
(Google) Search & Display Advertising
Leveraging search and display advertising tools – like Google Adwords – is not a new strategy as part of a credit union marketing plan, but it's still an effective one.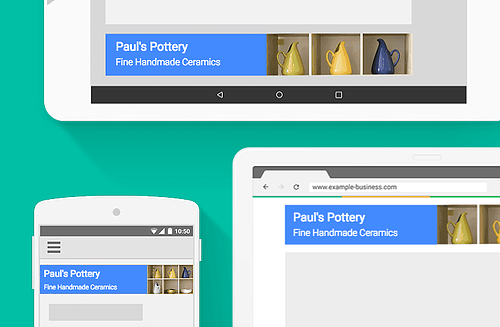 That's because running ads in the search engines results pages (SERPs) and on targeted websites is a great way to get returns on your advertising dollars.
Here are a few reasons why:
Targeting: Google is known for its targeting capabilities. With these ad campaigns, you can target specific keywords, locations, times and so on. These capabilities are far more advanced than those of traditional media.
Traffic: It's easy to predict and monitor the exposure of your advertising. Google provides estimated traffic volumes to help you establish the best degree of targeting before you run your ads.
Budgeting: Google also makes it easy to adjust budgeting for your ads. Whether you're having success and want to increase your spend or you want Google to manage the spending for you, there are plenty of settings to help you configure your ad budget accordingly.
Testing: One of the best ways to get the most from your search and display ads is to test multiple versions of every ad you run. Constantly testing multiple versions of your ads will allow you to slowly improve your conversion rates over time, leading to optimal ROI for your ads. Google makes this easy.
Credit Union Advertising For Existing Customers
The other common objective for credit unions is promoting additional products to existing members.
For the sake of brevity, I'll start by saying that you can leverage social media and search & display advertising for existing customers just like you can for potential customers.
However, the advertising I want to highlight here takes place on different real estate – your own real estate, in fact...
What I'm referring to is your website.
If you're like most financial institutions, you get a lot of traffic to your site every day, mostly from customers logging in to their accounts. While you want to ensure that you're providing a great experience for your customers, you can also take this opportunity to introduce other products that they don't know about.
Here are a few of the best ways to implement website advertisements for existing customers:
Banner Image Ads
Since most of the visitors to your site are there to accomplish a specific task (typically to log in to their account), you'll only have a few seconds to get their attention with ads for other products.
That's what makes banner image ads so powerful. You know the saying, "a picture is worth a thousand words" – well, it's true that you can communicate much more quickly with visual stimuli to help build your brand.
Since most credit union's homepages are built with a space for a banner image, it's easy to implement these large, hard-to-miss advertisements.
But adding a banner image to your site is not the advice I'm giving here because most are already doing it.
My advice is to put even more emphasis on these ads.
Most credit unions will put their most recent promotion there, or maybe include a few different promotions in a rotating banner image, and leave it.
But there should be more attention given to the performance of these advertisements. Here are a few ways to get more from your banner image ads:
Test images. You should always be testing different image variations. Try the same image but with two different background colors or the same promotion but one with a person in the image and another with a family. There are an endless number of variations you can test over time to identify what works best.
Test calls-to-action, buttons and other element locations. Just like you should test the images you use, you should also test the different elements that make up the complete image ad, like your CTAs and buttons.
Keep your image ads fresh. While you want your website to feel familiar and comfortable for users to navigate, you don't want your image ads to be too familiar. The more people see the same image ads, the easier it will be to ignore them. So keep your site updated with current promotions and new ads.
Advertising Through Online Resources
This may not sound like an "advertisement" and maybe it isn't an ad, per se, but providing resources for existing customers on your website is a great way to promote additional products organically.
Here's an example: Your customer has just checked their account and logged out. On the following page, you provide a few resources that are tailored for that specific user. In this case, the user is 21 years old and has a checking account that his parents created for him a few years back.
The resources you offer him might look something like this:
"How to get started using credit cards without accruing massive debt"
"How to save money after college"
"A millennial's guide to money management"
Notice that these resources aren't overly promotional. Instead, they focus more on providing valuable information for your customers.
Inside the resources, you can include specific products as examples – like a checking account that earns interest – to supplement the value being provided.
How Much Should You Spend on Advertising?
We've developed a budget calculator specifically for credit unions, offering guidelines for ad spend as well as for other segments of your marketing budget. Download your copy to calculate your budget in seconds.
Our article, How Much Should Credit Unions Budget for Marketing? also offers guidance on how to allocate your credit union's marketing budget.
Achieving Results With Your Digital Advertising
Whether you're looking to improve your current digital advertising or you want to add more strategies to your existing approach, try starting with some of the tips in this article.
In many of these cases, you can leverage your existing resources to keep spending to a minimum. In other cases, you'll find that spending a little more can go a long way.
Whichever route you decide on, remember to keep your campaigns fresh and continuously test your ads.
You may also be interested in:
Credit Union Marketing Resources