Automated marketing is the gift that keeps on giving to credit unions.
Whether it is geared toward attracting new members, enrolling members in additional services, or simply educating them about how to improve their finances, credit union marketing automation can help you boost your visibility, sales, membership numbers, and more.
When you implement it into your marketing strategy, it's a win for you as the credit union, along with your members and potential members.
Keep reading to learn more about marketing automation and best practices for leveraging it within your credit union.
What is Marketing Automation?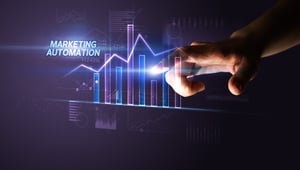 Marketing automation is simply when you use software to automate marketing activities, as well as some important sales activities when integrated with a CRM.
This is opposed to completing common repetitive marketing tasks manually, such as sending emails or posting on social media. When you automate these marketing tasks, you make better use of your time, and those who are targeted by these marketing efforts get a more timely response that feels personalized and relevant to them, based on their actions.
Here are some different types of credit union marketing automation you can leverage.
Email Marketing
Email marketing has major opportunities for automation. You can automate the emails that are sent to contacts within specific segments (e.g. new members, potential members, mortgage applicants, etc.) as well as after they take certain actions (e.g. applying for a credit card, attending a personal finance workshop, speaking with a representative about a service, etc.)
This offers a better member experience, increases loyalty, can aid in growing share of wallet, and increases conversion rates among prospective applicants.
Lead Scoring
Scoring your member prospects and leads for various services and products is a valuable way to determine which ones have a higher potential value to the credit union based on their actions. Those with a higher score have a better probability of converting, so you can focus more of your efforts on that population.
You can place those with a higher score and those within a lower score into different funnels to encourage a variety of actions depending on what you want them to do.
Social Media Marketing
Social media marketing can be very time consuming, but it doesn't have to be. You can take some of the pressure off of your social media efforts by using automation. Use marketing automation to track engagement, schedule posts at optimal times, and more.
Because credit unions tend to use organic (unpaid) social media extensively, but it is not rated highly in terms of being a successful channel for them, automating social media activities is key to achieving a positive return on investment.
Learn more about how you can leverage paid social media advertising to grow your credit union here:
Why Credit Union Marketing Automation Works
Some marketing tactics make their appearance in the industry and disappear just as fast as they came. Credit union marketing automation, on the other hand, has proven itself to be here for the long haul because of how effective it can be when implemented correctly.
Here are 3 ways it works for credit unions:
Attract New Members
Credit union marketing automation can attract new members by consistently putting you in front of your potential audience.
For example, a potential member might learn about what you have to offer via a social media post that was automatically scheduled during a time when most people are active. Since you're putting out consistent content and tracking engagement, you can see what content is connecting with your audience and continue to post similar content. More eyes and engagement often leads to more members
Increase Engagement
Using marketing automation can increase engagement amongst your members and potential members by exposing them to content that is specific to their wants and needs.
For example, when a member signs up for a webinar on improving your credit score then receives a series of emails about improving your credit score, he or she is more likely to engage with that content because it's relevant. Engagement is critical when connecting with members and potential members.
Promote Products
Credit union marketing automation helps you to promote your products similarly to how it helps you to boost engagement.
If you take the above example with the member who signs up for a webinar on improving credit, the automation can continue after she receives the emails about improving your credit score by then getting an offer for a secured credit card.
After she attends the webinar, reads several emails, and then receives the secured card offer, she has been educated and primed to take action. She is now more likely to sign up than if she were to randomly receive an invitation to apply for a secured credit card.
Credit Union Marketing Automation Best Practices
There are various ways you can implement marketing automation within your credit union's marketing strategy, depending on your audience and goals. Here are a few best practices to keep in mind as you consider this.
Send a triggered email series to welcome new members
When you enroll a new credit union member, you can send him a series of automated emails. Use those initial emails to educate him, promote products and services you offer, and share how you can best serve him. This email content can be used as an introduction to the credit union and a way to start building rapport and welcoming him into the community.
Segment your email list
Another best practice is to segment your email list. You don't want to send the same emails to everyone on your list. This leads to reduced engagement and email fatigue when your members continually receive content that they don't want and that doesn't apply to them.
Instead, you can segment your list based on their actions and send content that's specific to their wants and needs. The example above about the member attending a credit webinar is a prime example of segmenting. Based on her actions she received content about improving your credit and a secured credit card offer.
Another member who was recently approved for a car loan with a 750 credit score won't need an offer for a secured card. He should be under a different segment in your list and receive different content.
Build a lead scoring model
Lead scoring is another credit union marketing automation best practice. Keeping track of the actions your members take is valuable information that you can use to determine how you should segment her, when you should promote to her, when you need to nurture her more, etc.
It can help you to provide your members with what they need in less time because your system is determining their score instead of you having to review the information and personally make those decisions.
Get Started With Credit Union Marketing Automation
Credit union marketing automation is a valuable tool with endless possibilities. Whether you want to attract more members, nurture your current members, or promote specific products and services, you can use automation to help you do so more efficiently.
At WebStrategies, we specialize in marketing automation for credit unions to help you achieve your desired goals. Click the button below to read more about our approach to credit union marketing automation.