We regularly update this article with the latest information pertaining to Digital Marketing Budgets for Credit Unions.
Last update: September 2021
We've written extensively about online marketing budgets, but as we've worked with more and more credit unions, we've come to realize that many of the standard marketing budget calculations for traditional B2B and B2C companies do not apply.
Each year, credit union marketers are pressured to improve results and grow the books. At the same time, consumer behavior has changed, marketing spending was often reduced in 2020 due to the pandemic, and traditional channels are not performing the way they used to.
All this leaves marketers wondering, how much should be budgeted for marketing? And, which marketing channels are most appropriate for credit union marketing?
Use Historical Data As A Basis Of Budgeting
If you're in the position to build your marketing budget for 2022 and beyond, you'll probably start first by analyzing the previous year's budget and performance. Based on last year's performance, you try to assess what performed well, and cut the areas that may have under-performed.
2020 was a year of far-reaching changes in every industry due to the ongoing pandemic, and that upheaval has continued into 2021. From roller coaster trends in the auto and home loan categories to a significant shift in how consumers want to do their banking, it's not enough to base your budget on what you've done in the past.
How should your 2022 marketing budget compare to previous years?
Because of the volatility of the past two years, any comparisons should only be a portion of the considerations that go into your budget planning. 2020 brought a retraction of marketing spending, and 2021 showed recovery along with an acceleration of some of the trends that were already progressing, such as a shift towards digital marketing spending.
Financial services providers took a conservative approach to total marketing spending for 2021, reducing the percentage of revenue allocated to marketing from 10.7% in 2020 to 7.4% in 2021 according to Gartner's The State of Marketing Budgets 2021 report.
That overall marketing spend may level out as we put the most significant aspects of the pandemic behind us. However, within that marketing budget reduction is a significant shift in how the spending was allocated. While financial providers only increased marketing spending 5.5% from 2020 to 2021, they increased digital marketing spending by 11.82%.
We'll expand on the shift to digital marketing below.
Compare Your Budget Against What Other Credit Unions Are Spending
Evaluating what other credit unions are doing can be helpful, though there is considerable variance from one organization to another when considering the size, location, competition, charter and other factors.
In a Financial Brand study published in 2019, the average credit union marketing budget as a percentage of assets was 0.12%. In 2018, 67.9% of the sample group spent over 0.10% of assets on marketing, versus 53.3% in 2015.
As you might expect, a higher percentage of assets is generally spent by smaller credit unions. In 2018, credit unions with less than $500 million in assets allocated an average of 0.13% to marketing, while credit unions worth over $10 billion in assets spent 0.09% of that. Other factors come into play such as how competitive your local market is, how aggressive your growth strategy is, and how well known your brand has become.
When expressed as an amount spent per member, in 2018 the average marketing budgets ranged from $11.61 to as much as $20.19 per member. This amount can vary widely, with some outliers spending a whopping $203 per member to as little as $.05 per member, but somewhere in the average range is where most credit unions will want to aim for.
Of course, the amount spent per member is a much different figure than the amount invested per net NEW member. The average investment for that is much higher, at an average of $281.
When broken down further into advertising dollars, we've found that among our extensive group of credit union clients, the average advertising spend per member per year is $1.16, with the highest spend among our clients being $3.60 per member and the lowest being $0.21.
As advertising spend relates to asset size among our clients, we're seeing an average spend of $91.13 per million in assets per year, with a high of $319.15 per million and a low of $20.13 per million.
Not surprisingly, there is a strong correlation between the amount of marketing dollars invested per member, and membership growth.
Breaking down your marketing budget across channels
Diving into the February 2021 CMO Survey, marketers in the banking and financial services industries said they planned to spend in the next 12 months:
Social media- 9% of marketing budget

Customer experience initiatives- 18% of marketing budget (up from 14% a year prior)

Mobile activities- 18% of marketing budget
Of course, that's only a portion of the overall marketing budget. Other key marketing expenses not mentioned in that survey would include training and development, employees or outsourced marketing, advertising, SEO, technology, analytics and community events or sponsorships. Advertising spending tends to account for a significant portion of a marketing budget for credit unions. Financial services companies' digital ad spending actually accounted for 14.6% of all digital ad spending in the US in 2020 according to a report from eMarketer.
How much do credit unions spend per year on social media, content marketing, digital advertising and other channels? Download our digital marketing calculator for a recommended budget by channel.
The Gartner CMO Spend Survey breaks it down a different way, by channel category and by purpose. Note that these data points were not specific to the financial services industry, but were across several industries.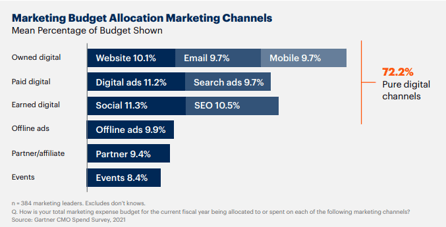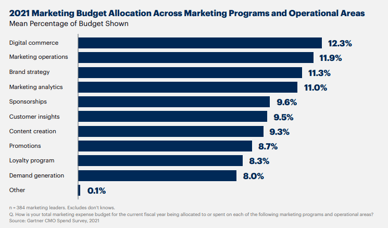 The Shift To Online Marketing
Like other industries, credit unions are steadily shifting dollars from traditional marketing channels to online channels.
It's no surprise that digital took on new levels of importance almost overnight during the COVID-19 crisis. According to a June 2020 CMO Survey special edition, financial institutions were pivoting to meet consumer needs, with 70% shifting resources to customer-facing digital platforms. Spending on social media and mobile marketing reached new highs as banks and credit unions strove to meet consumers where they were actively engaged and seeking information.
Financial services as a whole have a history of fairly aggressive spending on digital marketing. According to a Forrester report from 2019, the industry as a whole outspent every other industry for digital marketing. While credit unions haven't necessarily been at the forefront of that push towards digital, the pandemic accelerated the shift that had already started to pick up steam.
In August 2020, eMarketer reported that digital ad spending for the financial services industry would grow 9.7% to $19.62 billion in 2020. While 9.7% represents a large decrease in growth compared to 27.4% growth in 2019 and 29.4% growth in 2018, it is significant to note that digital ad spending still grew almost 10% during one of the worst periods of economic retraction in US history.
Traditional advertising fared much worse in 2020. While traditional media spending has been steadily declining for several years, it fell off a cliff in 2020.
eMarketer predicts that digital ad spending will recover some of the impressive growth gains in 2021, growing 20.1% to reach $23.56 billion.
Much of the digital growth in the financial services sector has focused on mobile. Mobile ad spending is predicted to grow 13% in 2020, accounting for 70.9% of all digital ad spending in financial services.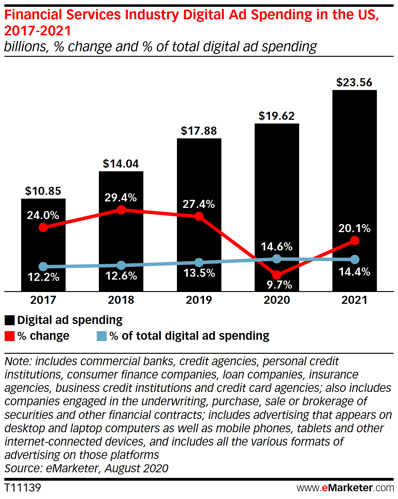 In a February 2019 survey by eMarketer, the average company planned to allocate 62.3% of its total media ad budget to digital in 2021, with that rate increasing to 66.8% by 2023. While credit unions are expected to fall short of that on average, we are seeing progressive credit unions with strong goals for growth spending closer to that amount.
It's important to note that those percentages relate specifically to ad spending, not marketing spending as a whole. However, we generally see a commensurate percentage allocated to online versus offline channels across the entire marketing budget.
In an example, a credit union with $300 million in assets could have an annual marketing budget of $330k-$450k with $198k-270k spent directly on online marketing in 2021.
Our 2021 survey of credit union marketers showed a similar focus on digital marketing. While only 26% of those surveyed planned to increase overall marketing spending in 2021 from 2020, 67% planned to increase digital marketing spending.
Attracting Younger Members
Many credit unions we speak to mention attracting younger members (aka, millennials) as a key objective. Don't overlook Generation X, who is currently considering their options for financing their children's college, and caring for their aging parents while trying to figure out how to save for retirement.
To connect with Gen X and the elusive millennials, being selective with the online channels is smart, but the marketing message needs to resonate as well.
If you want to attract both audiences, plan on investing more in creative development and more for campaign management targeting the audiences separately across more digital channels simultaneously.
Investing in Marketing Technology
According to a Forrester Research report from April 2018, US marketers planned to increase their investment in marketing technology by 27% over the next four years. Forrester projected that marketing technology will account for 30% of total marketing spending in 2018, and an August 2018 report by Gartner aligned with that, with marketing leaders reporting that they expected to spend 29% of their marketing budget on marketing technology in 2018, up from 22% in 2017.
Within marketing tech, the areas of highest investment growth, according to Forrester, are data, ad technology and marketing automation.
As noted above, investment digital technology was accelerated by the virtual nature of most interactions during the ongoing pandemic.
Which Marketing Channels Are Most Effective?
This is a question we get all the time, and as you might expect, the answer depends.
First, let's source some data provided by other marketers. When marketers were asked how they rate each of the channels in terms of return on investment, email, SEO, content marketing and paid search came out on top.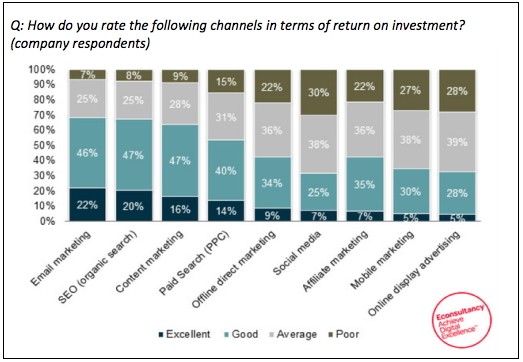 The survey data above was from 2014, but if this same survey was conducted today, the responses would likely be similar, however the categorization of digital marketing channels requires modification.
As content marketing and SEO have evolved greatly over the past 3-4 years, the lines between them have become even more gray. To many marketers, content marketing is SEO, and social media is content marketing.
Social media, while not rated well in the chart above, has evolved from a mediocre source of leads using organic posting, to one of the more successful channels for engaging new leads as well as existing members, using the precise targeting capabilities of paid social advertising. Visit our article to read more about how much credit unions should spend on social media marketing.
As online advertising platforms have become more sophisticated, and targeting has gotten better, categorizing all online advertising that is not paid search as online display is misleading.
In our experience, we've had great results with email marketing for cross-selling and retention. Paid search can be a very successful tool for account acquisition. And the various forms of online display can be powerful for branding, acquisition or cross-selling depending on the exact channel, campaign objectives and targeting.
SEO is no longer a tactic for consideration – It's required!
Make sure your website ranks well for obvious non-branded, local searches (like, Richmond, VA credit unions). If it doesn't, fix it. Make sure each of your branch locations shows up on local search results, including Google Maps, and that the listed information, like branch hours, is accurate.
Plan on investing about 3-5 hours per branch location to get the core local SEO items done right.
Business Objectives Should Be The Key Driver
The best approach to budgeting would be to first consider all of your business objectives, and to have the right system of measurement in place to accurately determine your acquisition costs.
For example, let's say your credit union has a goal to originate $4 million in new home loans this year. If you can confidently forecast that mortgage applications can be obtained at $200 each through paid marketing channels and your average mortgage is $200,000 and applications close into funded loans at a rate of 10% (then each funded loan actually costs you about $2000 each to acquire). It would take 20 loans of $200,000 to reach your $4 million goal. So you could expect marketing costs of $40,000 to achieve that objective (20 new loans at a cost of $2000 each).
These types of calculations require knowledge of and access to both internal data (like average loan size, and loan funding rates) as well as complete and accurate digital marketing data. If you don't know how to track digital marketing performance, you're at a heavy disadvantage when it comes time to develop budgets and secure C-suite and board approval.
Marketers have regularly expressed concern over their ability to measure return from online marketing channels. Credit unions are slowly getting better at measuring ROI though, and getting better at marketing effectively.
Because tracking has gotten more sophisticated, many credit unions are now able to much more accurately measure the results that matter, from lead source to funded loan amount. The LOS provider plays a large role in how extensively credit unions can track this data. We recently published an article expanding on those differences- The Best Loan Origination Software for Credit Unions | Tracking Marketing ROI.
Final Thoughts About Developing Credit Union Marketing Budgets For 2022
It will be essential in the year ahead to plan and execute your marketing spending very strategically—there is no room for wasteful spending when marketing budgets are still under so much scrutiny.
If you don't have a good handle on your website and online campaign tracking, commit to investing in setting up the proper systems of measurement and good quality dashboard reporting. Credit unions we talk to continue to rate results tracking as a top priority that has been difficult to solve.
Identify your target market and invest in developing buyer personas so your marketing can connect with their unique pain points and motivations.
Diversify your marketing tactics and look for creative solutions to reach your target audience(s) in new places and to find new acquisition channels in the year ahead.
Many organizations will spend more than 60% of their marketing budget online in 2022. Will yours?
Calculate your ideal marketing budget in seconds:
You may also be interested in: