Credit Union Marketing Budget Calculator
Download the 2020 Credit Union Digital Marketing Budget Calculator to get:
An overall marketing budget recommendation based on your credit union's info
A digital marketing budget recommendation customized to your credit union
A breakdown of where to spend your digital marketing budget in 2020
Note: This calculator is based on actual and forecasted data prior to the Coronavirus pandemic. We will adjust this as the impact becomes more clear. For now, if you have a question about how to allocate your budget, feel free to reach out to us.
Calculator is intended for credit unions with at least 1,000 members.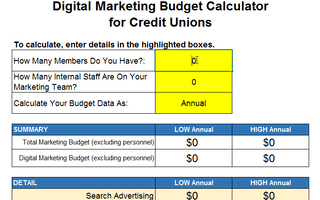 Calculate Your Budget in Seconds