Do a quick search for "credit union marketing strategies", "credit union marketing plan" – or even "how to market a credit union". You'll find a lot of the same, thin recommendations over and over again.
Most articles focus on guerrilla marketing, direct mail, in-person relationship management and other suggestions that are not even really strategies.
What's not covered in depth is online marketing strategies for credit unions.
And that makes sense…
The financial industry is notorious for being slow to change. This is often thanks to old-school board members, compliance teams, and budget guardians who want proof of exactly what results they can expect before they're willing to try anything new. In fact, if you're reading this then you're probably already ahead of the curve. Nice work!
But, you came here for actionable strategies you can use for your credit union marketing plan, right? Before we get to those, let's look at what exactly a "marketing strategy" means for the purpose of this conversation:
Credit Union Marketing Strategies
Many of the current resources get the terms "strategy" and "tactics" confused and are really providing aimless tactics without a strategy to guide them. Deploying tactics without first developing strategies will lead to unpredictable and inconsistent results.

Here, we share several marketing strategies and ideas for tactics to implement within each focus. Since our expertise is in digital marketing, these are all digital strategies. You'll want to integrate these into your overall credit union marketing plan based on its goals.

Note: This may seem obvious, but it's important to differentiate your marketing strategies from the tactics used to carry them out.

Credit Union Marketing Plan

A good credit union marketing strategy brings all of the institution's marketing goals into one comprehensive marketing plan.

This overall plan should focus on the right mix of strategies and tactics to achieve profit, sustain business and help meet the credit union's overall business goals.
If you need help deciding how much to allocate to the digital strategy, use this free calculator tool for an instant estimate of what your marketing budget should be based on a few factors.
Below are the four credit union marketing strategies and how to take action with each one. For more credit union marketing inspiration and practical advice, visit our Credit Union Marketing Resources page.
1. Content Marketing Strategy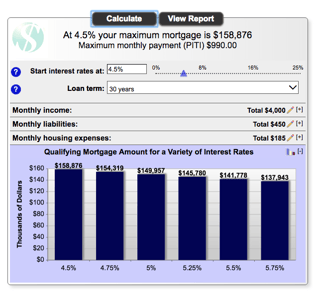 When it comes to online marketing today, you really need a strong content marketing strategy.
Whether you budget for new content once-a-month or once every few days, having a plan behind the content you publish is critical for good organic rankings and a positive user experience.
Most credit unions will have 5-10 main products to produce content around with several other secondary products and services.
Because the banking industry is so competitive, it's important to have a comprehensive collection of resources to offer people – from those who don't know your brand to your lifelong members.
The good news is you probably have a head start on these resources. Tools like loan calculators and easy-access pages like "rates" pages are just a couple of examples of resources that visitors search for often and depend on during the buyer's journey.
But the different types of content you end up creating, tweaking, and perhaps even removing, will depend on what exactly you want to accomplish with your content marketing efforts. This is where the overall content marketing strategy can take your efforts in many different directions.
How to Take Action With Content Marketing
Improve user experience: One of the best reasons to implement a content strategy is to ensure that your site's content is high-quality in terms of usability and information. At the end of the day, putting a content marketing strategy together that aims to satisfy your target audiences will pay off greatly.
You should avoid a routine of publishing content that is low-quality and does not boost the authority & credibility of your website. In fact, continually producing content that does not read well, does not help the reader solve a problem in some way or has other low-quality characteristics will decrease your ability to have a positive impact on users – which correlates with conversions.
One easy way is to take inventory of your site – ideally with a program like Screaming Frog – is to go through to check for low word count pages. For blog posts, the minimum was a few hundred words several years ago. Now, 1,000 words per blog post is the minimum (with exceptions) for a comprehensive article.
Note: The page minimum of 1,000 words does not include service pages (eg an Auto Loans page) although they can be long, too. It all depends on what it takes to deliver your readers the best information.
An easy way to see how long your service page should be is to check the competition. If all high-ranking pages are around 500 words, that's probably where you'll want to land; if they're all 2,000 words then consider a page that's around that length (just make sure it's high-quality content!).
Once you've identified your low word count pages (those with less than ~500 words), ask yourself if the page can be added to or combined with another related page. If you find pages that have low word counts with good conversion data, especially landing pages, it's okay to leave those alone, or only make minor tweaks.
Achieve better organic rankings: Since ranking well for search engines is a top priority for most credit unions, it makes sense to consider keywords and user intent when building your content strategy.
Creating content that speaks to what your target audience is searching for (which you can identify with keyword research) is a great way to chip away at those organic positions and start to see improvements in organic traffic and conversions.
A simple and effective way to approach keywords and organic rankings is to choose one of your verticals – such as auto loans or credit cards – and create a plan specific to that vertical. You should do research and identify the popular keywords that people search to find information on those topics and use those as your performance metrics.
Common metrics include organic search position, traffic volume, time-on-page and bounce rate. These are all available through Google Analytics, except for rankings. The basic idea here is to look at these metrics before you start and document a baseline. Then you'll develop and implement your content strategy in an effort to improve those figures.
Once you've implemented your content plan around that topic, you can review the performance and tweak your next round of content based on what did work and what didn't work.
Your Content Marketing Strategy
If you want to provide great resources online, convert users when they're on your site, and especially if you want to rank well for search engines, you'll need a strong content marketing strategy for your credit union.
It's important to remember, though, content marketing is really a long-term process. Yes, you can get quick wins here and there, but the real results come over time with committed work over the long-haul.
If you're just getting serious about content marketing, or you feel you need to make some changes, just be sure to document where your site stands today and make measured changes and additions with your content. After some time, take a look back to see what impact the content has had and keep after it with the new insights.
2. & 3. SEO Strategies (Local & Technical)
SEO, or Search Engine Optimization, is a critical part of marketing today. A strong SEO strategy can easily take your credit union from the middle of your competitors to the top.
In fact, that's literally the goal: move your credit union from the bottom of the search engine rankings to the top of the rankings – ideally on page one of search engine results pages (SERPs).
Because SEO has such a major impact on business today, it has become a large category with different focuses, many different applications, and many more opinions on how it should be done.
For credit unions, there are a couple specific "types" of SEO that are really impactful for just about every credit union. The two types are local SEO and technical SEO. Here's a quick definition of each one:
2. Local SEO Strategy
According to Moz, the goal of local SEO is to increase search visibility for businesses that serve their communities face-to-face. These can be brick-and-mortar businesses with physical locations, like credit unions, or service-area businesses that operate throughout a certain geographic area.
Local SEO includes everything from claiming a business listing to ensuring a franchise location appears in a local search on Google. It may also include managing online ratings and reviews, social media engagement, and more.
Why Is Local SEO Marketing Important for Credit Unions?
Developing a local SEO strategy is very important for credit unions because you are competing in certain locations. Having these specific locations to "claim" can make it both easier and harder to show up on SERPs.
It's easier because it's beneficial to have a specific area to link your credit union to. That makes it easier for search engines to say you are the appropriate result to show searchers in the areas you're claiming.
The reason it's harder is that most credit unions investing a decent amount of money in marketing – especially with a marketing agency – will be investing a good portion into local SEO.
Whether your locations are filled with competitors who are already doing local SEO or it's wide open, it's smart to make sure your credit union is at least doing the minimum to show up in local search results.
How To Take Action With Local SEO
Get started with Google My Business: If you haven't done it already, it's critical that you get your credit union set up on Google My Business. If you're not sure how to do it the right way, it's worth asking a professional to assist you.
Schema Markup: Using and optimizing schema markup on your website is another great way to impact your ability to show up in local search results. Google, Microsoft, Yahoo and Yandex actually collaborated to create a resource with schema protocol that would work for most major search engines online.
You can visit the resource site, schema.org, which provides everything from educational blog posts to templated schema code that you can apply to your own website (after customizing for your credit union).
Link-building and directory listings: Establishing a good foundation of links pointing to your website is really helpful for SEO. It can be great for local SEO in particular if you build links that are relevant to your credit union locations and service areas.
A great way to find local directories is to do a competitive analysis for the links that your competitors have and review them for any directory links. When you spot a directory that you're not currently listed in, it's often as simple as submitting your information. Many directories are free but some will require a fee.
Note: It's very important to make sure the listings you are submitting to are not spammy because adding spamming links to your site may have a negative impact.
You can also implement link-building strategies that do not include listings. These approaches often include guest-posting on blogs, working with reporters and online publications for relevant content and more.
PRO TIP: Use services like Help A Reporter Out (HARO) to get access to reporters who are actually seeking out sources. This is a great way to acquire hyper-relevant links from authoritative publishers (sometimes as notable as The New York Times, Wall Street Journal, TIME, and more). Just be sure you request a link to your site when working with the reporters because they're not required to add a link but should oblige if asked.
Where the listings approach can be quick and very location-specific, the non-directory approach tends to take more time and it will be tougher to get links that are both relevant to the financial industry and your location.
3. Technical SEO Strategy
"Technical SEO" is a broad focus within SEO. The reason there's a lack of clarity is that SEO is already technical, so technically the line between "standard" SEO and the more technical approaches can be debated.
Econsultancy provides a nice analogy to explain what technical SEO is: Think of SEO as a train. You can have the best carriages (the content) you want, but if the engine (technical SEO) doesn't work properly, nobody will ride the train.
Technical SEO often includes knowledge of coding, a deep understanding of how search engines find and rank websites, what impacts page load speeds, and more.
Why Is Technical SEO Important for Credit Union Marketing?
As the analogy above implies, the rest of your SEO and website-based marketing efforts will always be limited if the technical elements are not sound (at least). In addition to ensuring your engine is "running", there are also many ways to optimize – or tune up – your technical SEO so it performs optimally.
Still not sure why technical SEO makes a difference? Here's why: Google, and other search engines, put an increasing emphasis on user experience. The better experience you provide for a user, the more likely Google will be to show your website.
That means the time it takes a website to load for a user is really important, for example. A difference of five seconds may not seem like much to you, but that's a big difference to Google. Remember, you're competing against many other credit unions who are likely providing similar content, so the more advantages you have over them the better your chances of showing up for searchers.
How To Take Action With Technical SEO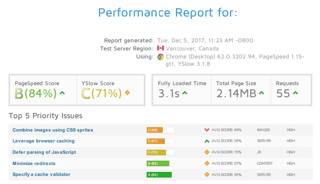 Site speed: As mentioned, the speed of your website is a critical factor for user experience. Luckily, there's an easy way to get guidance for improving your site's page speed.
At gtmetrix.com, you can simply plug in your site's URL and the site will run a speed test on your website in just a few minutes.
With the site speed test, you get a PageSpeed Score, a YSlow Score, and you'll see the speed and load data of your site. It also lists the top issues with your site that you should resolve to improve your site's speed.
Meta tag optimization: Each page on your website should have a set of meta tags that help search engine crawlers interpret what your pages are about, what is most important on the pages, and to also provide a positive user experience in the search results (your title tag and meta description will show up in the results).
This type of technical SEO is well-known in the digital marketing and SEO world and marketers that provide SEO should have a complete understanding of how these work and how to implement them. The overall goal of optimizing meta tags is to:
Accurately explain what the purpose of your page is (and how it's unique)

Include relevant keywords to increase the likelihood of showing up in relevant search results

Organize your content in a way that is logical and easy for users to navigate (creating a positive user experience)
Moz has a great resource for meta tags that you should read whether are familiar with them or you have no idea what they are. They update this resource every year, so chances are good you'll learn something new.
Your Credit Union SEO Strategy
Even though local SEO and technical SEO could be split up into two disciplines with enough work for most credit unions, you'll probably be lumping these together as one overall SEO strategy. Assuming that's the case, you'll want to prioritize the most important and potentially impactful tactics first.
The best way to figure out what should get priority is to do an audit on your site. You can run the page speed audit, shared above, to check your website's speed. If you have access to tools like Screaming Frog, you can crawl your site to identify technical SEO issues – such as meta tag errors.
Once you have a good overall picture of your website's standing in each area, you can assess which places will provide the most opportunity.
4. Marketing Automation
Marketing automation has become an essential tool for credit unions to improve the member experience, operate more efficiently, convert more prospects, and grow share of wallet. As credit unions attempt to remain competitive with large banks and FinTechs, consumers expect the customization, personalization, and quick access to information that automation can provide.
While many credit unions dipped their toes into marketing automation with tools made specifically for the financial industry that were limiting and clunky, we've seen a huge shift in credit unions embracing more robust platforms that allow them to truly realize the full scope of what marketing automation can do.
How To Take Action With Marketing Automation
Figuring out where to start with automation can be difficult, but we have a host of resources about how credit unions can take advantage of the power of marketing automation.
Developing Your Credit Union's Digital Marketing Strategy
Every credit union is a little different – with different budgets, competitors, and unique business and marketing goals. For that reason, there's not really a one-size-fits-all marketing strategy that will work for every credit union, every time.
At WebStrategies, we've worked with many credit unions over the years and developed successful strategies for our clients. Every client is still unique, and our approaches change constantly, but we're able to pull from our experiences and tailored processes to create and implement marketing strategies that are effective for any credit union, big or small.
If you're not ready to commit to a marketing firm then you can try the strategies and tactics listed above to find some success in one area or another.
If you want to learn more about how we craft custom credit union marketing plans, contact us today at 804-200-4545 or visit our Credit Union Marketing Resources page.
Note: This post originally published May 28, 2021 with updates July 13, 2022.