It has taken a while for manufacturing companies to get into the practice of using digital marketing to generate leads. Having partnered with several manufacturing companies, I wanted to share the tactics used for our clients that have been the most effective in leveraging their websites to generate more business.
Manufacturer Marketing Strategy
Before we begin on this lead generating journey, let me give one big piece of advice. If your website looks like it's from the steam engine days (yeah, I know there was no internet back then), then please budget for a new mobile responsive website ASAP! It doesn't have to be fancy, but it should at least have the following information:
Products and services (one page for each category and separate pages for each product) including pictures and videos.
Your history, mission, vision, and differentiators (unique skills, technology, etc.)
Team - highlight key management and employees
Contact form (can be a long form and a short form)
Easy to find phone numbers
News blog - to enable writing stories of how you have and can help customers
Good Title and Description Meta Tags
Learn how a new website can actually derail your digital marketing.
---
Online Marketing for Manufacturers
Once your website is in order, the next step will be to drive online leads and sales opportunities to your site using a few proven digital marketing tactics. In order to be successful, be sure to measure the return-on-investment (ROI) for each tactic.
Here are a few of the online marketing strategies we recommend for manufacturing businesses:
Google Ads
Remarketing Ads
Content Marketing
Email Marketing
1. Google Ads Can Be Effective for Manufacturers
You are most likely familiar with the text ads that appear at the top of Google's search results. This golden territory continues to be some of the best turf on the internet. If you figure out the right keywords your prospective buyers are likely using to look for equipment or products you manufacture and have a compelling ad for them to click on, you have a conversion!
An essential part of running a results-oriented Google Ad campaign is to have the keywords, the ad, and the website landing page you are sending them to synced to each other and to the searchers intent.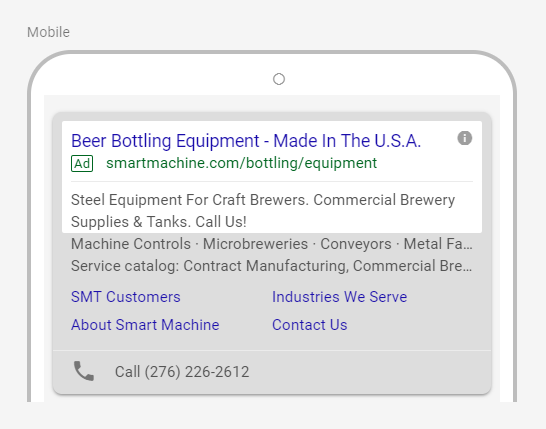 To enhance results, have separate ad groups for each product or equipment line you want to advertise. Start with one or two groups, see how they do, then add additional products. The types of keywords a prospective customer would use to find each type of equipment should be as unique as possible.
For example, you could have a metal bending machine ad group, and within that group have keywords specific to types of metal, amount and type of bending, length, width, and thickness of the metal. You get the idea.
Pro-tip: Since most US manufacturers sell their equipment and products across the country, you may want to pick specific states or regions to start testing your campaigns before you show your ads in more states.
2. Remarketing Ads
Remarketing ads, text or display ads shown to people after they've visited your website, can remind them why they came to your website in the first place!
In most cases, you can segment your remarketing ads to show certain ads to specific audiences that meet the criteria of your prospective customers.

If you want to promote a specific new line of equipment, this type of ad can generate new traffic to your website and bring back visitors who may have viewed the particular product page on your website recently.
3. Bring on the Content!
Want to get found in Google or Bing organic search results? Well, be prepared to invest in developing a solid content plan and writing new compelling customer focused content on a consistent basis.
When I say consistent, I mean at least one to two blog posts per month. We recently reviewed The Content Marketing Institute's Report - "Manufacturing Content Marketing 2018: Benchmarks, Budgets, and Trends-North America" which highlights various statistics on how manufacturers use content to generate more traffic to their websites and ultimately more leads. Close to 70% of marketers say their content marketing is at least moderately successful, including 11% saying it's extremely successful.
Here's some solid, proven content marketing material to include on website pages and/or blog posts:
Case Studies

E-Books & White Papers

Videos

Professionally shot product & equipment images

Detailed product specifications
Here's an example of how content can help you rank in Google Search Results:
A Google search for the keyword "tunnel pasteurizers" returns these page-one organic results for one of our manufacturing clients. We've written several specific pages of content on this topic, and now we're in the #1 & #2 position for that term:

Sharing manufacturing-related content on Social Media
You should also consider sharing your content on your social media pages. However, if you want to get more of your target market to see the social posts, set aside about $100/month for boosting posts on LinkedIn or Facebook, for example. Organic views have dropped drastically on social media platforms, but you don't necessarily need to spend a great deal to see good results when you pay to increase post visibility.
4. Email Marketing & Marketing Automation for Manufacturers
What? A manufacturing company sending emails to customers and prospects? That's right; email is still one of the most effective ways to reach your target market and keep your customers informed of your new or updated products and where you are going as a company.
You can also solicit feedback from them by including a short survey in an email. Since many manufacturing companies attend trade shows, it's also a great way to leverage the contacts you meet and gives you a tool to follow-up with them on an ongoing basis. According to the Content Marketing Institute, email is the number one way manufacturers distribute content.

How to Meet Your Manufacturing Marketing Goals
The ideas above represent some of the most effective manufacturer marketing strategies we've used to attract new prospects and retain and sell more to existing customers online.
You don't have to do all of these right out of the gate. Start with one or two and layer in the others when you are comfortable and have the resources and marketing budget to do them consistently and with high quality. Whichever digital tactics you utilize, the goal should be to provide solutions to the problems or situations your prospects are trying to solve.
Search ads can reach users at their specific time of need. Plant Managers, engineers, and others turn to search engines to answer questions and find solutions. Your ads can reach these folks when they are searching and ready for an answer.
Remarketing & display ads can deliver a quick set of lower cost ads more frequently to your selected audience.
Fresh content can ensure your manufacturing company is prominent in organic search results when prospects are researching products and equipment that meets their requirements.
Email marketing can keep your company's products or equipment top of mind with buyers and give you a platform to connect with all the trade show folks who show interest in your company.
You may also be interested in:
Manufacturing Marketing Library