HubSpot is a powerful CRM solution with three main "hubs" - Sales, Marketing, and Service. While these hubs work together seamlessly, they can also be integrated with other tools. For manufacturing businesses, HubSpot's Marketing Hub is an excellent marketing automation tool that can be easily integrated with other leading sales CRMs like Salesforce and Microsoft Dynamics.
But why should a manufacturing company consider HubSpot if they already have another CRM system in place? Even if you are using a different CRM, integrating HubSpot for marketing automation can bring several benefits. By having a CRM that includes marketing automation or integrating HubSpot with your existing CRM, you can centralize your customer and prospect data, streamline your processes, leverage your data, and multiply your efforts across teams.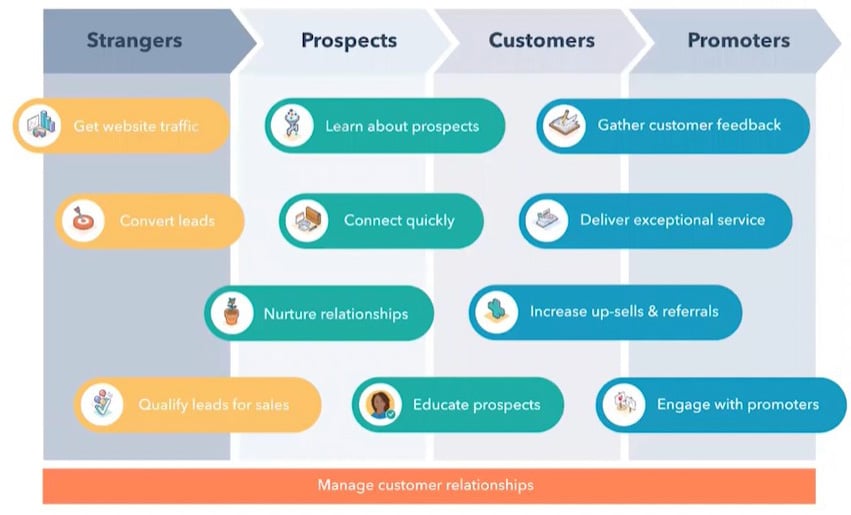 In a recent webinar, Generate Leads and Automate Communication with HubSpot, Howard, Kristin, and Caroline shared some of the benefits that manufacturers have seen after implementing HubSpot:
40% increase in website visitors
163% increase in inbound leads
196% increase in deal closed-won and a 65% close rate
These impressive results are achieved by using personalized, engaging content and gathering data insights to increase lead conversions, targeting specific audiences with educational content, and leveraging automation to follow up and nurture leads.
One of the biggest advantages of using HubSpot as a CRM for manufacturing is the ability to centralize all of your customer and prospect data in a single location, making it the single source of truth for your organization. This helps improve the customer experience by allowing you to automate and customize your communications, track team productivity and customer communications, and streamline your reporting.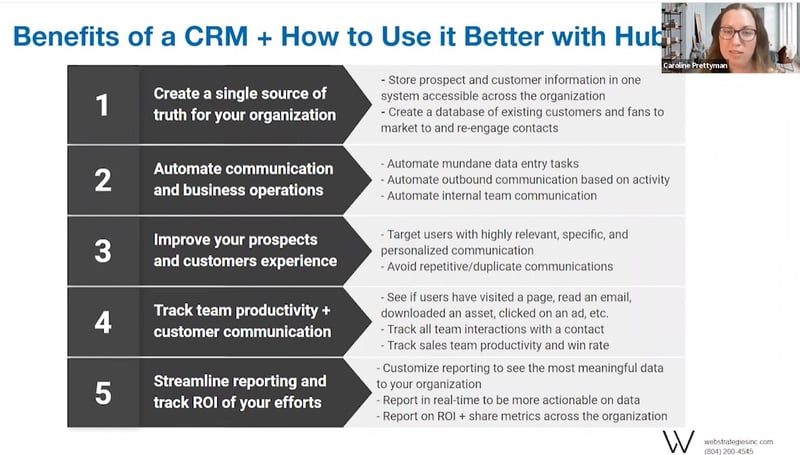 Data Everywhere?
However, many manufacturing businesses may find it challenging to unify their data across multiple departments and systems. But managing your data well is worth the effort, as it is one of the most significant assets of any B2B organization. A partner like us can help you integrate HubSpot, clean up your data, and ensure that it is consistent and accurate, allowing you to get the most out of the system.
Getting data into HubSpot can be done in four ways:
Forms: Users submit their information when interacting with your website.
Direct Interaction: If you use Salesforce or MS Dynamics, there's a native integration built to work with HubSpot.
Middleware: If there isn't an integration, there are 3rd party middlewares that connect the systems such as Skyvva, Datava, or Zapier.
Manual Import: If your data is currently housed in spreadsheets, it can be manually imported into HubSpot.
If you're in the manufacturing industry and looking for a powerful CRM solution, HubSpot is definitely worth considering. With its Marketing Hub, you can centralize your data, automate your communications, and streamline your processes to increase your revenue and grow your business.
Contact us to learn more about HubSpot for B2B/manufacturers or schedule a call and we'll be happy to talk through your options.