ChatGPT is the fastest-growing and most quickly adopted technology. Ever. By far. After its release in November 2022, ChatGPT exploded in popularity and in February 2023 it reached over 1 BILLION page visits. At first, professional copywriters voiced concern that artificial intelligence (AI) was going to take over their jobs. But fear has become excitement after learning that unique (human-generated) content is still prioritized by search engines. AI can help tremendously with idea generation, content planning, editing, and research to save time and fuel the brainpower that goes into content marketing.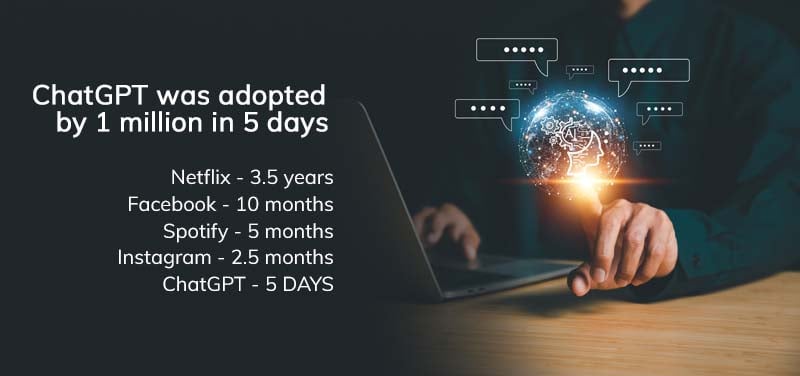 Can ChatGPT write content for our inbound manufacturer marketing?
While you CAN post content that is 100% generated by an AI tool, it would be a waste of time and possibly detrimental to your future manufacturing SEO. Having AI write about a topic and posting it directly on a manufacturing website will likely disappoint you for three reasons:
The content must be fact-checked and reviewed.
It is pulling from sources all around the internet and putting information into a paragraph - but there is no telling if the source of that information is reputable or recent.
ChatGPT is only using data from September 2021 and before.
Content created by AI is detectable.
If you create content using ChatGPT and paste it onto your website, search engines will know that it is not unique information, making it highly unlikely that your page with AI-generated content will be served when someone else is searching that topic.
Instead, think of how ChatGPT can save time in the development of content for your manufacturing website.
How should manufacturers use ChatGPT for marketing?
Advancing your prompts in ChatGPT from the basic to slightly more complex can quickly make AI really interesting. Use prompts to get inspiration on a piece of content you want to write; begin by thinking of the buyer's persona you want to appeal to and then prompt the tool to help you identify what they are thinking about and their challenges.
Example 1: Ask ChatGPT - What questions does an engineer in a water plant have about intake screens?
When you want to understand what questions your potential buyer may have about your product, use ChatGPT to get detailed ideas about the questions they may be searching on the internet. Evaluate the list - not every recommendation will make sense for your company, and generate a list of blog topics based on the ideas it generated.
Example 2: Ask ChatGPT to create an outline for blog posts on the topics it suggests.
Once the outline is created, you'll want to edit and then use it as a guide to writing fresh content based on the outline.
You can allow ChatGPT to get research work done for you in just a few minutes. The answers it provides are based on what it has gathered from the internet so can help manufacturing marketers to understand what their prospective buyers want to know. By crafting and providing answers to their questions on your website, you can attract those people in effort to convert visitors into leads.
Example 3: Fine-tune the content by pasting in existing content and prompt it with the following:
Give me grammar improvements to this blog post
Provide a numbered list of suggestions to improve the clarity on this piece of content
Implement all suggestions except number 3
Protip: Don't paste the URL into the ChatGPT prompt. Copy and paste the entire content you want it to review into the tool.
Example 4: Simplify interviews with subject matter experts
Many manufacturers have trouble creating content for their website and their inbound marketing plan because the knowledge is held by the plant manager or engineer who does not have time to write blog posts.
We often interview an engineer and get a raw "brain dump" of information that we want to turn into website content. That information can be pasted into ChatGPT and then:
Ask ChatGPT to analyze the notes from the interview
Ask it to summarize the interview notes into a bulleted list
Turn the summary into a list of blog content suggestions
Other tools are starting to layer AI functionality into their technology and it will exponentially increase the benefits of each. A few we've seen include:
Note-taking tools like Gong (for meetings) are integrating ChatGPT into their systems that can later assign tasks and reminders based on meeting conversations.
HubSpot integrated ChatGPT into ChatSpot, a platform that takes the power of ChatGPT and layers it with the data you already own in your CRM.
Salesforce has Einstein that layers AI with that CRM.
While ChatGPT may not be the solution originally expected that would create our content on demand, what we have may be even better. Learning and practicing the prompt techniques will go a long way to understand the possibilities it can have for you and your organization in order to save time and effort as well as elevate marketing content to better answer questions your prospective buyers are asking.
Want to learn more about ChatGPT for manufacturing marketers?