Many of our credit union clients tell us that they struggle with an aging membership base and want to attract younger members. This is a great goal to set, but first, does your credit union have a thorough understanding of where you stand currently with the age distribution of website traffic?
As part of WebStrategies' credit union annual benchmark report series, today's topic dives into age distribution of website traffic. Is your website attracting visitors who are in the age demographic that your credit union needs?
Our credit union benchmark report series has thus far taken a look into average time on site, bounce rate, traffic source, and organic traffic growth.
If you have missed any of those articles and want to catch up, you can do so here:
How Long Does the Average Visitor Spend on a Credit Union Website?
What is the Average Bounce Rate for Credit Union Websites?
Where Does the Average Credit Union Website's Traffic Come From?
What is the Average Organic Traffic Growth for a Credit Union Website?
Age Distribution of Website Traffic


Google Analytics can tell us the approximate age of website visitors. They break this down into six categories: 18-24, 25-34, 35-44, 45-54, 55-64, 65+
(If you're curious how Google knows that, think about the last time you entered your birth date online - there you go!)
WebStrategies found that, on average, over 50% of all website traffic to a credit union website was less than 44 years old in 2019. This is a small uptick from 2018.
Here is the full age distribution from our report, which analyzed data from a wide range of credit unions across the United States.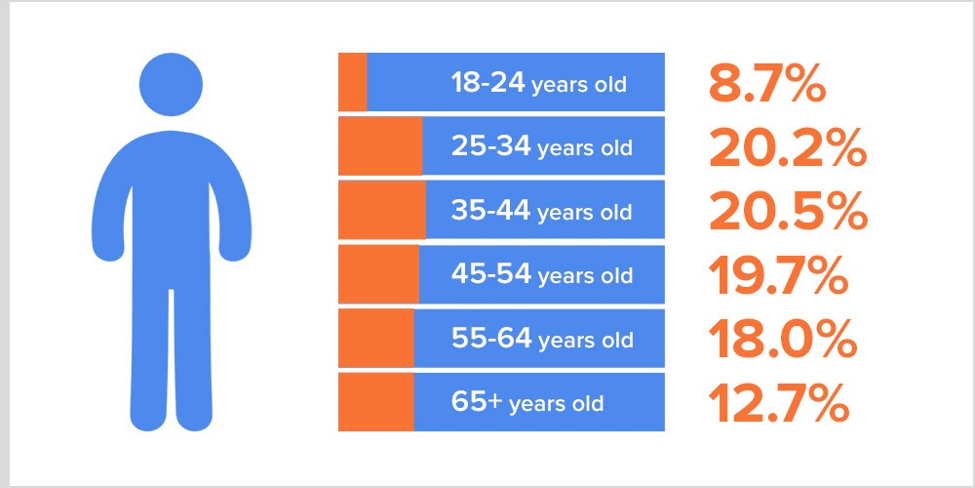 Where to Find Age Distribution Information


To get this data for your credit union, open Google Analytics and go to Audience > Demographics > Age
It will look like this: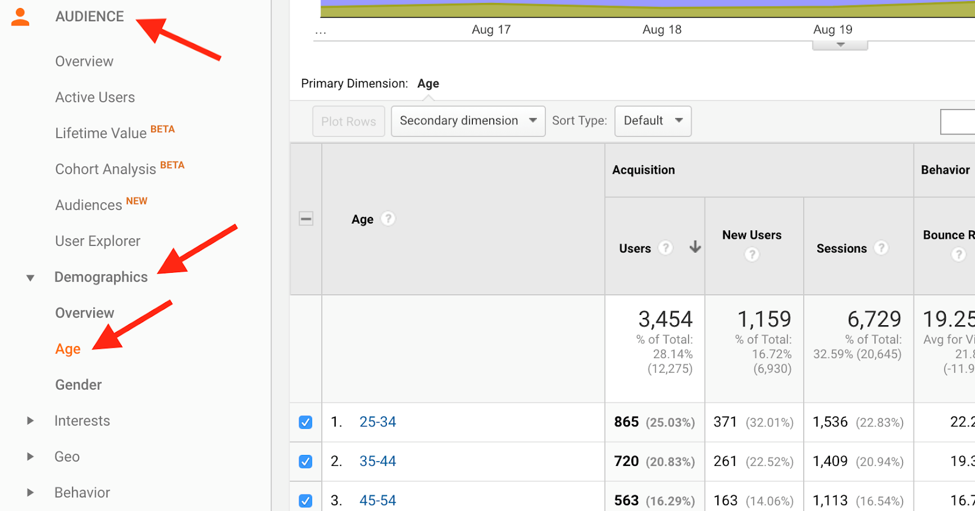 A helpful hint: This feature is not set up automatically; it has to be turned on manually. If not already enabled, a message should pop up to turn on this feature.
What Age Distribution Means for Your Credit Union


Once you know your credit union's numbers, this is the question to ask:
How do these metrics align with your credit union's goals?

If your goal is to attract millennials, what efforts are you making to increase membership of this population?
Is your credit union's advertising set up to target specific age groups?
Has your credit union sponsored community events geared toward a younger demographic?
Is your credit union's technology up to date?
You may need to make adjustments to marketing tactics in order to attract the people that your credit union is looking for. It might mean investing in better tech or optimizing advertising campaigns.
The main takeaway here is to make sure that your marketing tactics align with your goals.
And, since we just mentioned tech, stay with this series to find out how users are viewing your site. Are most users on a desktop or mobile device? We'll find out next time.
Want help with a strategy to attract millennials to your credit union? Contact us to discuss the key elements to winning younger members.