If you've been following the WebStrategies credit union annual benchmark report blog series, you know that we are taking a deep dive into credit union site engagement metrics from 2019 to identify pain points and trends across the industry. While site engagement metrics don't show conversion data, these metrics allow you to identify specific opportunities for your credit union.
To catch up on the first two posts in this series, read How Long Does the Average Visitor Spend on a Credit Union Website? and What is the Average Bounce Rate for Credit Union Websites?
Today we will focus on what channels credit union traffic is coming from.
Distribution of Credit Union Site Traffic
Credit union marketers should be looking for a diversity of traffic. We want to see a good mix of direct traffic, organic traffic, traffic from paid advertising, and traffic from social channels.
The average distribution of traffic from all of our credit union clients looked like this in 2019: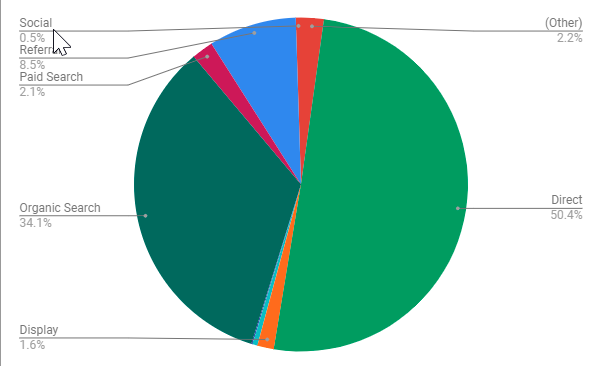 As you can see in the graph above, the large majority of traffic to credit union sites came from direct and organic - a total of 84%.
Why is this number so high?
Credit unions are unique because most traffic comes from members who already know the site and how to navigate to it. They will most likely do one of two things:
1) Type the credit union's URL into their Internet browser. This is called direct traffic - they go to your website directly.
2) Type the credit union's name into a search engine. This is called a branded search and counts toward your organic search traffic.
Note: Organic traffic can also be impacted when credit unions heavily invest in content and SEO tactics. This leads to a higher percentage of organic traffic over time.
Is Low-Diversity Site Traffic a Problem?
We saw in 2019 that credit unions websites as a whole are not well diversified. This is something credit union marketers should be aware of.
You want to avoid having all traffic coming from a single source. For example, if all of your site traffic comes from Google organic and Google changes its algorithm, your traffic could be at risk. The saying, "Don't put all your eggs in one basket" comes into play here.
So what can your credit union do to improve this metric? Remember to invest in other channels, like paid advertising and social media.
How Should Credit Unions Use Social Media to Drive Site Traffic
Many unions are placing more emphasis on social media, but not necessarily as a traffic driver. Social media is a great tool for community engagement and brand awareness, but that doesn't always contribute to traffic on site.
In 2019, only .5% of credit union traffic came from social media. Can you increase this number with social media marketing? It's a complicated question to answer.
While credit union marketers can (and should) invest time in social channels with a goal of driving traffic to the site, this can prove to be a challenge. Social platforms want to keep their users in the feed so posts that drive users to other sites might be stifled by the channel's algorithm. Still, edging that number upward in 2020 is a worthy goal.
How to Find Website Traffic Distribution for Your Credit Union
Follow these steps in Google Analytics to find these metrics for your credit union:
Click Acquisition
Click All Traffic
Click Channels
Traffic distribution data broken down by channel under "Default Channel Grouping"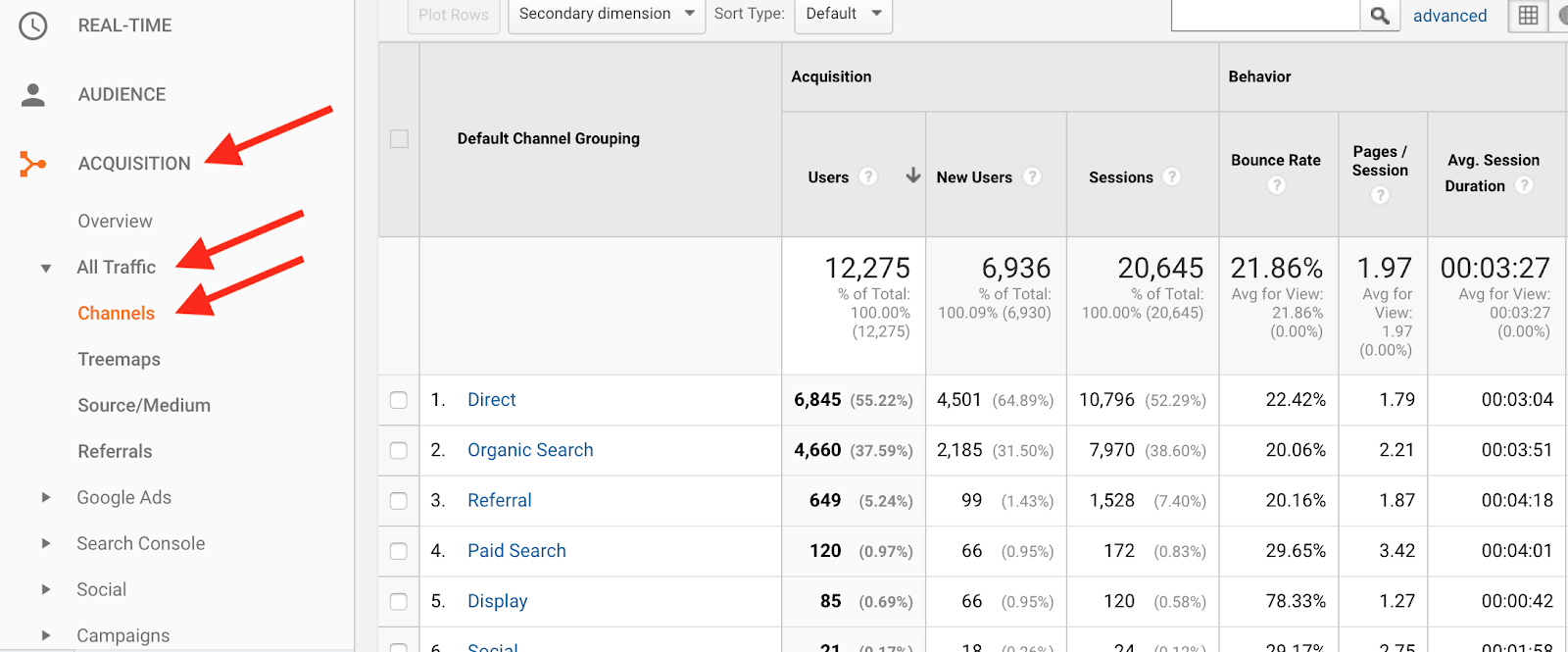 Stay with us for our next annual benchmark report post where we investigate how much the average credit union's organic traffic has grown year over year.