For every investment your credit union makes into marketing, you should have some way to track performance. It's important to have accurate marketing results data as this directly impacts what your next decisions should be. The problem is, credit union marketing metrics can be difficult to understand and evaluate.
It's very common for organizations to use "vanity metrics." This may include clicks to your website or impressions for ads. These look good on paper. While they do mean someone has taken action, they often lack substance. They may not be directly influencing revenue for your credit union. That can steer your marketing methods in the wrong direction, especially in relation to the platforms you use or the tactics you invest in.
The better option is to invest in establishing end-to-end tracking, and understanding which credit union marketing metrics are truly valuable to your bottom line profits. This allows you to make well-informed decisions with every component of your marketing budget.
Which Credit Union Marketing Metrics Aren't As Important?
Some metrics lack any real benefit to your bottom line. While these look good as they increase, they do not translate directly into profits. The most common metrics to avoid making decisions on include:
Impressions
Clicks
CPM (cost per thousand impressions)
Impression share
Time on site
Put aside those metrics for now.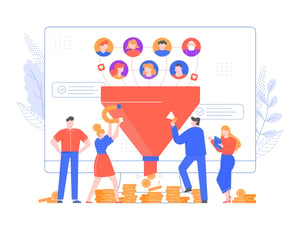 Which Credit Union Marketing Metrics Are Important?
Instead, focus your efforts on these metrics:
Click-Through Rates
Click-through rates are always a critical factor. The placement of any ad is not enough. Someone needs to click on it to get to your website to make that add value to your business. Click-through rates show exactly how many times people get to your site from the ad you've spent money on.
Cost per Application by Channel
What is the cost per application based on the channel? Channels are the various tools you are using to market, such as SEO, email, webinars, content creation, and various forms of paid advertising. You want to be able to see what it costs to get an application based on each marketing method.
Cost per Member by Channel
In this case, you are using the same channels, but you are looking at the cost per member. That is when the cost of each channel to get a new member to sign up is evaluated.
Cost per Call by Channel
The same applies here, but the costs are broken down by what it takes to get a call from the potential member or applicant.
New Users
How many new users are signing up for your credit union based on the marketing you are doing? You want to look for the specific link to the marketing campaign you're running.
New Sessions
How many sessions is your marketing effort producing? This includes any instance in which you get a prospective member to meet with you.
Returning Users
Is your marketing bringing people back to your site? Often, it takes several visits to get someone to buy or invest. Returning users are those closer to that buying point.
Traffic Sources
How are people getting to your website and where are most conversions originating? Be sure to track back to the source of traffic so that you know which channels are funneling people to your site.
Abandon Rates
How many people simply close downan application and walk away?
Loan Application Values
What is the value of the loans that end up being funded, broken down by channel of origin?
Customer Lifetime Value
Evaluate the lifetime value of the member. What do they bring to your business?
Conversion Rates
Conversion rates are another key area. Let's break them down a bit more. We want to look at conversation rates based on:
Traffic source
Device type
New vs. returning users
Product
Here, your goal is to understand what is getting people to apply or become members. Which traffic sources are best? What marketing channels are not only bringing traffic in, but resulting in applications and closed loans? What about conversions on individual products and new prospects versus current members?
The Impact Of Solid Credit Union Marketing Tracking
The importance of understanding and reporting on credit union marketing metrics is critical. It allows you to make better use of your marketing budget, and it helps you show value to your Board of Directors and justify your marketing budget.
Learn more about How to Measure Credit Union Digital Marketing Performance