To varying degrees of success, most digital marketing agencies can run paid advertising and write copy for content marketing purposes, so you may ask, "What makes WebStrategies a premier credit union digital marketing agency?" WebStrategies has operated in the digital marketing space since 2005 and credit unions emerged as a primary industry that we serve. We have over 60 credit union clients because we've become extremely knowledgeable about their business operations and the needs of our clients. In fact, we often shock the C-suite with our ability to assist, not just with marketing, but the ability to solve problems that arise from silo'd departments and nonintegrated systems.
As a Diamond Tier HubSpot Solutions Partner, we onboard the CRM for many credit union clients to enable full-funnel tracking, analysis and optimization of content, and automation to improve engagement and conversion rates. For a variety of reasons, some credit unions choose not to implement HubSpot and that's understandable so we have pros who can usually implement creative solutions to integrate a credit union's core and LOS systems with tracking. The information the tracking provides can measure which marketing efforts are most effective so credit unions can then make informed decisions, that enable results. For example, one client saw a 74% reduction in cost per application.
Credit Union Marketing Agency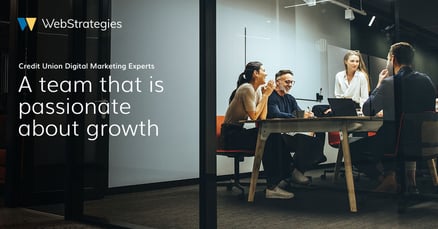 In addition to paid search and social media advertising for credit unions, some of the ways we excel as credit union marketing consultants include:
Local SEO
As detailed in a recent article, 4 Credit Union Marketing Plan Ideas & How to Take Action Now, Brian Marsh explains why credit unions need to prioritize local SEO.
Our advertising team has nailed down the process to get credit unions found in their local market search results. With thousands of credit unions in the U.S., it would be a waste to try to rank on the first search engine results page (SERP) for general "credit union" terms. Instead, credit union marketers want high visibility in the immediate geographic areas around their branches. This visibility doesn't happen overnight but our Google My Business updates and consistent attention to the right tactics can yield measurable results.
Content Marketing
Content marketing, or inbound marketing, is the method of creating compelling content that attracts users to your website and works in coordination with the SEO objectives. Since credit unions are focused on local SEO, the content marketing strategy is adapted to meet those objectives.
Email Marketing
Staying in contact with your members is the best way to maintain a relationship and stay top of mind for all of their financial needs. Blasting emails to an entire membership database is common, but it is far better to target messages to the segments of your membership that are most responsive to the product. A connected CRM is the ideal way to segment audiences of those most likely to be interested. For example, as a savvy credit union marketer, you likely know the average length of life for auto loans. A CRM can identify a list of members whose loan is approaching the average length of life and marketing messages can be deployed to them automatically to promote loans for their next vehicle.
Marketing Automation's Impact on Strategy
The automation that is available through a CRM is game-changing for credit union marketing strategy. The ability to promote the right product, to the right person, at the right time is amplified when a CRM is integrated with other credit union systems. It enables messages to be set up and deployed instantly (or with a specified time delay) when a user takes a certain action and triggers follow-up actions including calls from designated team members, promotions for complimentary products or onboarding information. Our experience as a credit union marketing agency guides the workflows to implement that have the most impactful user experiences. (And we encourage testing innovative ways to nurture leads and engage members).
Conversion Rate Optimization (CRO)
Increased website traffic is great, but pageviews are a vanity metric that don't translate to revenue - unless the visitor "converts". CRO is about getting website visitors to take the desired action once they find your site and for credit unions that is most often submitting a loan application. We implement website analytics tracking, identify opportunities and implement improved messaging, page design, and calls to action to leverage the increased traffic that is generated when we handle content marketing, email marketing, paid search, and SEO.
Your Credit Union Marketing Consultants
We are specialized in credit unions and have developed (and shared) our knowledge for many years, including these resources designed specifically for credit union marketers and executives:
And, we're constantly researching the issues facing our clients and the industry. Do you have a question that needs some research? Send us the marketing challenges you face and would like help with, or share your feedback below.