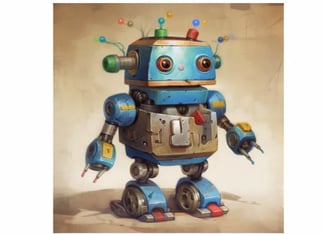 ChatGPT and other AI tools have taken the world by storm. When ChatGPT was first released, people in countless professions worried that it might threaten their jobs. Now after several months of application, the realization is that AI is a powerful tool with enormous potential to disrupt how business is done. And those who use it regularly find it becomes more helpful the more they use it.
What B2Bs and manufacturers should do NOW for the most benefit from AI tools
Get more efficient in your job. Identify the activities that are mundane or repetitive and figure out how to have ChatGPT or Bard do those things for you and free you up to do executive-level activities.
Evaluate the software vendors for your CRM, marketing automation system, or ERP. Find out how they are investing in AI to enhance the tools you use. If they aren't planning on heavy AI improvements on the platform, it will be lagging behind very soon. And that will impact how efficiently your company works.
Get familiar with Google Bard and Google's new SGE (search generative experience) to be ready for the direction Google is headed. We are watching closely because SGE displays search results differently than before. Pages previously ranked at the top of SERP are not necessarily at the top in SGE. Knowing what Google prioritizes in web content to get into the search experience will give us time to adapt website content and continue to display prominently to those looking for your products and services.
1. Use ChatGPT to be more efficient in Manufacturing Marketing
You may wonder, "How does ChatGPT know what it does?" To train the model they had ChatGPT read every book, scientific whitepaper, forum, and webpage - so it is trained on a massive amount of information. It can interact with users in a conversational style. It compiles results across sources and saves large amounts of time researching because it does the scouring of content for us. Unfortunately, it does not provide the source of the information it provides so it should not be used as a reliable source of information. Instead, we recommend using it in these three ways:
1. Do something for you: Ask it to do work such as proofread text, write an Excel formula, and write email subject lines.
2. Educate you: Ask it questions as you're trying to understand a new industry.
3. Inspire you: As a marketer use it to gain ideas to inspire your own writing for content marketing.
Framework for Prompting ChatGPT in Manufacturer Marketing Strategies
Effective AI prompting is a skill that will make you more successful using the tools. Chris demonstrates his framework in the following video.
Watch the full video - How ChatGPT and AI will Affect the Manufacturing Industry (June 14, 2023)
Framework to prompt ChatGPT for the most useful results
Start by giving it some background, such as who you are and who you work for.
Set the expectation by telling it what you want to accomplish or receive back.
Share as much detail as possible about the situation
Refine based on what it gives back to you with follow-up questions. Ask it to clarify or provide more details ("tell me more about pump sterilization"). It remembers the conversation so you don't have to rewrite the question.
A Benefit of Paid ChatGPT for Manufacturers
The paid version of ChatGPT (version 4.0) enables plugins and can be extremely beneficial. For example, manufacturers often deal with spec sheets and other very detailed PDFs, so could benefit from the PDF Reader plugin that can mine information quickly.
Since Google does not read PDFs if you have a lot of product information in PDFs on your website, the search engines cannot read it. So getting that text on a webpage will help it find and serve your product page when someone is searching. You could load the PDF to the ChatGPT PDF reader plugin. Give the command, "Tell me what this product does" and provide the PDF, and it will summarize the product.
Note: while we recommend adding product information to your web pages, do not paste the output from ChatGPT or Bard directly onto the website.
AI-generated content is detectable by search engines so it will not help long-term page rank. Instead, type in an edited version of the summary the tool provides.
** Also, never upload propriety/private company data into an AI tool because once loaded it goes to the open web and is not reversible.
2. Evaluate Your Software Vendors' Investments in AI
Progressive organizations are looking at ways ChatGPT and other AI technology can level up their products. HubSpot, a leading marketing automation and CRM company, was quick to see that AI will change how people interact with CRMs. They released ChatSpot, an integration with the CRM that is designed to remove manual work and save time. When you have a new task, instead of poking around the internet or your Hubspot account, Chatspot can be your AI assistant. Instead of doing the manual work, of "opening the hood" of HubSpot, you can dictate to ChatSpot what you want to accomplish and it integrates with your HubSpot platform to generate results. Granted it is still new and not perfect but they are working on it steadily and releasing new capabilities regularly.
Salesforce also has an AI integration and claims to be the biggest AI CRM company with its Einstien feature set in Salesforce. They've invested heavily in AI and recently released some updates to their product. In a recent forum, they said they've built a robust product with a security layer (Einstiein GPT Trust) that assists companies with data privacy and compliance goals.
3. Test Google SGE for Manufacturing SEO
While Google has 80% of the search engine market share, when ChatGPT was released in 2022, there was speculation that it would take the lead over Google. But Google had also been preparing for AI and released Bard, their AI search tool, in early 2023. And now, Google has an even bigger search tool coming. Available to use in beta, Google's Search Generative Experience (SGE) now provides AI-generated text to answer your question at the top of the search results and also provides some prominent links for further information.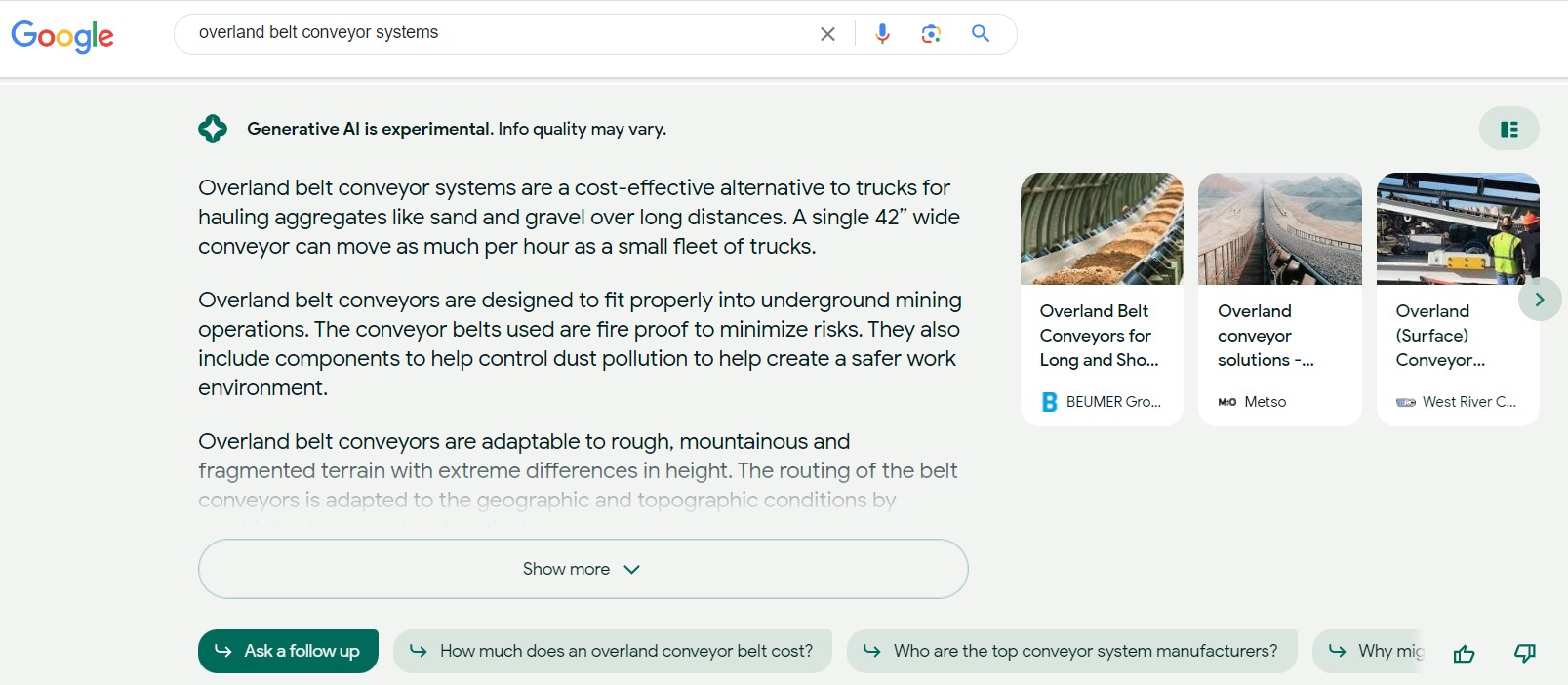 This could change the SEO game and "where the eyeballs are going". We are paying very close attention to how these results play out and what it prioritizes in the SGE results because the digital real estate is populating differently than standard search results. We've been testing and researching to understand how Google is prioritizing content, but since it is still in beta there are no guarantees. Manufacturing marketers should be preparing now by learning what it takes to get into the three positions in the SGE field and other ways to rank higher than competitors.
The landscape of search is changing and we expect it to continue with the rapid growth and adoption of AI.
Conclusion
It's natural to be skeptical of any new technology, but the reality is that AI is already disrupting a lot of what we've become accustomed to in search engine marketing. Embracing it as soon as possible will differentiate companies that find long-term success. The team at WebStrategies is passionate about this new disruptor and we'll keep sharing what we learn. Take a look at some of our resources below and follow us for more coming up!
Learn More
ChatGPT and Marketing for Manufacturers
Manufacturer Marketing Strategies