When it comes to marketing for manufacturing companies, there is no 'one size fits all' approach. Every manufacturing business is different, and all digital marketing strategies need to be tailored to the specific target market at hand, and more specifically, the target personas within those markets.
The most common thread among our manufacturing clients is that each one wants to reach an utterly unique persona that may or may not want that clients' specific products and services at the exact moment we first make contact. So which digital marketing strategies should your manufacturing business try?
Digital Marketing Strategies for Manufacturers
A digital marketing strategy that works for one manufacturer may or may not translate to a different industry, despite apparent similarities. For this reason, every manufacturing business should come up with a detailed digital marketing strategy and plan that outlines a clear path to success. Keep in mind that getting from the planning stage to the success stage is going to take a lot of trial and error and is going to leave a few failed strategies along the road.
Despite all of this, IT IS POSSIBLE for a manufacturer to see tremendous success from digital marketing efforts. Throughout the years, our company has worked with a wide variety of manufacturing businesses and have had our fair share of both successes and failures.
Manufacturing Marketing Success Examples
Content: Blogging Success for a Brewery Manufacturer
In a little over two years, we were able to roughly, quadruple the amount of organic traffic coming into this business' website by expanding some existing content pages, creating a few pieces of new content, and blogging about industry topics, while incorporating keywords that people use to find products related to their business.
Here's a look at that traffic increase from Google Analytics:

CRO: Conversation Rate Optimization Success for A Brewery Manufacturer

More importantly than the organic traffic results listed above, we also implemented a strategy to optimize conversions on this brewery manufacturer's website. Previously, the company did not have a means for customers to contact the organization through the website, aside from a listed phone number.
We set up three different types of contact forms, including the floating CTA shown here, and set up dynamic call tracking to help us identify the source of phone leads. At this point, approximately 390 people have filled out forms on the company's website, and another 330 have called from various sources. A sizable portion of these calls and form submissions have been qualified sales leads, which has transformed this organization's entire business.
SEO: Incorporate Searched Keywords into Product Pages for an Equipment Manufacturer
In 2014, one of our seasoned marketing managers undertook an initiative to overhaul the website product pages for one of our manufacturing clients. John painstakingly added all the product pages that were missing and made sure that the content in those product pages matched up with the keywords that people actually search. While an SEO play like this is typically a long-term initiative, the client was patient, and the desired results eventually paid off in a very big way.
This client has gone from getting about 500 organic visits a month to over 3,000, which is six times the organic traffic they had before these simple changes. At this point, these simple SEO efforts have translated to many organically generated leads and closed business opportunities that this equipment manufacturer would otherwise never have had.

Impact of Content Marketing for a Manufacturer:

PPC: Google Advertising Success for a Silicon Wafer Manufacturer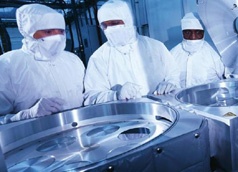 Another manufacturing client of ours who sells silicon wafers asked us to test out a few advertising campaigns on Google Paid Search platforms. In the first 90 days, the client spent approximately $2,200 and was able to acquire 17 qualified leads - one of which had a 6-figure potential! When your manufacturing business is looking for a few quick digital marketing wins, it might be worth trying a Google Paid Search campaign, especially if a decent number of people are searching for keywords related to the products you manufacture. (It also helps to have your ad campaign managed by an experienced advertising veteran like Emily Niedermaier.)
Digital Marketing Success Secrets for Manufacturing Companies
If we could list out a single strategy that is guaranteed to get results every time, we would, but that's not the reality of marketing for manufacturers. The real secret to success is learning from your failures, A/B testing along the way, and sticking to long-term initiatives, like content, that won't necessarily get results right out of the gate. However, don't forget to look for quick win opportunities from places like Google Paid Search and other advertising platforms.
Contact us to learn more about how our agency can help navigate your manufacturing business down the tumultuous road of digital marketing.
You may also be interested in these other manufacturing marketing articles:
Manufacturing Marketing Library