When it comes to site engagement metrics, one factor that many marketers tend to overlook is how quickly their website pages load.
In today's edition of the WebStrategies benchmark blog post series, we are going to take a look at the average load time of a credit union website and discuss why having an optimized website is critical from both a user experience and SEO point of view.
If you would like to catch up on the previous posts of this series, you can find them here:
How Long Does the Average Visitor Spend on a Credit Union Website?
What is the Average Bounce Rate for Credit Union Websites?
Where Does the Average Credit Union Website's Traffic Come From?
What is the Average Organic Traffic Growth for a Credit Union Website?
What is the Average Age of Visitors to Credit Union Websites?
How Much Credit Union Website Traffic Comes from Mobile Devices?
Why is it Important for Credit Unions to Have an Optimized Website?
Think back to a time when you were navigating through a website that took ages to go from page to page. How likely were you to leave that site?
As a credit union marketer, your top priority should be to create a positive experience for your members, and potential members, as they are navigating throughout your site. And as the use of online banking and other digital financial services continues to rise, the demand for a fast website is growing stronger.
Using Google Analytics, we analyzed several credit union websites and found that on average, they took 4.8 seconds to fully load.
When it comes to SEO, page load speed can be a big factor that Google's Algorithm takes into account when determining search results, and it certainly impacts user experience and a user's willingness to stay on your website.
If you want to improve your credit union's chances of appearing at the top of search engine results pages, you should take a step back and analyze your website to be sure that it is on par with other credit union websites.
How to Find Your Website's Load Time
There are a variety of factors that go into determining how fast a website loads, making it a difficult metric to track manually. We suggest that you use a tool like Google Analytics.
To find this data in Google Analytics:
Click "Behavior"
Click "Site Speed"
Click "Overview"
Here you will find you average page load time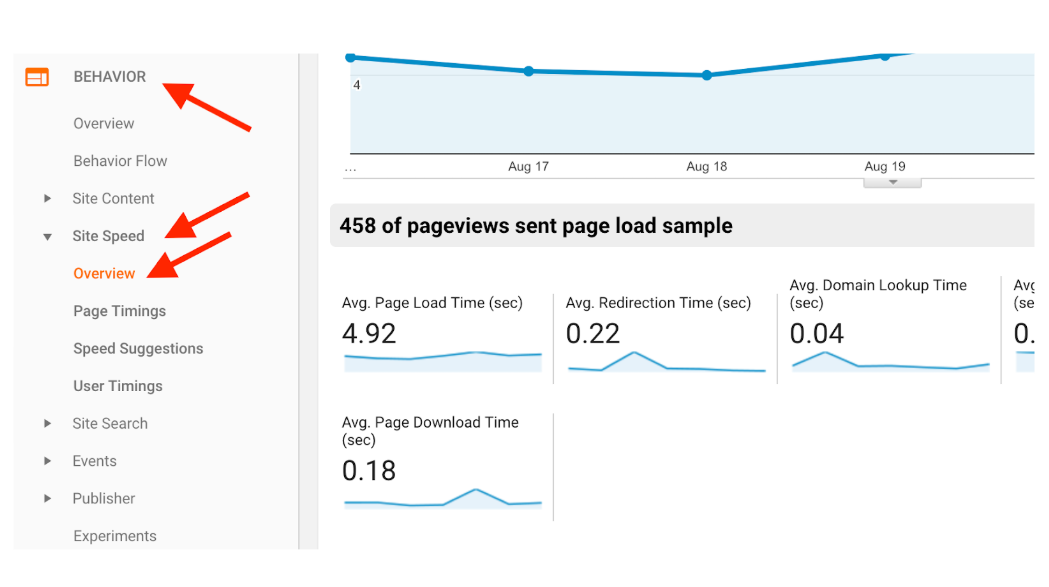 Alternatively, if you do not have access to Google Analytics you can track your credit union's website load time using the tool GTMetrix.
Simply type your website URL into the search field, press "analyze", and within a minute or two, you will be shown a report on your website's speed.
These are both tests that you should be conducted regularly so that you can quickly spot any issues that may be slowing your website and fix them before they have any major effects on the experience that your current and prospective members have when viewing your credit union's website.
In the next and final version of this benchmark blog post series, we will discuss how often users actually complete credit union loan applications once they have started them and our advice on how you can improve those conversion rates.