The theme of HubSpot's annual conference, INBOUND 2022, was "Connections". This was accurately named after the return of the first in-person INBOUND conference since 2019. After two years of an entirely virtual conference, HubSpot's 2022 INBOUND conference offered an unmatched in-person experience in addition to a digital option for those who couldn't make it to the land of HubSpot in Boston, Massachusetts.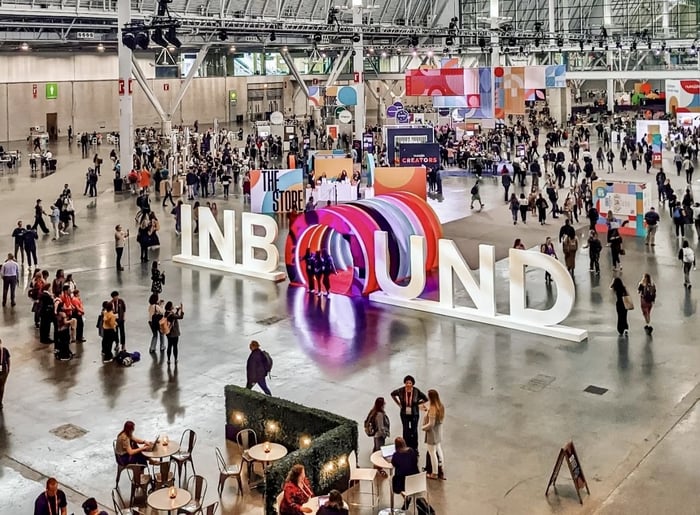 In this post, we outline all of the biggest HubSpot updates announced, insights for how you can apply them to your organization, and key conference takeaways from our team of inbound digital marketing experts.
WebStrategies is a Diamond HubSpot partner specializing in inbound marketing for credit unions and manufacturing companies. We were thrilled to attend INBOUND 2022 in-person as well as digitally with nearly a dozen team members. We experienced first-hand the value of community connection. We returned inspired with ideas of how we can create that connection with our clients and in turn support them in digital marketing strategies, campaigns, and tactics that create a more connected experience for their customers. HubSpot has dubbed this new era, "the age of the connected customer".
This year's INBOUND conference was packed with incredibly inspiring speakers including Neil Patel, Marcus Sheridan, Jane Goodall, Viola Davis, and oh yeah...Barack Obama. Watch the INBOUND22 opening session from HubSpot CEO Yamini Rangan on "Optimizing For Customer Connection".
Like many new eras, change comes from the need to adapt in order to thrive or survive. Many companies have experienced these common disconnections:
A disconnected customer experience
Disconnected business, marketing, and sales data
Isolation resulting from human disconnection
With inbound digital marketing strategies paired with HubSpot's CRM, HubSpot aids organizations to connect their data, customers, and community all in one place.
Our team pulled together our most meaningful INBOUND 2022 insights and takeaways that we look forward to applying to our client's inbound marketing campaigns.
"In terms of leveraging HubSpot to create a lead generation engine, I'm excited to focus on the power of HubSpot workflows to ensure credit union applicants get routed to the most appropriate loan officer, branch manager, or MSR much more effectively. By layering HubSpot Marketing and Sales Hubs, we can drive efficiency along with consistency to take the guesswork out of marketing automation, lead prospecting, and lead routing."
"We as businesses have to let go of the idea that we're in charge of the sales process. The buyer is in control and it's our responsibility to listen and adapt to best serve our customers. 44% of millennials want a seller-free experience. Additionally, 75% of buyers and sellers want self-serve, remote interactions with sales rather than face-to-face. There's an opportunity here for sales teams. Businesses should obsess over their customers' questions and find the best ways to convey they are the solution."
"In today's world, the education leader is the market leader. Inbound marketing was built on the fundamental principle of providing helpful, valuable content to your target customers. Businesses have adapted inbound marketing to attract audiences by being the answer to their questions, engaging prospects by giving authentic solutions and delighting customers by providing continual value and trust. For many organizations, customer education can be a new growth engine by helping and giving more than you take. Businesses that invest in curating educational content for their audiences have the opportunity to stand out from the competition, accelerate their digital presence, and establish themselves as industry leaders by being knowledgeable in their space."
"At any time only 5% of buyers are considered "in-market" and are beginning their journey through the marketing funnel. That means most buyers (95%) are likely considered "out of market". So, how do you make sure you're getting good quality sales-ready leads? Ask yourself: what was the offer advertised? Why did the user take it? Were they really informed about your product/service at the time to make sure they understood before submitting their interest? Use these probing questions to find answers to inform your advertising, lead generation, and overall website content strategy to aim for quality over quantity of leads."
One of our favorite things about HubSpot is they are continuously improving their software products based on community feedback. Every year, HubSpot utilizes the INBOUND conference as an opportunity to share some of their biggest product updates. To see the announcement of new features for yourself, watch this talk at INBOUND 2022 from Stephanie Cuthbertson, Chief Product Officer at HubSpot.
We've compiled a list of the HubSpot updates announced that we believe will be the most impactful for our credit union and manufacturing clients' inbound marketing and sales campaigns including:
Improvements to HubSpot Payments
HubSpot Payments was the big announcement for INBOUND 2021, and since then they've continued to improve the tool. Some of the biggest changes to the HubSpot Payments tool include:
Payments in HubSpot Meetings – HubSpot Payments are now connected with HubSpot Meetings meaning users can now collect payments for things like a routine consultation or a recurring appointment via HubSpot meetings.
Payments in Email – Users can now convert HubSpot email CTA buttons into direct payment links in email by using the HubSpot Marketing Hub email editor.
Payments in Forms – Users can accept payments once their customers fill out a HubSpot form, plus capture leads, and track payments all on one platform.
Quickbooks Online Sync with HubSpot Payments – Users can now send financial reconciliation from HubSpot payments into QuickBooks Online. Within payment-based workflows, users can customize how a paid sales receipt and invoice is created in QuickBooks. Additional QuickBooks Online payment-based workflow actions such as create an expense and create a refund receipt are in beta.
Payment Schedules (in-progress) – HubSpot Payment schedules are now in development. With new payment schedules, users can offer their customers flexible pricing, including splitting a quote total into a series of payments each with their own customizable due date and amount.
HubSpot Operations Hub Improvements
Did you know about 40% of Operations time is spent cleaning data? Imagine what your business could do by reclaiming that time.
With HubSpot's north star of creating connectivity for customers, they've focused on expanding control over data in HubSpot. As stated by HubSpot's Chief Product Officer Stephanie Cuthbertson, "We strive to create a beautiful user experience powered by data".
Some of the key improvements announced for HubSpot's Operations Hub included:
Data Sync Improvements – Data sync health improvements are now live to alert users to possible issues with ongoing data syncs. With these improvements, users can better understand integration health and diagnose data syncing issues quickly.
Improved HubSpot Development Features – To give developers more space to innovate and test, HubSpot has launched new developer tools including:

Development sandboxes
Projects GitHub integration
CRM card builder
Debugging logging system improvements

Import Error Handling – With an improved HubSpot import experience, users can now discover and fix errors before creating or updating the data in a CRM.
Property Validations – Enforcing consistency is key to keeping data clean over time. With property validations, users can now create and enforce rules for certain properties that control what users can, and can't, save as a property value in HubSpot.
Data Model Overview (public beta) – A data model overview provides a more personalized way to optimize a CRM. The data model overview is a learning and planning tool that visually represents the system of data that's stored in HubSpot.
Custom Object Builder (public beta) – With the new custom object builder, users can further customize their data model around their company structure making it easier to build custom objects without coding.
Data Quality Command Center (public beta) – The data quality command center provides at-a-glance insights on the health of HubSpot data in one place. Users can identify unused properties, data sync bottlenecks, formatting issues, and duplicates, with the ability to fix errors right from the command center.
HubSpot CRM Customization
Now that you have your data clean, organized, and set up for continual maintenance, you can customize your CRM to most effectively work for your team with these HubSpot enhancements.
Record Right Sidebar Configuration – Configure conditional logic to show the most relevant information by showing or hiding card sections through custom layouts and permissions for teams.
New Activity Types and Configurable Activity Buttons (beta) – Accurately capture all customer touchpoints and allow reps to claim credit for their outreach with the ability to log new types of customer connection activities including SMS, LinkedIn Messages, WhatsApp, and Physical Mail.
Deal Board Card Configuration – Admins can increase access to customer insights by selecting up to four properties to display on board cards of all pipeline objects - deals, tickets, and custom objects.
Record Overview Tab (beta) – Optimize customer interactions by seeing critical information front and center on the record such as important properties, recent communications, and associated contacts, companies, deals, or tickets.
Record Custom Tab (beta) – Create custom cards with development tools to interact with internal or external data such as a button to trigger a HubSpot workflow, a property list of external ERP data, or statistics with market trends.
HubSpot Marketing Hub Improvements
Next, use your organization's valuable data to create inbound marketing strategies that convert into quality leads with these improvements announced to the Marketing Hub in HubSpot.
Marketing Campaigns Upgrades – HubSpot campaigns allow users to take tactics and turn them into a fully coordinated inbound marketing strategy. Upgrades to note for campaigns in HubSpot include:

Comment threads in the collaboration tool
Attach/highlight comments directly to individual parts of a campaign asset
Connect forms as an asset on a campaign
Add a number in the budget field (for more robust reporting)
View revenue attribution and deal attribution right from within campaigns
Compare the performance of two or more campaigns against each other

Customer Journey Analytics (private beta) – Visualize a customer's entire end-to-end journey and gain deep insights into how to optimize the communications that matter most for increased conversions.
Simple Marketing Automation – Engage and convert customers faster by personalizing and segmenting your marketing while automating routine tasks with email and form automation.
Ad Conversion Events – Power targeted ads across major ad networks. By the end of 2022, HubSpot customers will be able to fully realize all of their first-party data so they are able to target, report, and optimize in a cookieless, privacy-first world.
Product Recommendations in Marketing Emails (public beta) – An easy and simple method to pull the products that matter to customers into marketing emails by utilizing product recommendation features.
HubSpot Sales Hub Improvements
Lastly, take those marketing qualified leads and close the sale all while creating an experience to delight customers with these enhancements to the Sales Hub in HubSpot.
Inbound Calling – Provide reps with unique phone numbers that can be used to place outbound and receive inbound calls right from and to their personal phone (without exposing their personal number).
Custom Goals (public beta) – Developing custom goals helps an organization easily set, track, and manage sales performance. In addition, achieve key stakeholder alignment, transparency, and accountability with notifications based on setting, achieving, exceeding, or missing goals.
Easier Deal Management – The easier deals are managed, the more likely they are to close. Improvements to HubSpot's forecasting and deal management include a new goals app, team goals, and better-integrated forecasting and deal management experiences for reps.

Are you excited about all of these changes in HubSpot but not sure where to start? Contact us at WebStrategies and our team of HubSpot inbound marketing experts would love to work with you on getting the most out of your investment in HubSpot.
HubSpot for Credit Unions
And if your credit union is considering HubSpot for its powerful marketing automation, data management, and CRM capabilities, we are HubSpot Diamond Solutions Partners and have loads of experience onboarding credit unions so we can save you time and money and get you reaping the HubSpot benefits ASAP.