Content marketing for manufacturers is not just a fashionable trend. Creating content is a real, tangible, and absolutely necessary aspect for all modern industries if they plan to be successful and continue to grow.
It's no wonder that this form of B2B marketing has taken the world by storm: the art of content marketing, or creating valuable digital material for a targeted audience, has been repeatedly shown to surpass traditional marketing models in terms of effectiveness and overall ROI.
Content marketing generates three times as many leads as traditional methods, costing 31 to 41% less per lead. Easy to manage, monitor, and measure great results, missing out on content marketing is a serious way to overlook potential customers, important connections, and ultimately huge profit margins.
But many manufacturers are leery to get started with content marketing, whether their industry seems too niche for the internet, or they just aren't sure how to take the first step.
Manufacturers have trailed behind many of their B2B counterparts in establishing a content marketing strategy, and according to the Content Marketing Institute's research, in 2019 only 41% of manufacturers had a documented content strategy (with another 37% reporting having a content strategy but that was not documented). This is actually a significant increase over the prior year, when only 21% of manufacturers surveyed had a documented strategy.
Because of this lag, only 29% of surveyed manufacturers saw themselves as sophisticated or mature content marketers.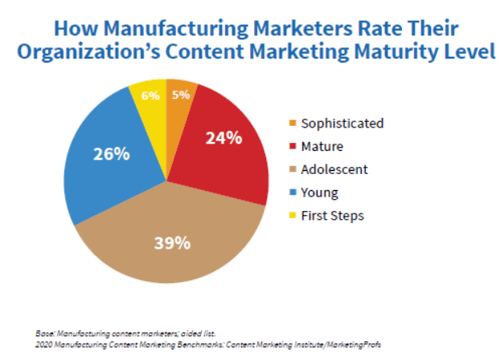 However, as more manufacturers advance their content marketing skills and investment, they are seeing the results of that focus, with 65% reporting improved content marketing success compared to the previous year.
How do industry leaders successfully approach content marketing for manufacturers and industrial B2B industries?
What Prospects Are Searching For Online
There is a common misconception that B2B buyers, especially industrial, don't search for products online like B2C customers. This is simply untrue.
In fact, a recent marketing study proved that over 74% of B2B buyers will conduct more than half of their research online before making an offline purchase. This means that B2B manufacturers and related businesses will need to maintain a larger, clearer picture of what manufacturing buyers are searching for online, and they can't assume that just because they don't sell products directly online that online content isn't important for them.
When prospective buyers start shopping or researching for your product, they are going to fall into one of four stages:
Awareness: Customers in this stage may or may not be looking for your products or services. They may stumble across your website's homepage while searching for related companies, or simply be browsing Google with broad keywords.
Evaluation: The customer has a distinct need or problem that they need resolved, and are comparing your business alongside several others to make the best choice for them. These leads have been exposed to your brand, and are likely semi-familiar with your services. They may search for your company by name, or look for a specific piece of content that answers some of their questions.
Conversion: The customer has found your brand, evaluated the pros and cons, and made a purchase. Congratulations! This customer was searching for a solution that was solved through your business. This process may have been sped along through the help of an ad, a ranked search result, or an easy-to-navigate website.
BONUS - Retention: Don't forget that retained customers will still search for your company online. Content should still be available to these buyers and carefully curated for maximum engagement. This helps to incubate repeat business, as well as boost word-of-mouth marketing with shareable, valuable content.
Having a digital presence, especially through content marketing, is critical to each of these categories of searchers. Not only does online marketing invert the traditional marketing funnel and extend your total reach, but it provides an unparalleled method of providing customers with what they really need: value.
How People Shop For Products
Your online prospects are interested in receiving value from your company, whether it's in the form of reading a piece of content or ordering products from your website.
In terms of manufacturing products and services, customers are likely to search for short and sweet queries that get them the exact results they are looking for. If something pops up that isn't what they're looking for (doesn't provide them value), there is no reason for the customer to continue investigating your product.
When a customer begins the process of evaluating your business, they need to see how your business stands above others. This means you need to do the following:
Construct outstanding web pages with static content that informs, educates, and otherwise links the customer to where they need to go
Frequently update your company blog with content that matters to your target audience
Create a great case study that proves your business can solve customer pain points
Correctly manage retention strategies with a multi-channel marketing approach
That's why great content marketing for manufacturers matters so much to customers in all stages of the buyer's journey. Providing leads with the ability to make informed, deliberate, and precise choices about their needs will not only boost sales but facilitate repeat business as well.
Why Your Website PDFs Contain Content Gold
Your B2B business can theoretically use just about anything for content marketing, but there are a few types of content that statistically perform much better for companies in the manufacturing industry.
According to the Content Marketing Institute, there are three categories of high-performing content for industrial companies:
Ebooks, PDFs, and White Papers (50% Engagement)
Case Studies and other Research Statistics (47% Engagement)
Image or text-based Social Media Outlets such as Facebook, Twitter, and Instagram (41% Engagement)
If you don't already have some content made about your products or custom manufacturing services, chances are you're losing out on potential business that could be securing leads even while you sleep.
Google isn't able to "see" content such as PDFs and embedded Word documents on websites, and thus that content won't appear in searches, but repurposing them into web pages, email drip campaigns, case studies, and even social media posts can make an enormous difference in marketing your business.
So What Is The True Value Of Content Marketing For Manufacturers?
It's undeniable: creating content is serious business. Now more than ever, manufacturers need to begin investing in fantastic marketing techniques run by outstanding marketing professionals that deliver incredible results.
The bottom line? No matter how insignificant content marketing for manufacturers or industrial B2Bs may seem, the reality is that your leads, prospects, and customers rely on the consistent output of valuable blog posts, white papers, videos, ebooks, case studies, and more.
Learn more about 6 Effective Types Of Content For Manufacturers.
Interested in learning more about our best practices in content marketing for manufacturers?