If you are a manufacturing company who is looking to advance your digital marketing strategy and generate more leads and sales through your website, you are probably aware that you need to produce more content. As the marketing world continues to become more and more digital-oriented, the demand for content is only going to increase.
But what exactly do marketers mean when they discuss content marketing, and what are the most effective types of content for manufacturers to publish?
What Is Content Marketing?
In short, content marketing is producing any form of high quality, relevant information that provides value to the audience that you are trying to target. This content is essential in helping you build relationships and trust with your prospective buyers.
In a more and more digitally focused world, content has become vital because by the time a consumer first contacts a company, they have typically done a majority of the research necessary to make them feel comfortable in making a purchasing decision. You'll need to provide them with the information they need to do that research, and that compels them to take the next step and reach out to your company.
As a manufacturing company, content is even more valuable compared to some other industries. With long, complex buying cycles and high-dollar purchases, consumers must have full trust that they are making the right choice. Content allows you to educate your leads about your company, products, and services from the moment that they first identify that they have a need to fill to the point where they become loyal, long-term advocates for your business.
Content marketing can come in many different forms, and allows you to be diverse in the way that you are interacting with the visitors on your website. However, some types of content for manufacturers are more effective than others.
6 Effective Types of Content Marketing
Product and service pages
Yes, your product pages "count" as content marketing—and it's a major battleground. This is a crucial place to invest your time and resources into because of the high volume of traffic that they attract compared to the other pages on your site.
Take a second and think about how you search the web for a product or service that you need. When you perform that search in Google or another search engine, you are typically going to mention a specific product name, which will lead to the search engine directing you to product pages of companies who sell that item—not the homepage of the company.
These pages also offer an abundance of SEO possibilities, which we will discuss later on in this post.
Furthermore, if you offer stand-alone services or other services that support your products, consider building individual pages for these as well. This is a major opportunity that many manufacturers have not taken advantage of and will allow you to stand out from your competitors who may offer similar services but don't discuss them on their website.
Industry pages
Potential leads are often searching for specific applications of your products or services.
Industry pages allow you to deliver content to people who search for these industry-specific queries such as food and beverage manufacturers, computer electronics manufacturers, or any other term related to the industries that your company serves.
Many manufacturing companies have something on their site about their industries but have not fully developed these pages to include the content that they need to be visible in search engines.
Location and service area pages
It may surprise you, especially if you're a regional or international business, but your location and service area pages are a critical aspect of your website.
These pages are an important asset in creating a positive user experience. They allow you to highlight where people should go or call to speak about your products or services, get demonstrations, and confirm to Google that you are a legitimate business.
More importantly, service area pages are an excellent opportunity for many manufacturers to become more visible in search engines. If your potential customers are searching for [your product] in [state/region/city], then creating service area pages is necessary to ensure that you appear in those search results.
Case studies
Case studies are a tried-and-true approach to content marketing that all manufacturers should be taking advantage of. They allow you to demonstrate the value of your products or services through past success and are incredibly impactful in building trust with your leads.
These pages are used to grab the attention of bottom-of-the-funnel website traffic that is interested in committing to doing business with your company. This is because they are viewed as highly authoritative pieces of content and provide direct solutions to the problems that your potential customers are looking to solve.
Case studies can also help you target more keywords that are specific to your products or industry and position them in the content so that they appear natural. It is not uncommon for case studies to appear at the top of search results when consumers are searching for the products that you offer.
Blog & resource pages
Whether you use a blog, a resource section, or a combination, it's important to add supplemental content to your site that helps your potential and existing customers solve the problems that they are facing.
These posts are extremely beneficial in establishing your company as a trusted advisor in your industry and building the rapport that is needed to turn website visitors who are aware that they have a problem into customers who want you to SOLVE their problems.
Another reason that blog or resource pages are critical to your content marketing success is that Google and other search engines use authority as one of their primary ranking factors. You can produce as much content as you want, but without authority, you are going to have a hard time in getting your website to rank for the search terms that you desire. This authority is built by consistently producing relevant, informative content that generates backlinks from other reputable sources in your industry.
Video
Video is a great option for content marketing because it is very diverse and can be used in several different ways.
For instance, a single video can be repurposed on your website, YouTube, your social media page, and in advertising. This type of content is an excellent use of resources for manufacturing companies who produce very complex products that can be difficult to explain through text or require demonstrations to fully understand, or to showcase your equipment, team, facilities and other highlights of how you do business.
Developing high-quality video content can be done with free tools such as iMovie or by outsourcing to talented videographers. These videographers will work directly with you to ensure the video captures every detail that you would like to include and present it in an attention-grabbing, easy to watch manner.
How to Get Started
Throughout this article, some of these content ideas—such as location pages—may have appeared as clear choices for your business while others may seem less obvious, or more difficult to execute. Here are a few tips to help you get started with content marketing and deciding which pieces are content are a good fit for your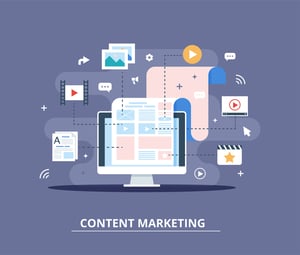 business:
Product and service pages
Conduct searches for your products or services in different areas. Take note of what your high-ranking competitors are doing on their sites–notice things they're doing that elevate the user experience and try to add that same type of content to your website. This is one of the best practices when it comes to SEO and ensuring that your business is taking the right steps to becoming visible to search engines.
Industry pages
If you don't have a page for the industries you serve, start by creating one. If you do, does each industry have its own page? Are the pages detailed and providing specific messaging that someone in that industry would understand and search for? If not, industry content should be a focus for your business.
Location and service area pages
Do you have a place on your site where people can easily see where your locations are? If not, that should be one of your top priorities when creating content for your website.
If you have already established location pages, consider whether or not consumer proximity is ever a factor for you.
Do customers care about shipping costs based on how far they are from you? Do their local weather conditions impact how they consider your product or service offerings?
If proximity matters to your customers or if you have dedicated areas that you operate, service area pages would be a valuable asset to your website.
Case studies
If you don't have case studies on your website, consider adding some now!
These are essential pieces of content for most businesses and can be useful in building trust with potential customers and closing more deals.
To get started, reach out to some of your most loyal clients and ask if you can write a summary of the work that you did for them and include it on your website. Oftentimes businesses are open to this opportunity because it increases their online exposure. Some questions that you could consider asking them are:
How has our product or service positively impacted your business?
How was your experience throughout the buying process with our company?
What feature of our product appealed to you the most?
Receiving answers to questions similar to these will allow you to create a well-crafted case study that can answer questions that future buyers most likely have.
Blog & resource pages
When creating content for manufacturers, blog or resource articles are a must-have. When conducting research, it is very uncommon for potential customers to only perform one search before making a purchasing decision–especially in the manufacturing world where the buying process tends to be longer and more complex.
The more you can be visible throughout your buyer's journey, the more they're going to feel like you're the expert they should turn to when it's time to purchase. Developing informative resources for individuals who are looking to solve a problem, but aren't quite sure how can also help you own that part of their journey and encourage them to purchase from you when the time comes.
To get started, consider what questions your customers have throughout their research process. Examples of content that you should include in these sections of your website include:
Content that answers how much products cost
Comparative content that reviews alternative products
Content that helps consumers troubleshoot any issues with your products
When creating this content, it's important to take note of the tone that you use. It's okay to promote your own products, but present the content in an informative, educational way that doesn't appear as though you are trying to directly sell your products.
Finally, once you have created a solid base of useful content, consider reaching out to trade associations or other relevant organizations that may find value in sharing the information that you have discussed. This tactic can be invaluable in establishing backlinks that give your website the authority that it needs to appear higher in search engine results pages.
Video
If you choose to engage in creating video content, you can use the same approach as you did with product and service pages.
Check search engines for specific search terms related to your products and industry to see if they are displaying videos towards the top of the results page or if the companies ranking high for those terms are including videos in their content.
If yes, that indicates that video could be valuable for that search query or topic.
Also, ask yourself, is there something that is hard to demonstrate with text that would be valuable for visitors? If yes, video is most likely a worthwhile investment for your business.
Manufacturing Content Marketing
When it comes to different types of content for manufacturers, it's actually hard to go wrong if you choose one of these routes. The most important step is to get started in one of these directions so that you can start to separate yourself from your competitors, increase your visibility in search engines, and help your audience solve their problems whether they are at the beginning of their journey with your business or ready to make a purchasing decision.
If done correctly, content marketing can be a powerful, long-term strategy that helps drive more visitors and qualified leads to manufacturer's websites. Learn more about Content Marketing for Manufacturers.
Looking for other digital marketing strategies to drive lead generation and sales for a manufacturing company? Check out our Manufacturing Marketing Resources page.