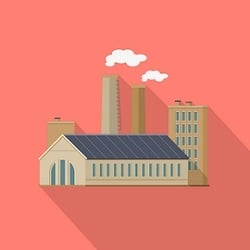 Manufacturing companies tend to be very careful and thoughtful when investing in marketing efforts, especially across the digital landscape. However, more and more companies in the manufacturing sector are starting to realize the value of digital marketing and online lead generation.
B2B Marketing for a Virginia Based Manufacturing Company
Last year, a large manufacturer in rural Virginia approached us about helping them generate B2B leads for their unique industry niche.
To get a feel for the market, we set up a test campaign that included content marketing and Google Adwords. However, the existing website wasn't mobile responsive and lacked in some modern capabilities. So after a few months of trial and error, we proposed building a new responsive website in addition to the other lead-generating activities.
The Problem:
A Virginia-Based Manufacturer that Wanted Online Leads
Our Solution:
Responsive Website
Content Marketing
Search Engine Marketing
12-Month Results:
Generated 21 Qualified B2B Website Leads, each with the Potential of Producing $20,000 to $300,000 in Gross Revenue
Improved User Experience, Conversion Paths, and Mobile Experience
Increased Website Traffic from Approximately 300 Visitors Per Month (Sept. 2015) to 1,000+ (Oct. 2016)

Getting to Know the Business
Our first mission was simply to learn more about the company. The process involved a great deal of research, as well as a few interviews with the client.
Once we'd narrowed down the basics, we dove into their target market & goals, helped define their 'ideal' customer, and created a written marketing plan to guide big-picture-thinking.

We Started with Results-Tracking
Before initiating any digital marketing efforts, we set up a Google Analytics Account and created a dashboard of Key Performance Indicators (KPIs) that included traffic, conversions, and mobile engagement.
It's imperative to have a process for tracking results before initiating marketing strategies because that's how we know what's working and what's not working.
The 3 Digital Marketing Strategies We Implemented
We decided to try three digital marketing efforts to generate leads for this manufacturer: 1) launch a mobile responsive website, 2) content marketing, and 3) paid search engine marketing.
In launching the new website, we paid close attention to user experience, mapped out logical traffic patterns, and added visually appealing call-to-action buttons (CTAs) to improve conversion rates.
On the search engine marketing front, we set up a small test campaign and got several great leads before recommending a full implementation of this tactic. Content marketing is more of a long-term strategy, so we're just now starting to see significant results from those efforts, especially in the form of organic website traffic.
Mobile User Experience Results of New Website:
(3 Months Prior to Site Launch Vs. 3 Months After Site Launch)
Conversions on Mobile Devices Increased by 300%
Mobile Traffic Increased 66%
Mobile Users Increased 58%
Mobile Session Duration Increased 22%
Mobile Pageviews Increased 107%
Mobile Pages per Session Increased 25%
Mobile Bounce Rate Dropped 12%
General website traffic results showed similar improvements, but more importantly, we had an 47% increase in conversions across all combined platforms.
Impact of Mobile Site Launch on the Google AdWords Campaign
One of the more surprising results of launching the new website was the major impact it had on the Google AdWords Campaign. The number of conversions generated by paid search engine marketing absolutely skyrocketed, far more than expected.
In the process of launching the updated website, we created several new pages of content, added call-to-action buttons, and gave all the old content a major overhaul.
The results of this AdWords campaign show us just how much of an impact content marketing and user experience can ultimately have on other digital marketing efforts.
Results of New Website on the AdWords Campaign:
(3 Months Prior to Site Launch Vs. 3 Months After Site Launch)
Conversions Increased 1,500%
Conversion Rate Increased 950%
Clicks Increased 52%
Impressions Increased 25%
Average Position Increased 7%
Click-Through-Rate Increased 23%
Avg. Cost Per Click Dropped 33%
Cost Per Conversion Dropped 94%
The performance of mobile-device-specific ads improved in each of these categories, and in fact, 44% of post-launch AdWords conversions occurred on mobile devices, compared with 0% over the previous timeframe.
Is this growth of PPC for Manufacturers Sustainable?
The client probably won't see another boost in their Google AdWords campaign of this magnitude without a significant increase in budget. We're only hitting about 15% of total impression share and are only running ads in a few small geographic regions.
This manufacturer serves customers across the U.S., so there's still plenty of room for growth in this specific AdWords campaign. As you can probably imagine, we're recommending the client increase their Pay-Per-Click (PPC) AdWords budget in 2017.
What Did We Learn?
The degree to which content marketing and user experience can impact other facets of digital marketing for manufacturers was the single most surprising thing we learned from working with this client.
Upgrading to a mobile responsive website is one of the easiest ways to have a major impact on user experience. But, if there's already a mobile responsive website in place, consider mapping the customer's journey from landing page to conversion. Are there any pages that could use a thoughtfully placed CTA button that might catch a customer's eye?
When it comes to content marketing efforts, don't rush the process. Sometimes it's difficult to tell just how much of an impact content is having, because those efforts can impact other digital strategies, aside from organic search results. Content takes time to develop and a lot of effort, but the rewards can be well worth the persistence.
Learn More About Manufacturing Marketing
We have a long history of generating online leads for B2B marketing clients. When was the last time your manufacturing company got a qualified lead from your website? If your website is not generating leads, contact us. We're always happy to share ideas and offer up suggestions.
You may also be interested in:
Best Digital Marketing Tactics for Manufacturers
How Much Should Manufacturers Budget for Marketing in 2018?
Manufacturing Marketing: Getting Started with Digital Marketing