HubSpot is a CRM with powerful marketing automation features that can be used with its own Sales Hub or integrated with another CRM. Salesforce is a popular CRM with manufacturers but when it comes to marketing automation to nurture the leads, HubSpot is the leading platform for usability and functionality - in any industry. It integrates easily with Salesforce and Microsoft Dynamics and keeps data in a centralized location rather than maintaining data in two separate systems. HubSpot also integrates with ERP systems such as Odoo and Commercient giving one source of truth for data records.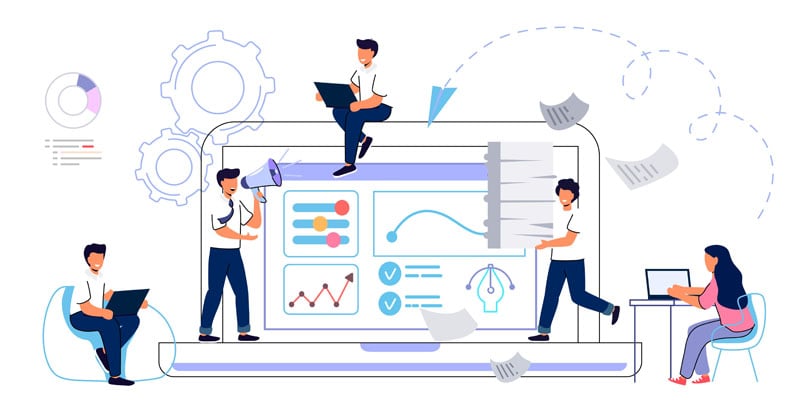 Why add HubSpot marketing automation to a manufacturer's tech stack?
HubSpot layers functionality onto the data that will attract the target audience to the website, engage with leads and continue delighting customers by using data to know when they likely need your product/service again.
| | |
| --- | --- |
| In this video, Kristin covers the tools HubSpot provides for marketing automation and the benefit to manufacturers. | |
On a typical website, when a visitor views a product page they are anonymous and when they leave can't be contacted again. However, with HubSpot, if the visitor fills out a form (such as when they download a paper or use a calculator) their information is gathered, then a marketer can start to understand and follow them throughout the buyer's journey and continue to build a relationship with the lead around the information they are looking for.
Using a HubSpot form, one of our manufacturing clients gained over 1,600 leads from website visitors downloading a whitepaper. Those leads continue to be engaged by sales and marketing efforts to drive revenue.
A case study done by HubSpot on Boyd Corporation found that when Boyd switched from using Pardot to HubSpot, they increased marketing-qualified leads by 42% and top-tier leads by 82%. The corporation estimated that HubSpot workflow automations do work that is equivalent to 10 additional team members. That is serious cost savings.
HubSpot's marketing automation maximizes the data and makes it easy to get the right information, to the right person, at the right time.
12 Ways HubSpot Marketing Automation Nurtures Leads
Email Marketing - Send email campaigns to a segmented group of contacts.
Email Automation - Send emails to contacts based on their behavior on/off the website.
Conversation Marketing - Engage with users on the website through live chat or chatbots.
Landing Pages - Build custom landing pages on a subdomain to drive traffic to.
A/B testing - Run A/B tests on landing pages and emails to hone in on the best-performing variations in copy and design.
Forms - Create and embed forms on your website to capture user behavior when appropriate.
Contact Website Activity - Get insight into what a contact is doing on your website. See page views, form submissions, sales activity, and more, all in one place.
Analytics & Reporting - Determine where success and opportunities lie with website, landing page, and email reporting.
Import Data / Custom Reporting - Build custom reports with imported data to show how your online marketing efforts are affecting online and offline activity (loan applications, account openings).
List Segmentation - Create static or dynamically updating contact lists based on various criteria using HubSpot CRM properties. Use them to power more personalized content in email, on the web, and more.
Ad Retargeting - Show ads to contacts that have left your site based on the content they've consumed. Retarget ads on Facebook, Google, or LinkedIn.
CRM / Deal Pipeline - Keep track of deals and predict future revenue based on how likely they are to close.
Considering adding HubSpot's marketing automation? A good partner knows the tools and can put these pieces to work for you so you aren't overwhelmed by all the pieces. Contact us to schedule a time to discuss adding marketing automation. We're HubSpot Platinum Partners and have years of experience in marketing for manufacturers.
Additional Resources:
Manufacturing Marketing Strategy