It's no surprise to those in the financial industry that credit unions and traditional banks are facing tough competition from digital-only banks and fintech. In our recent survey of 1,000 banking consumers and subsequent Consumer Banking Preferences & Behavior Report, we learned the value drivers for consumers under age 45. Number three in the primary factors list that people under 45 value in a financial institution are mobile app capabilities. Online (non-mobile) capabilities ranked in the secondary factors. Clearly, the online experience is important to the younger demographic, and fintech by nature delivers exceptional digital experiences. But what makes a fintech app better than credit unions' websites and apps?
To answer that question, our report may also paint a more complete picture. It reveals the surprising result that financial education is very low on the list of things people under 45 care about in their financial institution.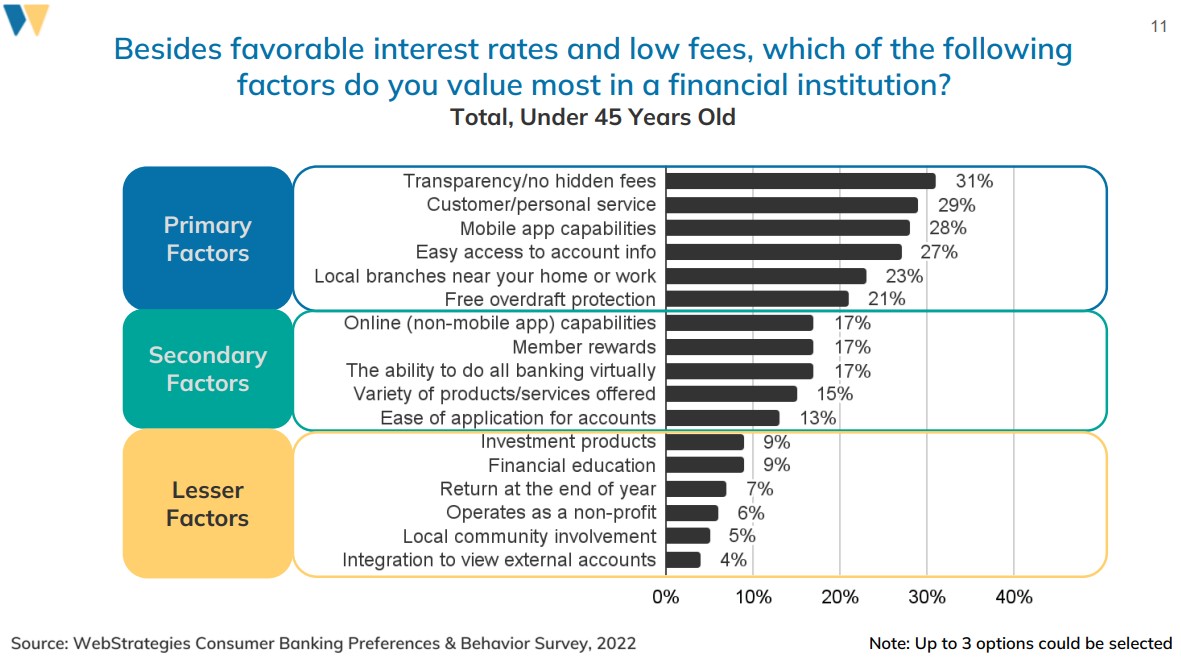 Marketing Credit Unions to Millennials
Most credit unions take great pride in the programs offered to members; it is a differentiator in the service credit unions offer. Unfortunately, younger consumers expect the app to actually handle more of their problems than simply deliver the knowledge.
For example, my primary financial institution, Virginia Credit Union (VACU) produced a webinar for Smart Money Goals containing solid advice and actionable steps toward setting and achieving financial goals. The presenter, Sylvia W. opens with the question, "Did you know that people who set financial goals for themselves and write them down have double the wealth of those who do not?" Hearing that, I immediately chastised myself for not having current documented goals. *Mental note, prioritize a financial tune-up (and thank you for the reminder, Sylvia!)
Her message is motivational information however, it still leaves the action up to the member to actively set up separate accounts for various savings goals, to initiate regular transfers, and then monitor the balances. If members want further information, an appointment can be made for free financial coaching at VACU. For years these educational programs assisted to create savvy members and while they are still useful, the digital experience has changed consumer expectations of the tools. They now must do more than educate and consult.
Fintech Advantages over Typical Credit Union Apps
A recent article by Steve Cocheo of The Financial Brand identified the top things fintechs provide on their apps. For a variety of reasons, credit unions may not be able to implement the top features but knowing the services fintechs offer and how they more directly assist consumers to assist credit union marketers identify the mobile app and digital features to highlight to improve appeal to potential consumers.
Fintechs handle the budget
Many fintech apps assist the user with budgeting, indicating that younger banking consumers are more interested in tools that do the work for them, rather than taking the time to learn how to set a budget as well as how to implement the allocation of funds to the different buckets.
The Financial Brand cites a survey done by MX that found some of the leading fintech budgeting features include:
Help save for goals or regular expenses like rent
Budget using "jars" for money allocation (bills, spending, saving, wealth accumulation)
Analyze spending habits and moving money to categories to cover expenses
Gives cashback on spending that is then invested in a portfolio-experience
Realtime updates that prevent overdrafts
Fintechs give early access to payday deposits
The Financial Brand says nearly every fintech they reviewed offers the feature of access to payroll funds and regularly scheduled payments up to two days early.
Temporary cash advances without penalty
Albert and MoneyLion provide cash advances (capped at a percentage of the regular deposit into the account) for free and with liberal repayment policies.
Additional features mentioned in The Financial Brand article include assistance building credit and reporting things like rent and bill payments to credit bureaus at no additional charge.
Credit Union Advertising Focus
Based on the appeal that fintech demonstrates to the younger demographic, under 45s are more likely to trust what an app does for them and are less interested in lessons such as "how to budget" as credit unions have historically provided to members. Rather than credit union advertising that promotes financial education, marketing messages that are more focused on digital app capabilities are more likely to resonate with the younger audience and deserve more attention and marketing budget.