Social media platforms have been available for businesses for over ten years yet many manufacturers still dismiss the platforms as frivolous rather than embracing the potential to build a brand reputation through organic posting and to target specific audiences with ads. Social media is not just for B2C brands and taking a look at Industry Week's top 10 manufacturing companies, leading B2B manufacturing marketing departments leverage the platform for branding. (Ironically, Clorox and Apple, the two manufacturers of consumer products in the top ten list, are the least active on Facebook.)
In a review of Industry Week's Top 10 U.S. Manufacturers' Facebook posting frequency, nine of the ten have active Facebook pages. Of those nine, seven manufacturers post at least a few times each week and three of them post every day.
Top 10 Manufacturing Companies (Industry Week)
| | |
| --- | --- |
| Top 10 Company | Facebook Posting Frequency |
| | Daily (multiple) |
| | Daily |
| | Weekly |
| | Rare |
| | Weekly (multiple) |
| | Rare |
| | Weekly (multiple) |
| Lancaster Colony Group | No page |
| Huntington Ingalls Industries (HII) | Daily (multiple) |
| | Weekly (multiple) |
Admittedly, big manufacturing marketing departments have a staff to handle the idea generation, copywriting, and creative design required for regular social posts. ROI on building your brand and connections is a goal that is tough to measure but social media is an inexpensive way to reach an interested audience. It doesn't take perfection to reap the benefits of social media and free, easy-to-use tools like Canva make it easy for anyone to create simple image files so your posts are eye-catching. Just like most things in life, consistency is most important so even if you are only able to post every few weeks, the value comes from doing it on schedule and in a timely manner.
Social Post Ideas for Any Size Manufacturing Marketing Department
Photos and videos of your products in use (even if not visible)
Company awards and recognition
Employee gatherings
Community involvement and non-profit support
Employee profiles
Employee achievements (both professional and personal such as notable education and fitness endeavors)
Recruitment promotions
Celebrate client or partner successes by sharing their posts with your encouraging words of support
YouTube Videos Leverage SEO
Have you noticed videos showing on search engine results pages? Search engines draw videos from YouTube on search engine results pages so if there is a video to illustrate some of your target keywords, optimize it on YouTube. Placing product demo videos on YouTube, using keywords in the video's title and descriptions for search engines to pick up, and then embedding the video on your website has two benefits:
As users search YouTube for videos, your video could be presented to them. YouTube is the third largest search engine, but more importantly;
If your video name and description contain keywords that match user intent, the video will likely display on Google search results pages.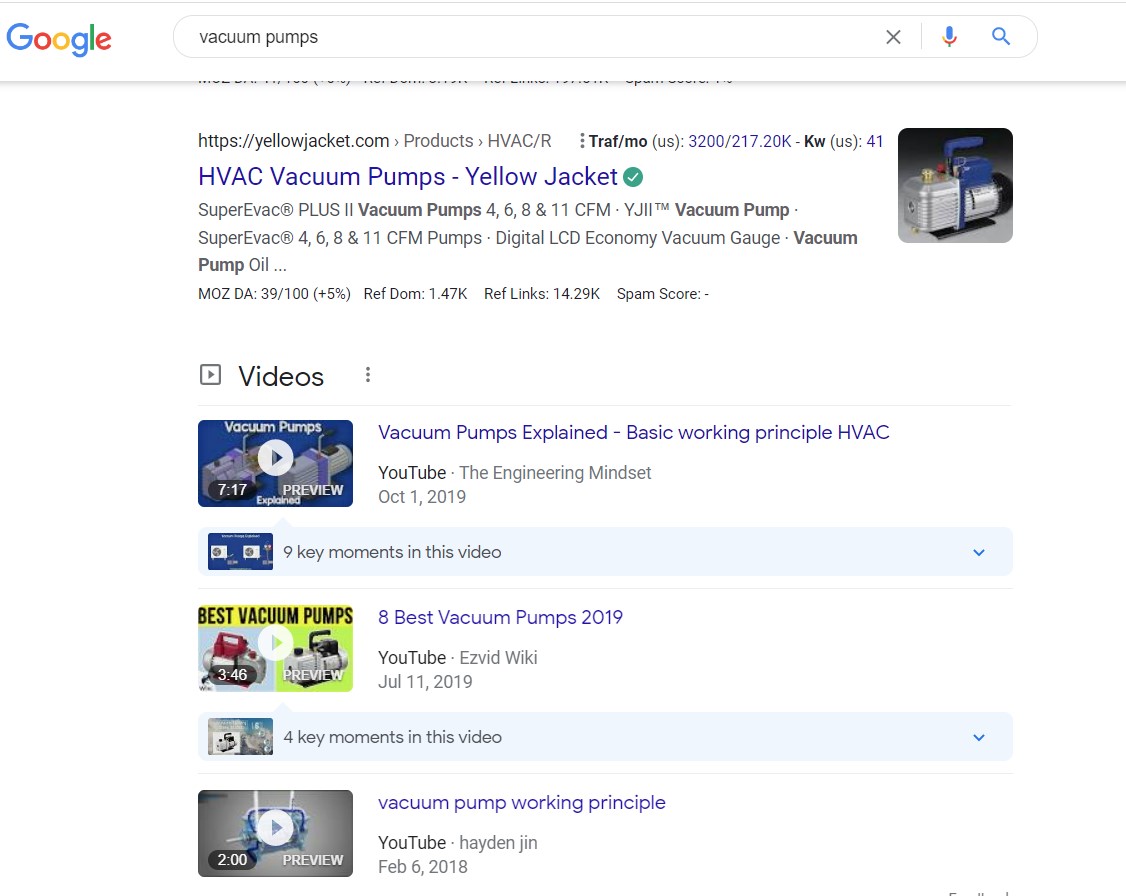 For video marketing ideas, see 6 Ways Manufacturers Can Use Video in Marketing
Facebook Groups for Manufacturers
Social Media Examiner Trends for 2022 says that niche Facebook groups are becoming prominent marketing channels. B2B Manufacturers who support production or other complex industries are in a great position to leverage Facebook Groups. Create a group that supports your buyer personas and addresses their production needs. Promote the group at trade shows and in other digital and print promotions and build a group of clients and potential buyers that will help you:
Stay top of mind
Learn about production concerns and gain ideas for product enhancements
Keep engaged with potential clients
Be available when clients need assistance
The article also points out that genuine storytelling in YouTube videos will drive marketing success, but that is a strategy that can be applied to all social interactions. Use all the social media platforms to tell a story and build an emotional connection with viewers. Don't be afraid to talk about failure and how the organization overcame the obstacle, avoid boasting while sharing success stories, and give credit to the people in the organization who drive that success.
LinkedIn for B2B Manufacturer Marketing
Even marketers skeptical of social media professionalism generally agree that LinkedIn is an exception because it is intended for business use; theoretically a platform for professionals who are connecting over business matters. That makes it an excellent reason to have a business LinkedIn page with a complete profile and regular updates. According to LinkedIn, there are 20 million global manufacturing decision-makers using the platform, and 84.2 million posts were shared by manufacturing decision-makers last year.
Paid Social Advertising for Manufacturers
One of the best ways to leverage social media is through paid advertising because of the ability to target specific industries, job functions, and job levels, specifically through LinkedIn. If you have a current email list that you market to, create a "look alike audience" that uses the email address in your list and finds other profiles in the region you specify that are similar to the profiles in your list.
Social Media Is Not Going Away
There's not a single "right way" to leverage social media, but as the channel in all its forms, continues to expand, so use it to your advantage if you're not already. Make a plan and take small steps to increase your company's engagement on social platforms to increase interactions with your customers, your industry, and your community.
You may also be interested in this manufacturing marketing article
Setting a Realistic Social Media Budget
Use a manufacturing marketing budget calculator to determine how much should be allocated to social media advertising
Download the Manufacturing Marketing Budget Calculator