Most credit unions know that they should be doing something with social media, but many are still figuring out what to do. Credit union social media can have a significant impact on marketing results, but not necessarily by using it the way you're thinking.
Let's focus on Facebook, for example. It's time to make use of your Facebook page. Sure, you started one a few years ago and have used it to share all the exciting benefits and promotions your members enjoy.
Maybe you even boost a post now and then, and that's great! But if you would like to eventually see a return on that investment and haven't started advertising – it's time.
DON'T be scared of Facebook.
DO be smart about your approach.
DEFINITELY understand your strategy, and specifically, your long-term goals.
In this post, we'll discuss targeting options and examples, as well as our favorite tools for maximizing the strength and reach of campaigns.
Find Your Ideal Audience With Specific Targeting
Facebook collects a seemingly unending amount of demographic, interest, and behavior information from its users, so as marketers we have the ability to target its users on a very deep level.
In addition to most of the options available on the Google Display Network, Facebook can target your desired audience with options as granular as job title, employer, net worth, home value, parental status, and specific shopping and financial behaviors. It can even determine users who are more likely to purchase a car within six months or who have recently purchased a car within the past year.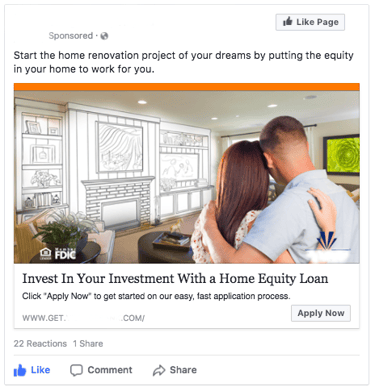 One particular product for which this can be especially helpful is home equity loans. Filter out non-homeowners from your audience right away by targeting homeowners first from the available demographic information, then narrowing your audience further by interests (home improvement, debt consolidation/financial services) or other behaviors.
This example of targeting, using the ad pictured here, reached nearly 40,000 qualified people in our target audience, resulting in over 350 link clicks and five successful loan applications so far, for less than $750 in total cost.
Add Familiarity to Engage Existing Members with Additional Products or Promotions
While this algorithm-based targeting is exciting – and hugely beneficial for maximizing appropriate reach – it's usually not enough to help you start raking in the cash. A major challenge with Facebook lies within the casual nature of the platform.
Your target audience is likely scrolling through their feed, engaging with pictures of that-friend-from-high-school's new baby, or an ex-coworker's recent wedding. They're not exactly there to shop for the lowest personal loan rates or contemplate the benefits of joining a credit union versus a bank.
This why we recommend adding a layer of familiarity when developing campaigns for Facebook. For example, we often use a custom audience list of current members to upsell a current promotion to a specific audience with whom we already have a relationship.
With large enough lists, advertisers can even layer in some of the demographic and interest targeting mentioned earlier – say, targeting current members who do not have an auto loan with the credit union, but who have purchased a car within the past year, with a specific message about refinancing.
Use Facebook's Tools To Take Targeting A Step Further
Similarly, using tools like custom audiences in conjunction with the Facebook pixel can help advertisers take remarketing a step further. Custom audience lists can be used to retarget people who have visited specific pages on your site or even taken specific actions, like logging into online banking or starting a loan application.
One particular combination we love: creating a custom audience of users who have logged in to online banking and also viewed a specific product page on the website – in this case, let's say the mortgage page.
A savvy marketer could posit this audience is made up of members who are interested in learning more about mortgages, right? Now, we've got a list of warm leads who are 1) familiar with our brand and services and 2) likely high-intent, low-funnel, potential conversions. JACKPOT. Let's hit them with a beautiful, well-written Facebook ad that promotes our great mortgage rates, friendly service, and easy online application.
We used this exact tactic for an auto loan campaign that generated three successful loan applications from a custom audience list of 5,000 current credit union members for under $450.
Custom audiences can also be used to create lookalike audiences, which allows Facebook to use a source audience to find people who behave ("look") like them. Facebook's algorithm identifies common qualities within your source list, then filters a much larger audience to find the users who share those demographic, behavioral, or interest-related traits. As you may imagine, the higher quality the source audience, the greater chance the lookalike audience has of being successful.
While seemingly complex in nature, this tool can take simple campaigns to the next level. Using a custom audience list of your members to create a lookalike audience for a membership promotion can take advantage of targeting insights you aren't even aware of yet. Essentially, you can harness the power of Facebook's algorithm to take the guess work out of targeting!
If you aren't yet familiar with these tools, Facebook has never made it easier to get started. All of these examples can be applied to campaigns with limited budgets – even as low as $5/day – until you are comfortable enough to scale up your campaigns for even better return on ad spend (ROAS).
Remember, just like other digital advertising tactics and platforms, understanding your long-term goals, member lifetime value, and average cost-per-acquisition is vital in determining a comfortable budget for your campaigns.
For more on digital advertising for credit unions, check out: The Most Effective Digital Strategies For Credit Union Advertising
---
Wondering how much you should spend on Credit Union Social Media Advertising? Download our Digital Marketing Budget Calculator to get a recommendation in seconds.
Visit our Credit Union Marketing page for more advice on credit union social media, and many more digital marketing topics.