The failure rate among small business salespeople is alarming. I've heard turnover figures as high as 40%. Consequently, when small businesses hire salespeople to help them grow revenue, they have about a 50-50 chance of success. In my book, that's not so good.
In a recent article published, How to hire a successful B2B salesperson – 10 step process, I provided a process for vetting, testing and hiring a salesperson. However, you can do everything right in the hiring process, but the person you hire may still fail. This article provides information about the single most frequent reason salespeople fail and what to do to avoid that result.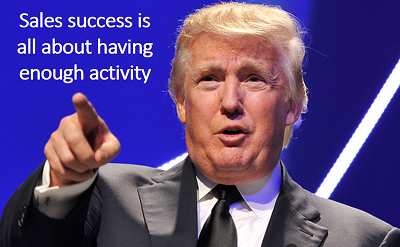 Lack of activity, and management's behavior related to this sales activity, is the single biggest reason salespeople fail. They just don't get enough activity in the sales pipeline to meet their sales quotas.
Lead Behaviors
The first step to achieve sales success is to identify the top 2-4 lead behaviors you want your salesperson to execute on a day-to-day, week-to-week basis? If not, you're missing the foundation for having the sales activity necessary to achieve your goals.
Lead behaviors are the activities your salesperson should be doing that lead to making sales. Here are some examples of lead behaviors
Number of phone calls made to prospects
Number of new prospects seen
Number of existing clients for which a sales presentation was made
Number of proposals delivered
Number of contacts added to the CRM
Sales is a numbers game and the more activity you have in your sales pipeline, the higher the probability you'll hit your sales goals.
To determine your lead behaviors, brainstorm what are the actions that you can control and can be completed by the salesperson, and how to measure them. These are actions and behaviors, not end results and they have to be measurable. Identify the top 2-4 lead behaviors, and these become the mini-goals to be achieved by your salesperson on an ongoing basis.
Managing Lead Behaviors
Now that you have identified the lead behaviors that if executed consistently will lead to sales, the next step is to set up a leadership routine to manage attainment of the lead behaviors.
First, set up an easy reporting routine. Don't do anything complicated or it will get in the way of the important stuff – executing lead behaviors and making sales. Create a weekly report that your salesperson uses to document activity related to the lead behaviors.
Next, establish a weekly sales meeting routine. Make it the same time every week. Depending on the number of salespeople, limit the meeting to 30 or 60 minutes. Always start on time and always end on time. By doing so, you establish a discipline that's critical to sales.
In your sales meeting you are focused on three things as follows:
Report on attainment of lead behaviors during the previous week
Review lower-funnel prospects in the pipeline to determine what action is appropriate to close them
Make 1 or 2 commitments for the following week that will lead to making sales, and report on attainment of your commitments from prior week
Identify training and development opportunities
By establishing lead behaviors and metrics, and a discipline to review and discuss these, you demonstrate a level of importance to managing the sales organization. You also instill a discipline that becomes an integral part of your culture.
Do You Have the Right Sales Team?
While lack of activity, and absence of managing that activity, is the most frequent cause for salesperson failure, you have to start with having the right salesperson. This is where implementing the 10-step hiring process and using a sales assessment tool will help ensure you are hiring someone who has the basic mentality and traits to succeed in sales.
In summary, the lack of day-to-day sales activities that fill the pipeline with qualified sales prospects is the single biggest cause for salesperson failure. Closely related to that is management's inability to effectively lead the sales function through management of lead behaviors. If you have the right people on the sales team, and you identify and measure lead behaviors, you'll be set up for sales success.