If you're looking to grow your company's sales, hiring a successful salesperson can be monumental. While there are other things necessary for sales growth (see article about sales process), this article focuses on how to make sure the salesperson you hire isn't a dud.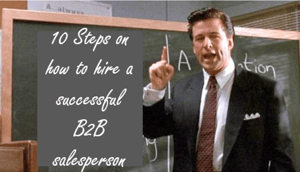 I've heard countless stories about hiring a salesperson and ultimately being disappointed about how they perform. So, instead of wasting your time hiring someone who won't help you grow sakes, make sure your hiring process is solid. Live by the phrase – hire slow and fire fast!
When recruiting a new salesperson for your team, apply the following 10 steps to ensure you bring on the right person…
Gather and review resumes – We've found the best sources of identifying good sales candidates are your own networking activities, LinkedIn and Indeed.com. Invest some time and money into these 3 sources and you'll likely get a good amount of candidate activity.
Conduct an initial phone screen interview – Focus on three primary things; 1) why and what makes the person interested in the position, 2) how well has the person prepared for the phone interview, and 3) is the role aligned with the candidate's aspirations. While there are many questions to ask, assess the manner in which the candidate manages the phone screen process. Is it consistent with how you would want a salesperson to manage a sales opportunity?
Send a post-phone screen follow-up email – This email goes beyond "thank you for your interest". Instead, you should ask the candidate some questions in the email to further assess their abilities. Here are some questions to ask in the email…

What do you think this job involves?
What do you think it will take to be successful here?
Tell me why I should consider you for this position?
What specifically in your life do you want to change?
How will being successful in this job help you with this change?
Conduct initial face-to-face interview – If your candidate performed well during the phone screen and nailed it when responding to your email questions, it's time for the first face-to-face interview. While there are numerous questions to ask during this phase, here are the areas around which to focus your questions

Does the person express a positive attitude toward the product and salespeople?
How motivated are they to make their life better?
What are their top character and personality traits?
What sales training have they received and what training will they need?
Are they a cultural fit for your company – do they cherish the same values you do?
Send a post-interview follow-up email – As described in #3 above, this email is more than just a "thank you". It is one in which you'll further assess the candidate's skills as a salesperson wanting to close a deal (get the job your discussing). In the email, ask the candidate the following questions…

What do you think about this opportunity?
How well aligned is this opportunity to your career aspirations?
What is most attractive to you about this opportunity?
What concerns you the most about this opportunity?
Administer a sales assessment – If you're still excited about your candidate, it's time to get an objective assessment about their psychological make-up. Have the candidate complete an online assessment geared specifically for salespeople. We use the CTS (Can They Sell) instrument, which is an enhanced version of the Craft Personality Questionnaire (CPQ), one of the leading sales assessments tools on the market. Get a sample report here.
Get references – If the results of your sales assessment are positive, you might have a winner on your hands. It is time to get some references. We recommend getting at least four, and it is ideal if you get two from supervisors, one from a coworker and one from a customer. A good way to find people to call is LinkedIn. Go to the candidate's LinkedIn profile and see if you have any shared connections.
Conduct a panel interview – Gather 3 members of your team, other than you, who will have a stake in how the candidate performs/operates if hired. Panel interviews are a great way to get a comprehensive assessment and understanding of the candidate.
Assemble your offer of employment - After executing the first 8 steps with success, you have a strong candidate. Now it's time to pull together an offer of employment that is satisfactory for you and the salesperson. Get this together so you're prepared to make the offer during your final interview (step #10).
Conduct the final face-to-face interview – You're likely excited at this point and hopefully the candidate is as well. During this final interview, focus your questions around how the panel interview went and what the candidate's impression is about each person on the interview panel. Answers to these questions will likely solidify the cultural fit or reveal some concerns. If all goes well, make the offer.
Bringing on a new salesperson can be a time-sucking and money-sucking venture. Don't let that happen to you. Integrate this 10-step process, and your chances of finding someone who can help grow your sales will be as good as it gets.