At this point, most people who work in marketing or advertising for the credit union industry have heard of PPC or search advertising. But do you know what your potential customers think of it?
Some consumers say search ads are annoying, but many don't even notice they exist. A study was conducted in 2016 by Varn indicating that about 51% of consumers don't know what a Google paid search ad looks like. 13% of the respondents said they know what a search ad looks like and they do they click on them, leaving 36% able to identify them but not clicking on them.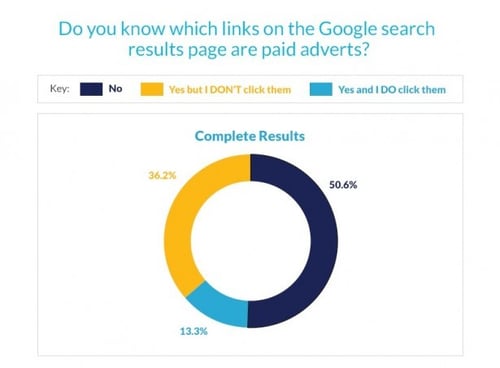 If you've been reluctant to run PPC search ads because you never click on them yourself, remember that you are not the average consumer. Especially if you've been in the marketing/advertising world for a while, you are more familiar with the different types of advertising than the average person.
Some people may still question whether anyone actually clicks on search ads, and to them I would recommend looking at Accuracast's data on the average CTR for search ads: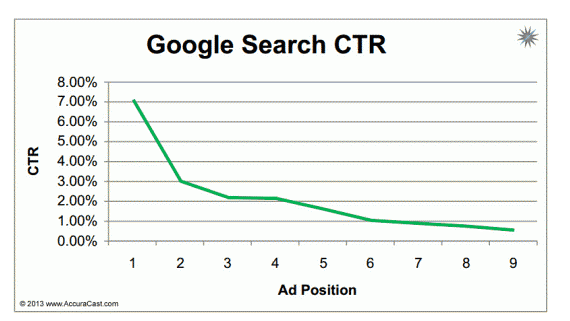 Why is PPC Advertising Necessary for All Credit Unions?
Besides missing out on the 50% of consumers who can't identify a search ad and would perceive your ad as an organic search result, you are also failing to get your brand in front of consumers with a high intent for finding a financial product.
Let's face it - financial services are not an impulse purchase. Most consumers do at least some research before deciding to apply for a financial service or switch financial institutions. Enter paid search advertising.
For those that aren't as familiar with PPC Advertising (also called search advertising), the purpose is to get your brand in front of consumers when they are searching particular words/phrases on Google or other search engines . If done strategically, your PPC campaigns can make you known to users who are in market for a financial product.
If Kyle, who lives in Baltimore, is looking to buy a new car and wants to know where to get the best auto loan, he's probably going to search on Google "auto loans in baltimore". By running a search campaign that targets this phrase, you can get your brand in front of Kyle who has an intention to get an auto loan in your area.
6 Best Practices for PPC Advertising for Credit Unions
1. Know how people search on Google.
Before you start throwing money into Google's AdWords platform, think about how people using Google to get information. If you need a plumber, doesn't your Google search look something like "plumbers near me" or "plumbers in [my city/town]"? If you need to find a dry cleaner, don't you search for "dry cleaners near me"?
The majority of service-related searches on Google are in the service + location format and that is how many people search for financial products. Knowing this will help you determine what keyword phrases you should go after. For example:
credit unions in austin tx

auto loans in savannah Georgia

personal loans in phoenix az
2. Do your research
Always do some market research to see who you will be competing with on Google. Who else is running search advertising in your area? What financial products have the most competition? How do you rank organically for these service + location searches? This information, in combination with your goals, will help you determine which financial products to focus on first.
3. Implement End-to-End Conversion Tracking
One of the hardest pieces for measuring ROI is being able to track users end-to-end. By tracking users from ad impression through application completion, you'll have all the components needed to create a full picture of your advertising efforts across social, display, and search.
Tracking how many people saw your ad, click on it, landed on your site, and applied for a loan is essential for getting the most out of your search advertising campaigns. Once you have conversion tracking implemented, you'll be able to see what products, ads, and keywords are driving the most application submissions and optimize your campaigns accordingly.
How helpful would it be to know that you spent $500 this month on a Personal Loans search campaign and recorded 50 applications from it, making your cost per application $10? This is a REAL client example of how end-to-end conversion tracking can give you everything you need to show your CMO how important PPC advertising is.
4. Understand that a good PPC campaign is built over time.
I don't know how many times I've been asked to give an estimated ROI before starting a PPC campaign. The issue with providing an ROI before you start a campaign is that every market is different. Depending on your service area, you may have very different sets of socioeconomic demographics who will have very different financial service needs. The best PPC campaigns are built over time and it can easily take 6-10 months to optimize a campaign to a reasonable cost per application.
5. Cast a Wide Net
Start your campaign by casting a wide net. Since every market is different, run your PPC campaigns for 2-4 weeks with broad keywords. If you are running any personal loans campaign, maybe start by going after "personal loans" and "personal loan rates". By keeping your search phrases broad, you will be able to see what phrases people are searching most and what phrases have the most intent.
We recently did this with a client and noticed that many loan applications came from people who searched for "poor credit personal loans" and "no credit personal loans", which allowed us to block these search phrases and spend more of our budget going after consumers with good credit.
6. Make your ads relevant
Google Adwords has great data, but in my opinion one of the best (and newest) features is their Quality Score data. Once your campaign is live and has collected some data, Google will give you a rating from 1 to 10 on the quality of your ads for the keywords you are bidding on.
Higher quality scores typically lead to lower costs and higher ad positions. This data, along with Ad Relevance, Landing Page experience, and Expected CTR will help you optimize the quality of your ads. To make your ads relevant to users, make sure you using similar language.
If someone searches for "car loans in san diego" it's more relevant to show them an ad that says Low Rate Car Loans in San Diego - YOUR BRAND than Vehicle Loans YOUR BRAND.
Getting Started
At this point, if you aren't currently running PPC search advertising for your credit union, I hope it's clear that you should start. Before you rush into it, remember that your advertising will only be as good as the research you put into it. It's easy to spend thousands of dollars on Google's AdWords platform without any return if you are not strategic in the way you set up your campaigns.
There are plenty of resources on the internet that can help you with your PPC search campaign, but I would caution you that it's not a simple task for any DIYer. Find an individual or a company who is Adwords certified and knows the credit union industry, or work on getting certified yourself.
For more on advertising, check out: The Most Effective Digital Strategies For Credit Union Advertising