Pressured to show immediate success, or lacking deeper insight into marketing performance, it's easy for credit union marketers to rely on vanity metrics to guide their decision-making process.
However, these metrics only support non-transactional marketing goals and don't provide you with the entire picture of how your campaigns are performing.
Your decisions should be backed by more sophisticated metrics like cost per application and funded loans to get the best results from your credit union marketing strategy. These metrics show the real impact that your efforts are having on your credit union, and allow you to make adjustments to where you focus your time and marketing budget.
Read on to learn how you can leverage these metrics to guide your credit union marketing strategy in the right direction and generate better results.
What type of data do you have?
To take an analytical approach to adjust your marketing strategy, you must first establish what type of data you have available.
If you do not already measure the ROI of your marketing efforts, you have three different options available depending on the LOS platforms that you use:
Calculating ROI using baselines and averages
eCommerce tracking with Google Analytics
Full-fledged end-to-end tracking with Google Analytics and a CRM
All three of these options will provide you with metrics that you can use to measure the effectiveness of different marketing channels; however, the advanced options will give you more accurate ROI data to base your decisions on.
If you're unsure of which type of tracking you could have access to, or you're considering a new LOS vendor, here are some of the Best Loan Origination Software for Credit Unions from an ROI tracking perspective.
Analyzing your data
Once you've established the type of data you have available, it's time to start analyzing this data to identify opportunities to improve your credit union digital marketing strategy.
Suppose you've calculated your marketing ROI from each product using baselines and averages. In that case, you should have a good representation of which products are performing the best and worst from a cost per application standpoint. You'll also have a rough estimate of the revenue generated from these products.
With more advanced tracking options like eCommerce tracking, you'll have access to much more accurate and in-depth analytics to guide your decisions. You can leverage this data to set up comprehensive reports in Google Data Studio, as seen in the image below.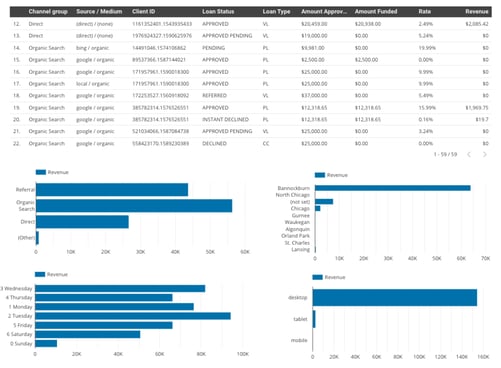 In these reports, you can identify the source of all of your funded loans and begin to dial into which marketing channels or advertising campaigns generate the most revenue. However, this data doesn't tell the whole story.
With the most sophisticated tracking available using a combination of Google Analytics and an advanced CRM platform like HubSpot, you can accurately measure this ROI data with the added benefit of analyzing the performance of your application process.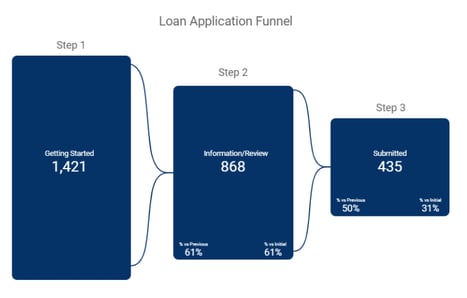 For example, you can create reports such as the one above to identify where users may be dropping off throughout your application's various steps. Using the data collected by HubSpot, you can determine who these users are and market to them much more effectively.
Adjusting your credit union digital marketing strategy
Depending on the type of data you have available, the route you will take in response may vary.
Basic Tracking
If you have limited tracking available and have established an ROI for the various products you are promoting, then this information is going to be the key to optimizing your advertising performance.
Have you identified one or multiple products that are generating a higher than ideal cost per application? Then you should revisit the budget and targeting that you have set in place for these campaigns and make adjustments.
eCommerce Tracking
Moreover, with eCommerce and end-to-end tracking, you can really begin to dial into the individual channels that are performing the worst and adjust them.
Does advertising for home loans on Google generate much better results than Facebook? Then we would recommend that you shift some of Facebook budget to Google for that particular product unless you have identified your Google campaign as maxed out.
End-to-End Tracking
With the application funnel information provided by connecting Google Analytics to your CRM, you can access many more effective marketing opportunities. We recommend that you utilize marketing automation to leverage this information and streamline your follow-up process.
For instance, if you have identified users who have begun an application for a particular product but have not completed it, you can enter them into a customized email cycle designed to convince them to return and finish their application.
But the value of marketing automation doesn't stop there.
You can also continue to market to members who already own products with your credit union and serve them content relevant to other products or services they may be interested in.
Making More Informed Marketing Decisions
No matter what level of ROI tracking you have available, there is an abundance of data out there that you can leverage to improve your credit union marketing strategy.
However, the more sophisticated your ROI data is, the more prepared you are to make informed decisions. Additionally, more advanced options open up new opportunities for innovative strategies like marketing automation to help generate more funded loans from your marketing campaigns.
If you would like to learn how to leverage the marketing analytics that you have to make more informed and ROI-based decisions, or if you need help setting up better tracking of your marketing results, click the button below to contact us!