Last year, WebStrategies President Chris Leone hosted a webinar on Credit Union Marketing Automation. At the time, while marketing automation was being used successfully by organizations in many industries, financial institutions only had a 25% adoption rate, with another 21% were considering it.
Recent research by Demand Gen Report highlight how companies are benefiting from marketing automation.
14.5% increase in sales productivity
12.2% reduction in marketing overhead
80% of adopters saw an increase in leads
77% saw an increase in conversions
47% using systems to improve campaign measurement
36% using systems to improve customer engagement
Marketing Automation Techniques
The chart below from Get Response highlights the components of marketing automation platforms most frequently utilized. For Credit Unions, the top four are generally the most applicable.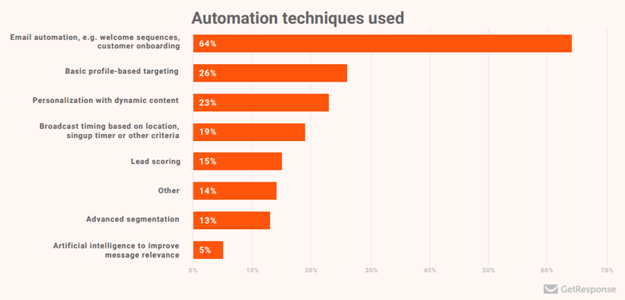 Leading Marketing Automation Platforms for Credit Unions
HubSpot was one of the first true inbound marketing platforms, making it simple for users to add SEO rich content to their websites to attract and nurture potential customers searching for their products and services.
Over the years HubSpot has built a robust system with workflows that automate many tasks and email triggers, saving time and allowing for more effective lead nurturing. This automation can be used for new member onboarding, which is critical to developing long-lasting relationships, maintaining strong connections with existing members, and even improving the loan process by automating status updates. HubSpot has also enhanced its CRM to enable more precise tracking of prospects within the sales funnel.
Other popular marketing automation platforms for Credit Unions include ActOn, Active Campaign, Marketo
A more organized, structured approach with more digital touches to new prospects and customers will lead to new members, increased assets, loans, and greater share of wallet from existing members.
Let's walk through some examples of how Credit Unions can use marketing automation with email to grow.
Attracting New Members
Obtain an email list of potential members and send them information on

member benefits, special offers, community service activities, and financial news updates.

Lists can be segmented based on Buyer Personas to improve the relevance of your messages. Personalization is a big deal - $756 billion was lost by retail companies due to poor personalization last year, and it's the number one improvement request from financial services customers.
Follow up with new member prospects periodically by sending them information tailored to where they are in the sales funnel.
Per HubSpot, only one in five emails should be about selling.
HubSpot's CRM can track where a prospect is in the sales funnel and your sales team can monitor status, add follow-up dates & maintain notes on all the conversations with the prospect. They can also send one-off emails from the platform.
If you add additional marketing technology to your website, such as a Chatbot, Pop-up or customized forms, you can connect your website to HubSpot and have prospect information populated in the CRM.
Dashboards and Reports can be designed to capture any information stored in the CRM including how many calls were made, and the number of emails sent, opened and responded to.
Build custom landing pages for specific promotions to increase conversion rates, and conduct easy-to-use A/B testing to further optimize conversions.
Existing Members - Retention and Increasing Share of Wallet
Send welcome/onboarding emails to new members with instructions on the next steps

Offer incentives to refer new members
Thank them for being a member on key anniversaries
Offer targeted promotions based on segmentation. For example, a member with an auto loan may be a good candidate for a credit card, equity loan or mortgage. There are multiple cross-sell opportunities that can be automated.
Invite them to auto shows and other special or community events
Ask for reviews. We've found the more positive online reviews a Credit Union has, the higher they appear in Google Search rankings.
Utilize emails segmented by demographics and products for share of wallet digital advertising opportunities on Google and Facebook.
For both attracting new members and engaging existing members, you can organize your marketing campaigns within the HubSpot platform to include email marketing, blog articles, and social media posts, as well as tracking ad campaigns.
Credit Union Marketing Automation Best Practices
Segment your customer lists by personas and products owned or recommended

Have strong subject lines in your emails

A/B test your email subject lines

Keep the emails short, to the point with strong calls to action (ex: Get our Special Low Auto Loan rate until August 31)

Build your workflows to be precise on the next action depending on how the recipient interacted with the prior email.

Use custom landing pages on your website that completely match the material in the email or ad that someone clicked on.

Interact with prospects within 24 hours of when they take action (open or respond to an email, visit your website, download a brochure, complete a form).

Trigger workflows for first-time interaction with a prospect (clicked on a Google or Facebook Ad, downloaded a document, viewed an article on your website, or opened an email).

Lead Scoring - for added sophistication, you can setup rules to score the probability of a prospect being a good candidate for your Credit Union.

Keep track of how many times a prospect or customer interacts with your material. The more they interact, the better candidate they may be for you.

Track results diligently - HubSpot has sophisticated reports and dashboards that are easy to setup. You can also export custom lists of information based on various criteria.

Become a data guru - the better focused you and your team are on the data the marketing automation needs and generates, the higher return on your investment.

If your current lead generation system can be connected to a marketing automation platform for seamless data movement, that is most beneficial.
Marketing automation is an underutilized tool by Credit Unions. We encourage you to take a look at how your Credit Union can benefit from implementing a marketing automation platform to obtain more new members, increase assets, your loan portfolio, engage, retain and enhance your relationship with existing members.
Many credit unions find that working with a credit union focused HubSpot agency can pay dividends by accelerating the results they see from marketing automation. WebStrategies is a HubSpot partner with extensive experience marketing credit unions and helping them to maximize their results with the platform.
Contact us if you'd like to discuss how you can take full advantage of HubSpot for your credit union.
---
Learn more about Credit Union Marketing Strategies