While credit unions have long been known for their low rates and trust-worthy business practices, younger consumers in this digital-first era have different priorities. In our exclusive, Consumer Banking Preferences & Behavior Report, based on a survey of 1,000 banking consumers, we learned that there is a wide gap between what consumers under 45 value and those that are 45-plus value in a financial institution. It is up to marketers to resonate with consumers on things that matter most to them which may require changing up the message as well as the channels in order to reach a younger audience.
What Motivates People Under 45 to Make a Credit Union Their PFI?
We asked survey respondents, "What would prompt you to switch your primary financial institution to a different bank or credit union?" There are several factors, not a single specific thing but a credit union can stack the deck in its favor to promote its best qualities with the top value drivers of the target market. In considering what would drive someone to go through the friction of moving their money, low monthly, overdraft, and ATM fees, as well as higher saving rates, are leading advantages and top drivers for all age groups. If a credit union performs well on these factors, promotions should include rate comparisons with online-only banks and that should be the lead marketing and advertising messages.
Primary Factors Consumers Under 45 Value in a Financial Institution
If a credit union does not have competitive rates and fees against the leading online-only or traditional banks, marketers should evaluate the next highest-ranked factors the credit union does have and promote as many of them as possible to the under 45 demographic.
Primary factors include:
Transparency/No hidden fees
Customer/personal service
Mobile app capabilities
Easy access to account information
Local branches near your home or work
Free overdraft protection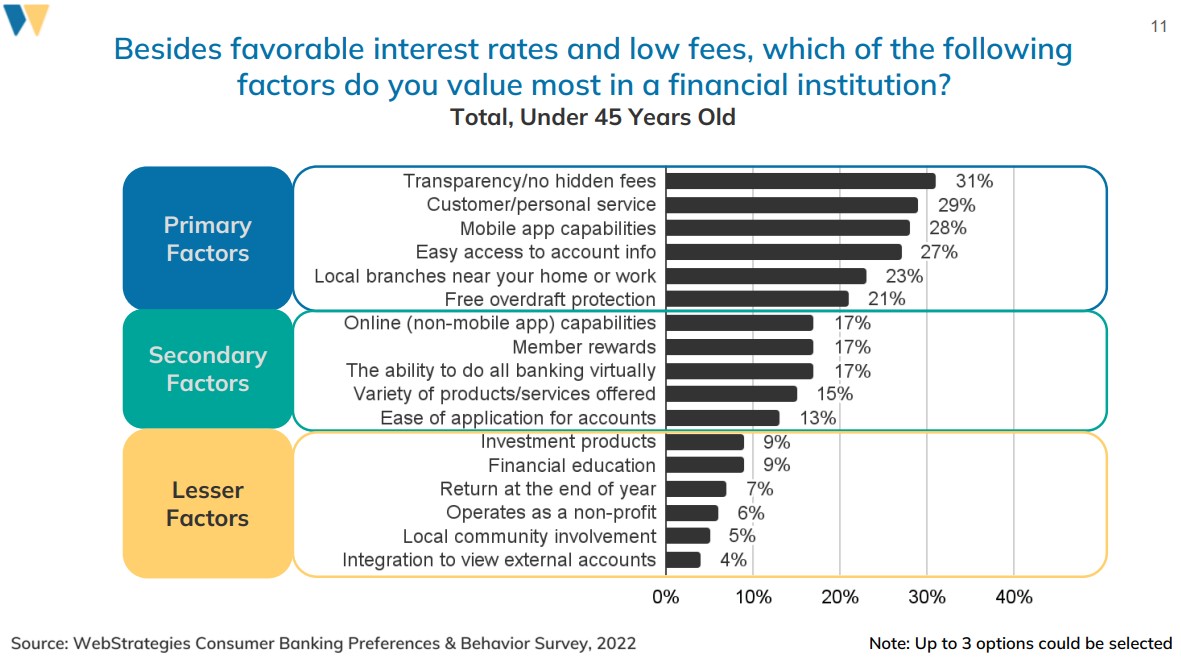 Consumers under the age of 45 have different views on the type of financial institution with the best fees, depending on whether or not they are already credit union members. Of those respondents under 45 who are members of credit unions, 41% consider credit unions to have the most favorable fees, but only 9% of non-members consider credit unions to have the most favorable fees. If someone has never experienced credit union membership, they just don't know the advantages. This is a large opportunity for marketing to non-members to promote the credit union's better fees, assuming that holds true, compared to the most prevalent banking options your potential members face.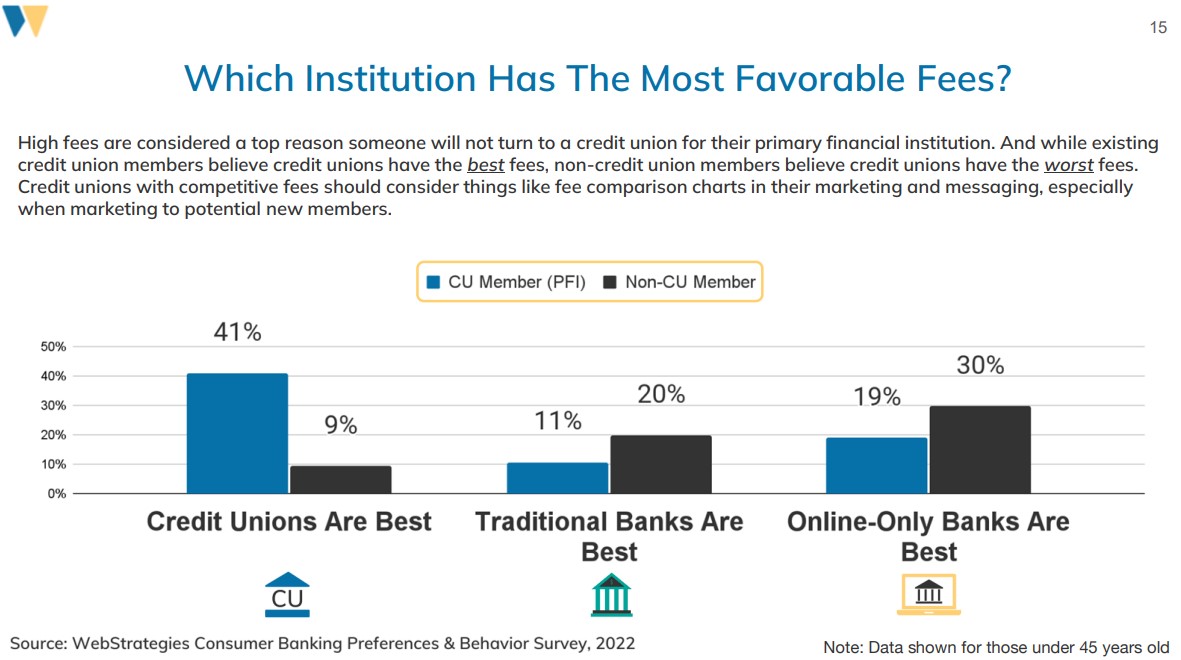 The report also reveals that regardless of good rates, non-credit union members under 45 will NOT use a financial institution with the following characteristics:
Security Issues
High account fees
No nearby locations
Bad Online Reviews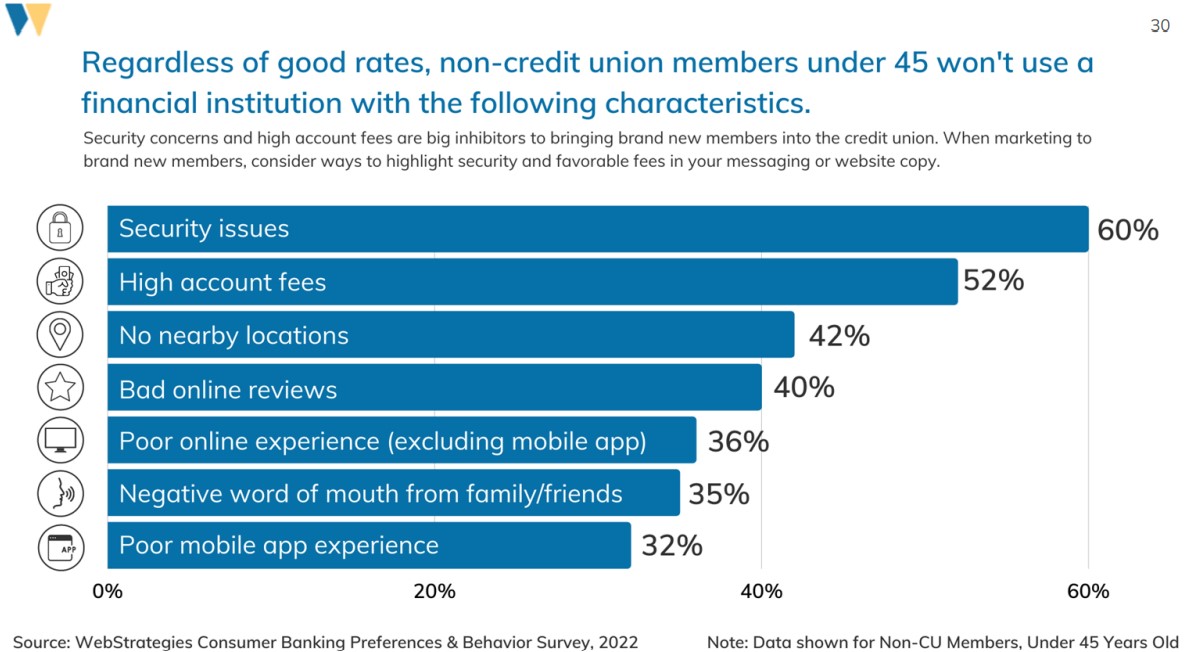 Marketing Promotions to Gain New Credit Union Members
By identifying what non-credit union members under 45 like and dislike, credit union marketers can focus on the most important marketing messages:
Low fees
Good security (money is insured and protected)
Convenient locations
Good reviews online and from family/friends
Easy digital experience
Best Credit Union Marketing Channels for Millennials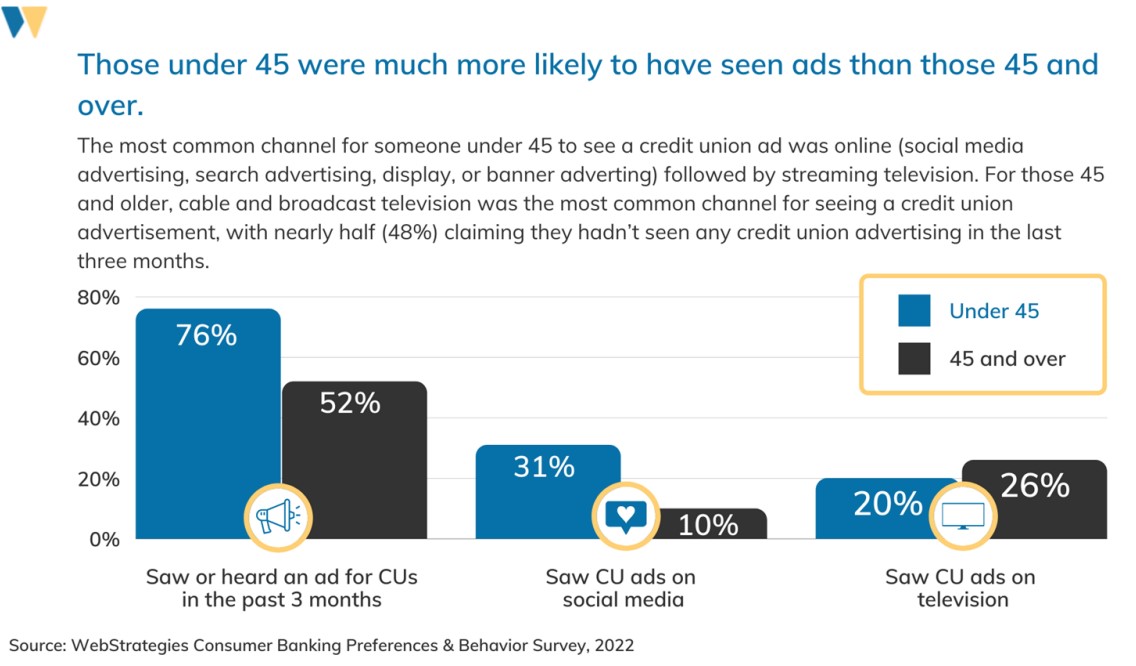 Where Should Credit Unions Advertise to Reach Consumers Under 45?
Our survey revealed the most common marketing channel for someone under 45 to see a credit union ad was online; through social media advertising, search advertising, display or banner ads, followed by streaming television (such as Hulu, Sling, or Netflix). Continue to stay top of mind with the 45 and younger generation through email marketing, display advertising, and remarketing advertising (targeted ads to people who've previously visited your website).
Retain Members with Regular Engagement
To continue demonstrating value to members under 45, it is important to stay top of mind with regular touchpoints that are relevant to the member's stage. Keep engaging younger members online preferably using a CRM like HubSpot that nurtures the relationship with new information and offers when they are most relevant to the member.
And continue to engage older members through multiple marketing channels. As discussed in a recent WebStrategies webinar with Chris Anderson of Listerhill Credit Union, and Brian Redden of Conquest Graphics, Direct Mail Integration is another innovative way to stay engaged with members, specifically the older demographic.
Report for Credit Union Marketers
Knowing what U.S. banking consumers value in their financial institution allows credit unions to tailor the messages for the most meaningful impact. Through continuous engagement, credit unions can demonstrate ongoing value to their members to prevent attrition of members to the increasingly popular online-only banks. If you haven't already, make sure to download the full report that is full of actionable information to better tailor messages to members and prospective members.