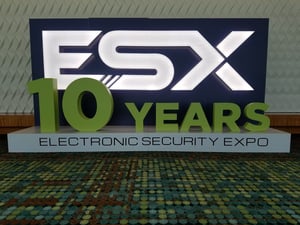 We spent three fantastic days last week at the
Electronic Security Expo (ESX)
conference in Nashville, TN, and it featured an amazing array of residential and commercial security experts, technology vendors and uber friendly folks representing security and alarm companies from around the US, Canada and even Australia! (and yes the Uber drivers were extremely sociable as well!)
Preston Kendig, of our security digital marketing team, and I attended a variety of educational sessions starting with the OpenXchange Breakfast - The Changing Competitive Landscape, featuring experts from Allegion (Robert C. Martens), Honeywell (Scott Harkens), IFTTT (Justin Wong) & Skybell (Andrew Thomas). This year's overall event theme was Innovate or Else - expertly covered by NY Times and Businessweek Best-Selling author Robert Kriegel, PhD.
Here are some of the major themes identified from the sessions we attended:
In 2016 approximately 4 million home security systems were installed (similar to prior years).
DIY installed cameras far outsell security systems.
"All in One" security systems are selling well - people are buying awareness systems more than security systems.
Energy efficiency, security, safety, convenience should be bundled together with special emphasis on simplicity and personal experience.
Voice services such as Google Home and Amazon Echo are growing rapidly with smart home devices, especially thermostats becoming a popular connection.
Rate increases should be an annual activity for security companies.
Video surveillance and analytics can be monetized into recurring monthly revenue.
Carey Lohrenz's riveting leadership keynote and video footage of fighter jets taking off and landing on aircraft carriers was exciting, inspiring and fostered the audience's appreciation of the skill and courage of Carey and her US Navy teammates.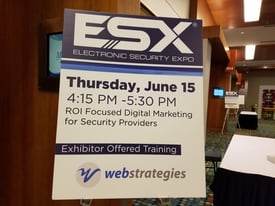 On June 15, we presented a 75 minute session - ROI Focused Digital Marketing for Sec
urity
Providers
where we shared digital and security marketing
trends, insights on personalized messaging, and provided real world examples of successful security marketing campaigns. We covered seven ways to hyper-target and personalize your advertising on Google, Facebook and LinkedIn using display ads, search ads and onsite pop-ups (converter ads).
A recent Accenture study highlighted that 56% of consumers would likely buy from a retailer if they knew them by name and 65% would buy if the retailer knew their purchase history. Personalization is becoming more mainstream, with Amazon, Facebook & Google leading the way.
Oh, did you know there was non-stop music in Nashville? Seemed like every bar on every street had multiple levels with fantastic musicians playing. I love country music and for those who like a bit of variety we enjoyed BB King's Blues Club featuring The BB King's Blues Club All Star Band.
A side note observation: With the country bands we saw live, here are the requirements to be a band member - male, have a beard, wear a baseball cap forward or backwards and have the occasional female singer join for a few songs. They all sounded like they should be on tour and have major record labels!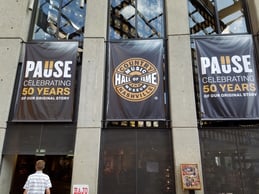 The ESX folks did a fabulous job organizing and running the event. We look forward to following up with all the great contacts we met from security companies, monitoring companies and technology providers. Nashville is a fantastic city for the conference, with plenty of great sights, sounds and friendly people and we look forward to attending next year's event.