Preston Kendig
- Senior Manager of Digital Marketing
The unflappable Preston injects exuberance into everything he does, which is such an interesting paradox for a guy with such an even-tempered personality. But don't let that fool you. If he has an idea, he gets excited about it, dives in, and becomes totally immersed. He has his analytical days and his creative days, flip flopping back and forth comfortably between these left-brain and right-brain initiatives. He loves people, networking, meeting with clients and has a great work ethic.
Preston started his marketing career in the late-2000's, working for a B2B accounting business and then B2B Law Firm, both located in Richmond, Virginia. In 2014, he moved into his first agency role at Impression Marketing. Two years later, Impression Marketing merged with WebStrategies, and Preston came along for the ride.
His extraordinary hobbies such as beekeeping and spearfishing make this Eagle Scout an interesting human being indeed. No client topic is boring to Preston as he delves into B2B businesses with full force in an ongoing effort to always be a more effective marketer and better serve his clients. Preston brings, above all else, a dedication to his clients that is beyond reproach. When Preston takes on a new client, he makes their passion his own.
"The interesting thing about working at WebStrategies is how much I've learned since I came on board and how much I continue to learn about my clients' businesses, which are mostly B2B and manufacturing. There's nothing quite like throwing on a hard hat and walking the floor of a manufacturing plant to learn about a process first hand," commented Preston.
Creating B2B marketing strategy for a client takes dedication and passion, as well as the ability to stop, review results, and adjust accordingly. Preston demonstrates all of these qualities as he works diligently to create strategies for his clients that drive leads, improve SEO, and help convert leads into sales. He is also passionate about sharing with prospective clients the positive impact that digital marketing can have on their business, and helps find those that would benefit most from WebStrategies's services.
Preston spends his free time in the great outdoors with his wife Cate, daughter Taylor, and dog Blue. From hiking and kayaking, to hunting ducks and spearing fish, Preston is always up for an adventure, but never misses an opportunity to knock the tennis ball around with Cate or Blue! If you catch him on a rainy day, Preston welcomes challengers to the games of backgammon or foosball.
Community Involvement
American Marketing Association
Sons of the Revolution - Virginia Society
St. Stephen's Episcopal Church
St. Christopher's School
Virginia Association for Biological Farmers
Education
Bachelor of Arts, James Madison University
Mini-MBA Program, University of Richmond
Industry Specialties
Digital Marketing Strategy, B2B Marketing, Manufacturing Marketing, Content Marketing, SEO Strategy & Implementation, Advertising Strategy, Blog Writing, Analytics and Results Tracking, Coordinating New Website Launches, Onboarding New Clients
Hobbies
Beekeeping, Spearfishing, Swimming, Hiking, Anything Outdoors!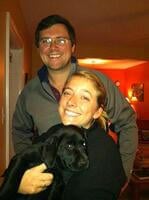 code here