When B2B manufacturing marketers promote a new product, reaching the target audience takes an organized plan of attack and someone dedicated to managing the project. The frequency of product releases is different for every manufacturer so whether it is something that happens every few weeks, every few months, or every few years, keeping a documented playbook handy makes the process smoother for everyone involved. It also ensures no channel is overlooked and over time marketers hone the digital strategy that yields the best results.
Marketing for manufacturing products is slightly different than B2C products because the target audience is usually small and specific. For each product launch, determine which channels are most effective at reaching the audience by tracking metrics and refining the plan to continually improve ROI.
Regular Communication with the Product Development Team
Establish regular communication with the product development team because if anything changes in the launch, they can easily forget to notify the marketing team. A consistent project plan review meeting (each week, for example) is an opportunity to ask the production team about any potential changes to the release and to confirm the features you promote are consistent with the actual functionality.
Product Launch Marketing Plan
There are multiple cost-effective digital marketing tactics described below to promote your new product to the target audience. Ideally, a manufacturer will use all of them for the most effective campaign. However, if time and resources mean only a few channels can be used, then still plan each of them and consistently apply effort to the channels in use.
Creating the timeline and advance setup make for a smooth launch with less scrambling to cover everything at the last minute. But more importantly, helps to ensure a well-thought-out marketing plan that is cohesive and utilizes all the digital marketing tools at your disposal.
Example Product Launch Promotion Timeline (*adjust to your team or contractors' timelines):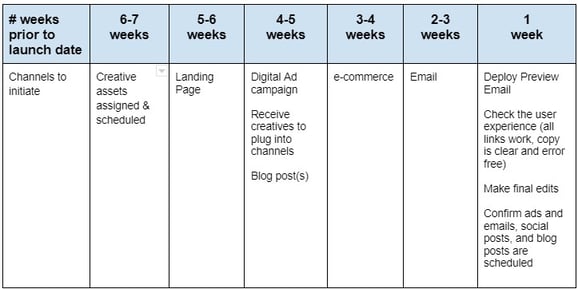 At the launch date, ensure that the pre-scheduled tactics are deploying as planned and track the success of the campaigns during their run dates.
Effective digital marketing channels to include in your playbook:
Manufacturer Digital Marketing Creative Assets
6-7 weeks prior to launch date
The visual design is the first step because most of the subsequent marketing tactics rely on creative assets so the pieces need to be ready near the time each tactic is initiated. Work with the designer on the sizes needed and the timeline to review and revise so they are ready to plug in and schedule on the respective digital marketing channel. When assets going to multiple channels are created at the same time it results in a more cohesive presentation.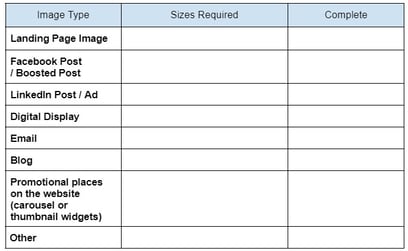 A reusable template for ad sizes that is modified for every product launch to save time and frustration because you'll know exactly what is needed, depending on the marketing channels you intend to use to promote the product.
Provide the designer a creative brief for a set of images that promotes the new product and adheres to your company's brand standards.
Spec out the creative pieces to be placed on:
Landing page
Social media posts and ads
Digital display
Email header
Blog
Promotional places on the website (such as homepage carousels or widgets)
Printed promotional material should include a QR code or short (easy to type) URL for the landing page with product details
Product Landing Page
5-6 weeks prior to launch date
Manufacturers' landing pages are typically product pages containing all the specs a potential buyer needs before taking the next step toward a purchase. If the new product is running on your e-commerce site it needs to be set up for purchases to be made when available. There should be one page to which all promotions link. In addition to providing the information a prospective customer needs to buy manufacturing equipment, a well-designed landing page drives manufacturing SEO.
Content to Include on product landing pages:
Compelling copy in simple language that gives the prospective buyer a clear understanding of what the product is, what it does, and how it will improve their situation
Photos
Links to data sheets
Call to Action
Include when possible:
Product demonstration video
Statistics: how will the new product measurably improve your prospective clients' work
Testimonials from early testers or buyers
Call to Action
Landing pages need a single call to action to funnel the visitor to the next step. In many cases, the desired action is "Buy Now" (if e-commerce is available), but for equipment manufacturers, a quote is often necessary to it may be "Request a Quote". Prior to the release, you may choose to make the call to action "Sign Up to Be Reminded" of the date the product is available for purchase. Marketing automation tools like HubSpot make it easy to set up an email to deploy at a set date and time.
The landing page should be live before the product launch in order to establish it with the search engines and because the ads, email, and blog posts will need a URL to connect with.
Manufacturing Digital Advertising
4-5 weeks prior to the launch date
The search volume and competition for most B2B manufacturing product keywords is fairly low so to attract attention when launching a new product, take advantage of paid search positions in Google. People who click on the digital ads are fairly low in the sales funnel and are genuinely interested in learning more about your product. Digital advertising is the best way to generate leads right away. It is a tactic we find to be underutilized by manufacturers, especially when a small investment can yield results quickly.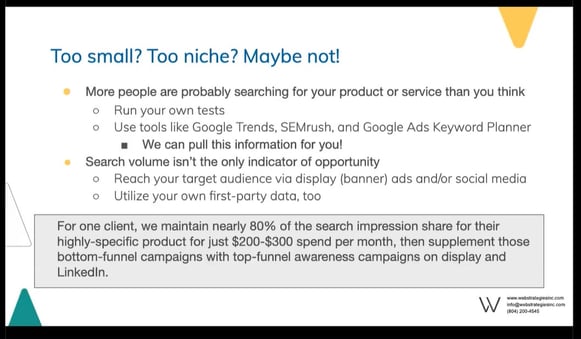 This B2B digital advertising webinar from WebStrategies, a manufacturing marketing agency, demonstrates how paid digital advertising is effective even if the target market is small. Creating paid search campaigns for a smaller audience means fewer competitors vying for the top spots on the search results page. Using keywords with a lower search volume means your ad is more likely to be served and the real estate will be fairly cheap. Dealing with a small target market can work to your advantage.
Start working with your digital advertising team 4-5 weeks in advance to plan the campaign, research the audience and competition, and identify the paid search keywords to target. An experienced digital marketing agency for manufacturers will research the expected search volume for your keywords and guide you in the right budget for a new product.
Digital Display Advertising
There are also ways to get in front of your ideal audience besides waiting for them to search for you. Based on some characteristics you define of a target audience, display banner ads can be used to target those prospective buyers across the internet to promote a new product that is in their field of interest.
Social Media Advertising for Manufacturers
B2B manufacturers often find the advanced targeting features of LinkedIn allow ads to be directed very specifically to the ideal prospects and current customers. There are a variety of LinkedIn ad formats and sizes that may suit your preference. These ads can be created and scheduled in advance to go live near the launch date. Keep in mind LinkedIn has restrictions on the proportion of text on the ad so keep the images light on text, but there is plenty of room in the post text for your product details.
Blog Posts for Manufacturing Content Marketing
4-5 weeks prior to launch date
Create articles for the company blog about the problem your new product can solve. Cover the options to address the problem, even if some options are not available from your company. Of course, also write about the products you sell that address the problem and the results other customers have achieved. And most importantly include links to your product landing page. Depending on whether you outsource content marketing or have an in-house writer, initiate the request at least a month ahead of the launch date in order to allow for the work to be scheduled, researched, written, edited, and posted on the blog.
Every manufacturer's marketing team is structured differently and has different resources. In some places, the marketing manager is the copywriter, graphic designer, email strategist, and web development team. But hopefully, you have at least some combination of in-house resources and agencies to assist with these marketing tactics. Your timeline will be different based on the lead time set by those responsible for each tactic. Adjust your timeline accordingly and use metrics to determine which channels were most effective and refine the process for the next launch.
Manufacturing Email Advertising
2-3 weeks prior to launch date
According to HubSpot Blog Research, B2B marketers say that new product and feature announcement marketing emails have the highest click-through rate. And, Content Marketing Institute says 81% of B2B marketers report their most used form of content marketing is email newsletters so include email promotions as part of your product launch campaign.
Create email an automated email campaign, one pre-launch, one at launch, and at least one follow-up. Craft your messages with attention-grabbing subject lines that are clear about your new product and its benefit. Try this subject line rating tool to test out a few options. The body of the message should be a short compelling message about how the product benefits the recipient with a clear call to action that links to the landing page.
Manufacturer Marketing Resources
While these channels represent a well-rounded digital marketing product launch playbook, not every company has all of them currently established. If not, start with the channels available and be consistent and then add channels where you see the greatest opportunity.
Need help with any of these digital marketing for manufacturing tactics? View our resources for manufacturers or contact WebStrategies for more information.