Q4 is traditionally credit union marketing budget season, but in 2022 the uncertainty in the current U.S. economy and geopolitical setting adds extra complexity: Inflation. Rising interest rates. Lingering Covid. As economic decline is a concern, marketing managers are under tighter scrutiny to demonstrate credit union advertising spend is generating positive returns. The C-suite often reacts by cutting marketing budgets since few consumers are in the market for loans given the higher interest rates. But marketing remains a critical spend to stay competitive and accelerate out of the questionable economy. The Financial Brand observes that "The difference between budgetary surgery and unfocused slashing will depend on how well bank marketing chiefs can make their case to senior management."
Marketing Departments: Key Leaders in Customer Journeys
CMOs, marketing directors, and managers can hedge against losing funding by allocating the marketing budget effectively and demonstrating results. The Harvard Business Review says that during the pandemic the view of marketing in the C-suite has changed from strictly a cost center to being "elevated within the C-suite as a driver of digital transformation, a key leader of the customer journey, and the voice of the consumer — all of which are of paramount importance to other functional leaders."
Allocate Credit Union Advertising to Hedge Against Huge Cuts
Reporting successful campaigns is key to proving the effectiveness and digital advertising is uniquely measurable. It is difficult to tell if new members come in from a billboard or event signage, however digital advertising is directly traceable and easily reported. Since the target audience for credit unions is 18-45 year-old adults and they live in the digital space, credit unions should hone in on the digital tactics that are successful. With close monitoring, the chosen digital channels can be easily shifted from lower-performing to higher-performing for continual improvement. Beware of the law of diminishing returns, however; doubling your investment in a successful channel will likely not yield double returns. Shift allocations gradually until the right balance is found between search, display, and social advertising. Generate and share results that make the success of the digital campaigns evident.
Want help allocating your credit union advertising budget?
Maximize a Credit Union Marketing Budget
Competitive Products
While a marketing department can have stellar results reaching the target audience, at minimum, the products have to be as appealing as the alternatives. Since financial institutions are pivoting their focus from loan products to savings certificates and accounts, the APY, length of investment, and minimum balance requirements must be competitive with the alternatives.
If digital marketing reporting demonstrates engagement with the ads but the audience is not converting then the conversations with credit union executives should be to generate compelling and competitive savings products.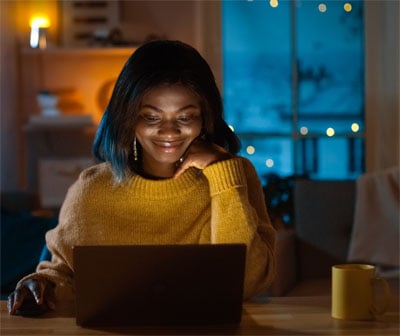 Delight Your Members
The upside of higher interest rates is that most financial institutions have higher savings certificate rates but members are likely still keeping liquid funds in basic savings accounts. Use the data in the credit union systems to identify members with a balance in a low-yield account who would benefit from converting to a higher-yield product, preferably at no cost to the member. Members' lives are busy and while it seems obvious that they'd make that switch on their own, it is often just not a priority. Take the opportunity to delight them with the opportunity to earn a higher return on their savings with no strings attached.
CRMs such as HubSpot are perfect for this sort of data segmentation, however, if you don't have a CRM, there are other ways we can assist credit unions with data tracking.
Members as Your Raving Fans
Delighting your members with tailored, data-driven offers, amazing in-person service, and the feeling that they are valued turns them into your brand advocates. Use the member data you have in the credit union CRM to tailor offers that will benefit your members and let them know that the offer is customized to their needs. The effort to benefit them will be remembered and solidify their loyalty to the credit union and also be shared with coworkers, friends, and family.
During a tough economy, it is more important to fund marketing efforts because less marketing equals fewer new accounts. Less marketing gives competitors an open lane to accelerate ahead and not only attract new accounts during the tough times but to be poised more competitively when the economy improves. During the pandemic, we saw clients who chose to pull back marketing struggle while those that continued investing fared much better through the tougher times. While every "season" presents its own challenges, the lessons learned most recently are that marketing efforts remain vital even during tough economic times, and the marketers who can best demonstrate returns are more likely to retain the most budget allocation.