Community Banks are beginning to shift their marketing focus to digital, albeit at a slower pace than many industries. These banks face tough competition from larger banks and from credit unions, and trying to break through to potential customers is proving to be increasingly difficult. Without reaching them online, it's even harder.
Here we'll spotlight the digital marketing approach that helped a locally owned and operated Community Bank generate new loan applications and new accounts.
The Digital Marketing Strategies We Implemented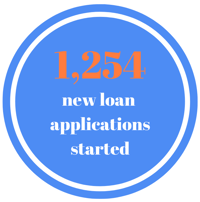 Local, targeted paid search campaigns focused on promoting new accounts and loans to both consumers and businesses. Landing pages for those ads were optimized in order to improve the customer experience and increase conversions.
Those strategies have produced campaigns with results such as 1,254 clicks to apply for loans.