Does paid search, otherwise referred to as SEM (search engine marketing) and PPC (pay-per-click), work for businesses selling to other businesses (B2B)? Should a B2B company invest in PPC and if so, what are the critical elements for PPC to generate an acceptable ROI? This post provides some indisputable evidence that the answers to those questions are a resounding "YES".
PPC is an effective strategy for generating leads and sales
In a recent large study of both B2B and B2C companies relative to their online lead generation tactics, PPC was found to be an effective lead generator. In addition, the study reported that B2B firms are investing heavily in PPC – allocating more than one-fourth of their total digital marketing budgets. See the two charts to the right.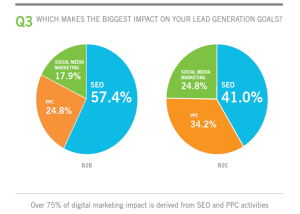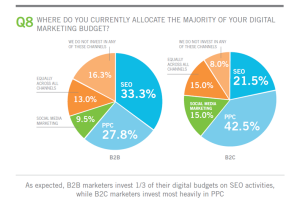 Another study found that (PPC) results drove a slightly higher (3.2%) net revenue per visit (NRPV) than organic search results. In this study, NRPV was calculated by subtracting paid cost per visit from paid revenue in order to compare it directly to organic revenue, which has no cost per visit.)
The study went on to report that even when a firm had a #1 organic ranking, users still clicked and converted on paid listings nearly 40% of the time. Furthermore, because the NRPV of paid search was found to be 3.2%, net paid revenue share rose to 42% of total revenue.
[Developing your 2016 Marketing Plan? Check out How Much Should You Budget For Marketing In 2016? for some helpful insights.]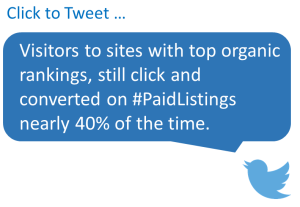 Organic search is still very important, especially for branded terms.
Organic search did drive higher performance for branded terms (terms in which the company's name was part of the search phrase) at 53.4% vs. 47.6% for PPC. Moreover, net revenue share for organic branded terms was higher as well at 53.5% vs. 46.5%. However, the contrary was found for non-branded terms (terms in which the company's name was not part of the search phrase). PPC achieved a 77.2% click share vs. 22.8% for organic on non-brand terms. Net revenue share broke down as 70.3% for PPC and 29.7% for organic.
Done well and with effective landing pages and conversion points (discussed later), PPC has clearly proven to be an effective online marketing activity.
Do people really click on PPC listings?
Search Laboratory, a leading search engine research firm, conducted a study and found that 27.6% of searchers clicked on PPC listings compared to 72.4% for organic listings. Additionally, it found that only 41% of people tested in the study actually realized they were clicking on advertising when they clicked on a PPC listing.
Another study showed that the click-through activity on PPC listings increased 60% during 2012 compared to the prior year. In that study, the top 10 PPC listings received 17.2% of clicks during 2011. In the same study a year later (2012), the same top 10 PPC listings received 27.6% of clicks.
As one more point of argument about the power of PPC for B2B, Google continues making changes to their SERP (search engine results page) to encourage users to click on PPC listings. Since Google generates more than 90% of their gross revenues from paid online advertising, it only makes sense that they would continue to refine their search results to get more users clicking on PPC listings. It is expected that Google will continue to improve the usability of the SERP and encourage you to click on PPC listings by making them appear more relevant and legitimate than ever before.
If Organic rankings are strong, there is no reason for PPC listings, right?
Wrong! In yet another recent study, researchers found that even when firms had #1 rankings on the SERP, 50% of clicks they get on PPC listings were not replaced by the clicks they got on their organic rankings. See the chart below. The study also found that 82% of clicks on PPC listings are incremental when the associated organic result is ranked between 2 and 4, and 96% of clicks are incremental when the firm's organic result was in the #5 position or below. Clearly, PPC listings are synergistic to organic rankings and provide yet another strategy for driving relevant customers to your website via paid search.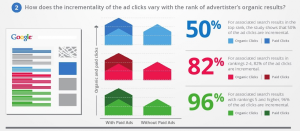 What are the critical elements of making paid search work in the B2B space?
Many in the industry believe that PPC does work better in a B2C space. After all, if you are shopping for shoes online and see a PPC listing promoting 50% off, you are likely to click on that ad if for no reason than just curiosity. On the contrary, if you are a business seeking high priced technology solutions, you may be less curious about a firm advertising special deals.
Nevertheless, we have seen PPC generate good ROI in the B2B space, and the critical elements to making it work are as follows:
Focus on longer-tail key-phrases to avoid irrelevant clicks
Use "exact match" and "negative keywords" to avoid inappropriate/irrelevant clicks
Make your paid search ad text appealing and credible
Your paid search ad text should directly answer your typical customer's problem or question
From the paid search listing, take the customer to a very well designed landing page that relates very closely to your paid search ad text
Make sure your landing page further answers your target customer's typical problem or question, and it offers an interesting call-to-action that generates sales lead information
[Read What Is The Right Inbound and Outbound Marketing Mix? for statistics on the mix that may work best for your business.]
Because B2B paid search is a bit more challenging than when you are advertising direct to the consumer, experimentation is always encouraged. Test various ad text combinations, landing pages, key-phrases and other paid search elements. Make sure you link your paid search activities to your Google Analytics data so you have air-tight metrics on which you can make sound marketing decisions. Do these things well and you'll find that paid search generates qualified leads and sales at a satisfactory ROI.