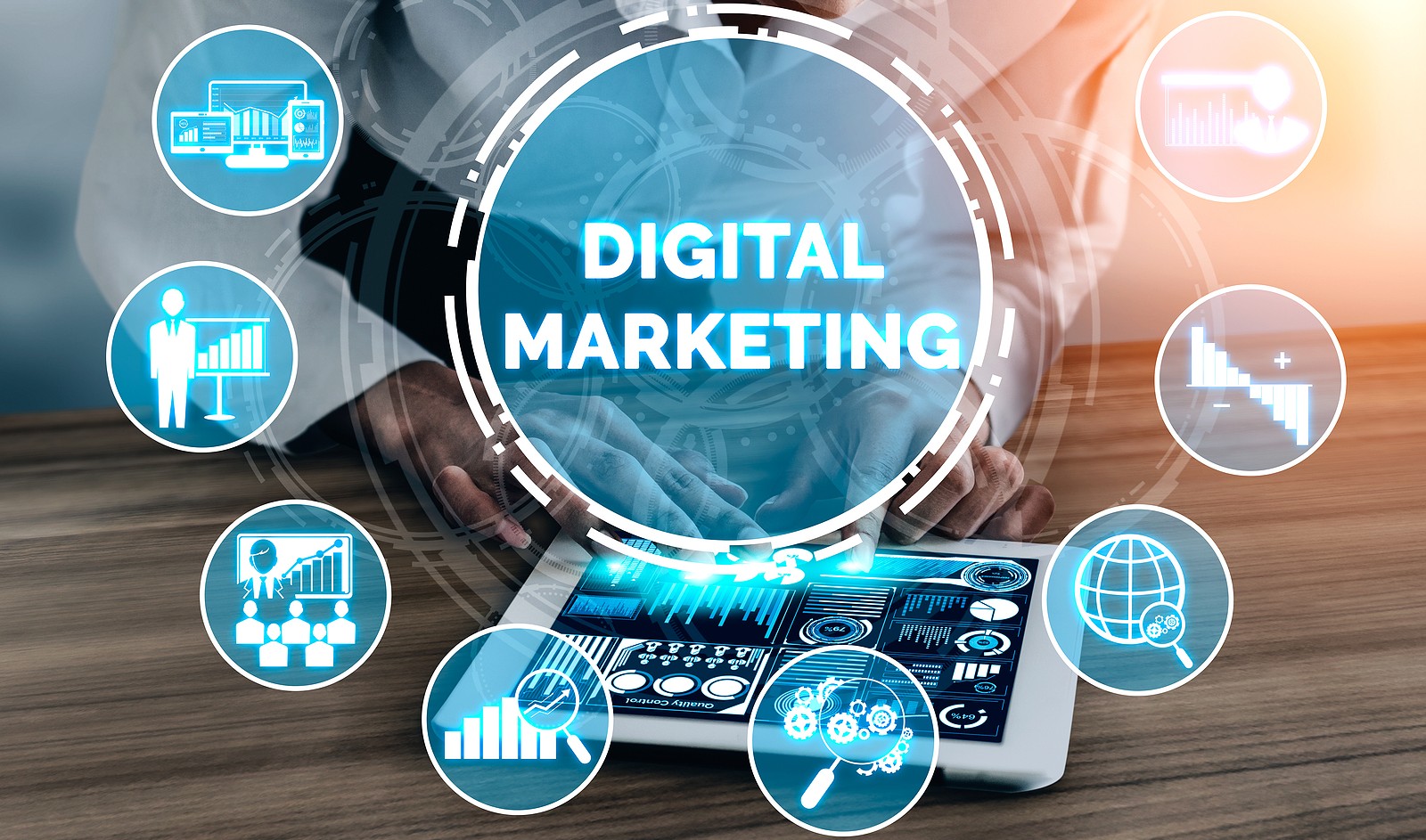 Some equipment manufacturers have yet to accept digital as a significant part of their overall marketing strategy. But we know that smart manufacturing companies are implementing digital tactics because of the impressive results they are able to provide.
From generating qualified leads to attracting more organic and paid traffic, a well-designed and executed digital plan is the answer to many manufacturer's greatest sales and marketing challenges.
What are your company's goals? From our experience, equipment manufacturers want to accomplish some or all of the following:
Reach new customers, generate leads, and increase revenue
Better engage with existing and past customers and sell more to those audiences
Respond to shifting consumer behavior
Beat competitors and capture market share
Demonstrate expertise to potential customers
Sell products or parts online with fewer salespeople and other human resources involved to complete the sale
Offer customers a better user experience
Reach potential customers and educate them about products (especially in a time with limited trade shows)
Calculate the ROI of marketing efforts
Despite the reluctance of some companies to implement a digital marketing strategy, we know that digital can help you accomplish each of those goals. Research from the 2021 CMO Survey supports this. Here are some of their most significant findings about the digital landscape for equipment manufacturers:
Increase in the Importance of Marketing
72% of marketers surveyed reported that the role of marketing increased in importance from 2020-2021.
Marketers across industries agreed that the role of marketing was more important than ever due to COVID-19.
In the manufacturing space, 72.7% said that marketing increased in importance, higher than the B2B product economic sector average of 69%.
Total Marketing Spend Plummeted in 2020
Though most survey respondents indicated that marketing has increased in importance, total marketing spend dipped in 2020. Many companies operated with an abundance of caution during that time due to the uncertainty of the pandemic.
2021 saw a recovery of this decline. Total marketing spend is expected to rebound to the highest levels ever this year (with the manufacturing industry expected to increase 5.7%).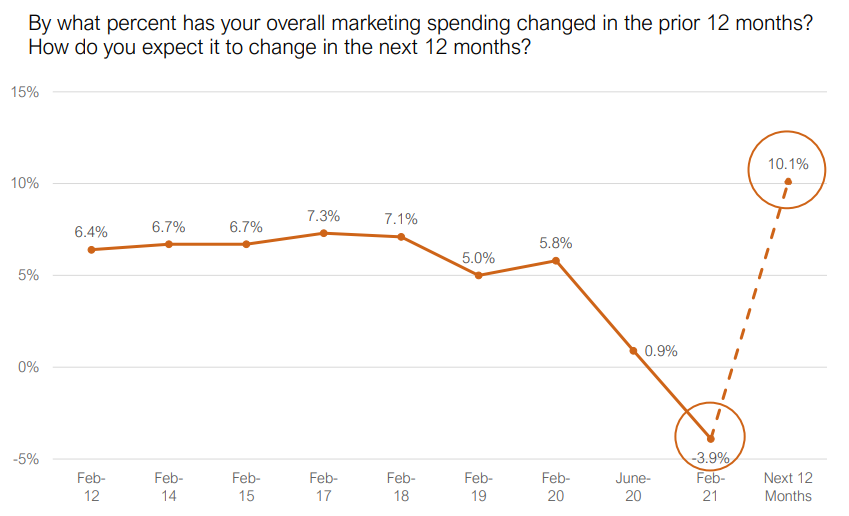 Next, we'll look at digital marketing spend specifically.
Digital Marketing Spend Increases
Marketers were asked by what percent has your digital marketing spending changed in the prior 12 months. Here is what they reported broken down by economic sector: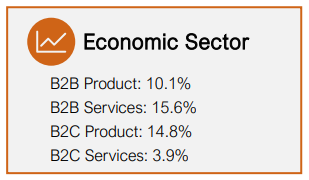 While total marketing spend plummeted, digital spending increased from February 2020-February 2021. In the manufacturing industry, digital spending increased 14.7%.
As trade shows were canceled and virtual trade shows proved less effective, there was typically more marketing budget available to dedicate to digital, even if the total marketing budget was cut.
Digital Marketing Pays Off for Most Companies
What results did that additional digital spend get for marketers?
On a scale of 1-7, those in the manufacturing space reported an average ranking of 5.2 for how digital marketing contributed to their company's performance. Additionally, 16.7% of manufacturers reported that digital marketing contributed to company performance "very highly".
Next, let's look at what tactics digital marketers used to achieve that success.
Digital Tactics Companies are Investing In
The vast majority of B2B products and services companies are investing in digital marketing through a variety of tactics, most commonly website optimization (77.8% of manufacturing companies). A non-intuitive website is a good way to lose customers in a time when competitors are investing in this.
That said, there are digital tactics where equipment manufacturers are considered "bottom investors." 55.6% of manufacturers made improvements to their digital media and search from 2020-2021 and only 27.8% of manufacturers invested in online experimentation and/or A/B testing.
These are areas to consider increasing focus and allocating additional resources.
B2Bs Emphasize Market Penetration as Marketing Tactic
Where manufacturing companies are investing resources is in market penetration as a tactic. There was a 25.1% increase in emphasis here from February 2020 to February 2021 in the manufacturing space.
Here's how this breaks down by economic sector: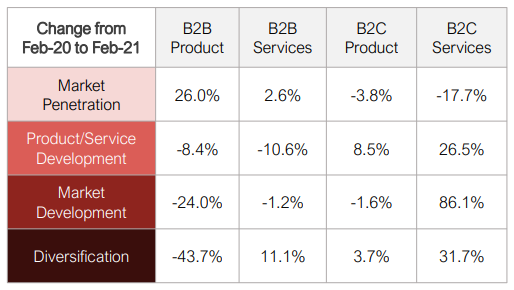 If market penetration is important to your business, digital needs to be a part of your overall marketing strategy.
Competitors who allocate resources to digital will gain market share if it is there for the taking. This applies to multiple areas of digital including advertising and SEO.
What happens if you don't prioritize market share in the digital space? It means that qualified leads can search online for your products and your business doesn't show up. Each time this happens, it is a missed opportunity for a lead to convert.
The Importance of a Digital Strategy for Equipment Manufacturers
Is digital marketing worth the investment for equipment manufacturers? Yes! When businesses make the decision to invest in this area, they find that more qualified leads enter the sales funnel. Those qualified leads can then be converted into sales.
How are you currently using digital marketing to accomplish business goals? If you are underutilizing digital tactics, now is the time to develop a digital strategy.
Learn more about digital marketing tactics for equipment manufacturers and how they can help you attract qualified leads for your business.