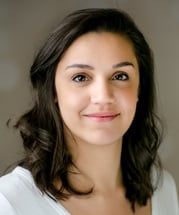 WebStrategies Inc., is proud to announce the addition of Brittany Judge to its team. An experienced content marketer, Brittany will help the company's broad spectrum of clients relate to their target audiences and convert leads into customers. Her expertise in inbound marketing strategies provides a strong foundation for success.
Prior to joining WebStrategies, Brittany managed the full digital marketing presence of a Richmond-based software company, including email marketing, social media management and content strategy.
Her efforts resulted in better prospect targeting and increased lead generation. Brittany holds a B.A. in Communications Studies from James Madison University and brings a wealth of digital marketing experience to the WebStrategies team.
-----
I'm thrilled to bring Brittany and her skills to WebStrategies. While there's no shortage of digital marketers in the world, finding one that possesses the talent, drive, and professionalism of Brittany is no easy task.
Nothing makes me more excited than assembling a team of intelligent, driven, and talented individuals. Brittany is another big step forward in that direction.
- Chris