Search engine optimization, or SEO, is a recommended strategy for all companies, including manufacturing businesses.
With SEO strategies in place, you can gain more organic traffic, quality leads, brand awareness, and, ultimately, an increase in revenue.
To properly implement a manufacturing digital marketing strategy, you'll want a strong understanding of SEO, including how it works and impacts your business.
Understanding SEO and keyword ranking can make all the difference in your results and improve your marketing return on investment.
What is SEO?
Search Engine Optimization, also known as SEO, is the process of helping your website rank higher in search engine results pages (SERPS).
As your website ranks higher for your intended keywords, your brand, offers, and services become more well known and easily accessible without the use of paid advertising.
There's no one way to implement a successful SEO strategy. Still, overall, search engine optimization will include the use of keyword research, getting inbound links, optimizing your current website pages, and other actions that are both on-page and off-page.
Benefits of SEO for a Manufacturing Business
Implementing an SEO strategy for your manufacturing business comes with a slew of benefits that can improve the company's operations.
Here are some of the most common benefits:
Increased organic website traffic
One of SEO's primary benefits is that over time your site can rank higher in organic search results for your target keywords. This means that when people search for a phrase relevant to your business, they might see your website pop up on the first page of Google or other search engines without you having to pay for an advertisement to be seen.
More leads
As your manufacturing company ranks higher on Google, your traffic increases, and with more eyes on your site, there's a greater likelihood of you gaining more leads as long as your site is designed to convert.
Higher ROI than traditional advertising
While digital advertising means could produce a very attractive ROI depending on your strategy, SEO tends to produce long term results with less financial and time investment.
By spending less money and putting less energy into SEO efforts than advertising, you can see a higher return on your investment.
In turn, when you have a good search engine optimization strategy, you can spend less on advertising and reallocate those funds to other areas of your business.
Increased business revenue
With more traffic and leads, you are likely to see an increase in your business revenue as well.
Increased brand awareness
As you gain more traffic and increased sales, your brand awareness will increase because more people will get used to seeing your name pop up in Google results. They will trust the organic search results more than paid ads and see you as more of an authority because you rank well organically.
This will lead to more awareness overall for your manufacturing company, which can only help you achieve your business goals.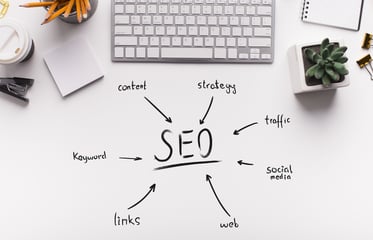 How to Figure Out Your Competition
In determining your manufacturing SEO strategy and how to best improve your odds of successfully ranking for keywords, you want to look beyond your company to your competitors.
This involves knowing who you consider your competition.
Maybe you consider companies that offer similar products or services as you do your competition, that's called direct competition. While alternatively, you might identify those who solve a similar problem as you do your competition. They would be called your indirect competitors.
The size of companies should also be a consideration.
Do you think your competition is only composed of businesses of a similar size, or will you include larger or small companies as your competition as well?
Uncovering How Competitors are Ranking
Once you identify your competitors, you want to take the next step by determining how they are ranking. Having competitor SEO information can be valuable because it gives you a glimpse into their strategy and how authoritative they are in the industry based on their rankings.
You can discover how they rank by collecting relevant metrics for each company and documenting them for comparison.
Some important metrics to collect include:
Organic keywords: What keywords are they ranking for?
Organic monthly traffic: How much organic monthly traffic are they receiving?
Domain score: Where does the site fall on predicting how well the site will rank from 0-100 on SERPS?
Link sources or referring domains: What other sites are linking to the website?
To determine this information, you can utilize various technical systems such as UberSuggest, SEMRush, or Ahrefs.
Manufacturing SEO to Support Your Goals
As a manufacturing company, understanding SEO and keyword rankings can support your company's growth and help you reach your targets.
Whether you choose to implement your strategy in-house or outsource the efforts to a marketing agency, if done right, you can experience the many benefits of SEO from increased brand awareness to increased sales.
One important aspect of SEO is content marketing. Want to learn how to create valuable content for your company that improves your keywords rankings and generates more organic website traffic?
Here is a guide to Content Marketing for Manufacturers.