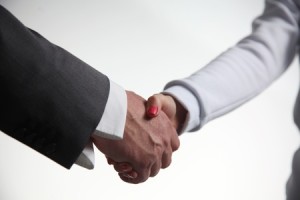 Business networking, whether it is online and/or in-person, is a very powerful way to increase your brand awareness and credibility especially if you are in the business of selling and marketing to other businesses. Besides knowing your business and your competitive advantages, it is important to set goals of what you want to achieve through business networking.
When thinking about how business networking fits within your overall marketing plans, ask yourself these questions…
1. How many people do you want to meet?
2. How many leads do you want to generate?
3. How much of my sales plan to you want to achieve via business networking?
Knowing the answers to these questions will enable you to determine how much time and exactly what kinds of networking activities and events in which you should be involved. Beyond setting your goals, here are 5 proven methods that should be an important part of your networking marketing plan.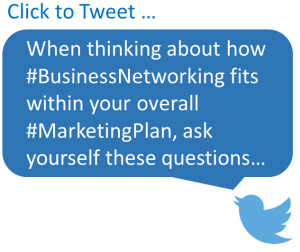 1. Network in a Target Rich Environment & Stand Out from the Crowd
Know who and what kinds of people you want to meet and find the organizations and activities in which they are involved. Don't go to networking events unless that's where your target market is. Otherwise you are sub-optimizing your time.
Don't just be one of the crowd. Get involved in the organization as a volunteer. Seek a leadership position. Become known as someone more important and involved than the other hundreds or so people that participate in an organization. If you don't stand out – if you don't have a competitive advantage, try something different because business networking may not be the right thing for you.
2. Givers Gain – Help Others and You Will Be Helping Yourself
The old saying "givers gain" means you first should give and then you'll gain from that giving. Call it "the right thing to do" or karma, but this old adage holds true in business networking. Focus first on how you can help others make the connections they want to make. When you meet someone, ask him/her, "Who are you looking to meet?" or "What kinds of businesses do you want to connect to?" You'll become known as a master networker, people will seek you out and you'll enhance your personal and your company's brand.
3. Be Prepared – Elevator Pitch and Good Open Ended Question
Get your "elevator pitch" or Unique Selling Proposition (USP) ready so it rolls off your tongue as easily as your name (see my article in WorkIt-Richmond on Friday, January 18, 2013 to read about crafting your USP). When someone asks what you do, you want to articulate your USP with confidence and ease. This is very important.
Be ready with a good open-ended question when you meet someone. A question like "Who are you looking to meet?" or "What does your firm do and how might I be able to help you meet the people you are seeking?" Questions like these will get the other person talking and communicate that you want to help them. Remember – givers gain!
4. Good Follow Up after Meeting Someone
If you connect with someone good, follow up with a kind email or handwritten note expressing gratitude for his/her time. It will make you memorable. Humility and gratitude are traits of every successful sales professional.
Don't just add the person to your email database so they begin getting your unsolicited emails. Instead, in your follow email or note say that you will include them in your newsletters and hope he/she finds them valuable but don't hesitate to unsubscribe if you don't. Seek feedback and advice about your information – that's a sign that you respect the other person's opinion.
At the next networking event, seek out that person just to say hello and express appreciation for making a connection.
5. Don't Sell at Networking Events
We've all been to parties where one person is always talking about himself/herself, bragging and in general being self centered, seeking only to achieve his/her objectives with little regard for anyone else's. Don't be that person. You shouldn't sell at networking events – you are there simply to increase your brand awareness, make connections and be a good connector - helping others make connections. Your selling activity should take place elsewhere.
[For more tips on what not to do, check out How to improve sales – avoid the 7 deadly sins of salespeople.]
Linked In Online Networking
Linked In (LI) is the place for online business networking. It is rich and easy to use. People will definitely check you out on LI to find out more about you. So, make sure your profile is superior and accurately reflects what you do and your USP. Use LI to connect with others. Seek out the people you are connected to that might be able to introduce you to the people you want to meet.
[Want even more networking words of wisdom? Read Networking skills – 10 tips for success.]
In summary, business networking can have a significant positive impact on your sales success. It can also be a big time waster. Be prepared, be special, be in the right places, and help others. Do these things and you become someone well respected in the business community.
To schedule a speaking engagement or just learn more about sales, networking, and general marketing best practices, contact WebStrategies, Inc. online or by phone at 804-200-4545.