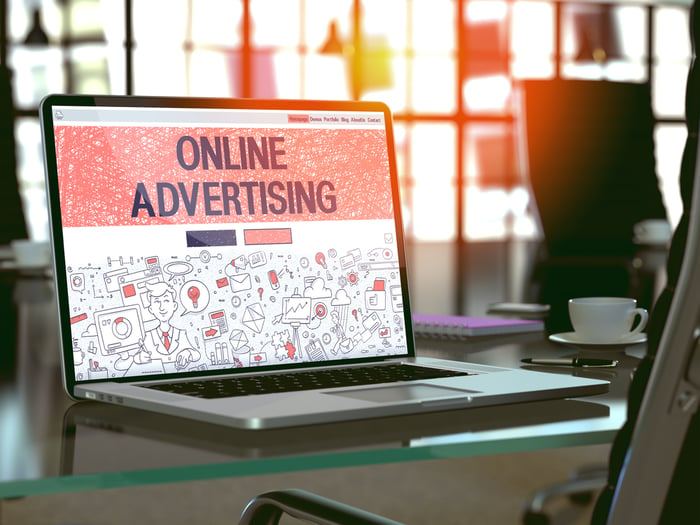 Online traffic is through the roof right now, and it is crucial that your brand is visible online. Luckily, there are a variety of self-service digital platforms that offer you a broad range of advertising capabilities for minimal cost.
However, making a choice on which platforms to invest some of your advertising budget may be a difficult task.
That's why we created this guide with a brief overview of each self-service digital advertising platform and its capabilities so that you are better equipped to make informed decisions on which platforms are best suited for your business.
Paid Search
Some of the most powerful tools that can be leveraged to advertise online are paid search advertisements.
Search engines like Google, Bing, and Yahoo allow you to bid on specific keywords related to your products or industry. The higher your bid, the more likely your advertisement is to appear in the top search results for those keywords.
Search engines also monitor ad quality when determining ranking, so producing high-quality ads that provide customers with value should be your top priority.
Each time that your advertisement is clicked on, you will be required to pay a small fee, which is why paid search is often referred to as PPC (pay-per-click) advertising.
Advertising on search engines can be beneficial in helping your business generate more customers that are already at the bottom of the sales funnel. When a user performs a search surrounding your targeted keywords, they have very high intent and are typically close to making a purchasing decision.
Display
Have you ever fought off the desire to make a purchase, only to be confronted with an ad for that same product once you have moved on to another site?
If you have, you have fallen victim to a display ad; another advertising option that the powerhouse of Google and other display networks offer.
With display advertising, businesses have the ability to showcase their ads on display networks that are composed of thousands of sites ranging from small, niche websites to websites that generate a massive amount of traffic.
Along with massive reach, display ads also provide you with precise targeting options and a strong contextual engine so that you can run productive awareness campaigns and generate high funnel interest in your brand.
Facebook
With over 2.45 billion active monthly users, Facebook is a great option to include in your digital advertising strategy.
Facebook's advertising platform is unique compared to other advertising platforms because of its extremely comprehensive targeting capabilities. Data such as demographics, behavior, location, and much more allow you to run hyper-focused ad campaigns.
Along with precise targeting capabilities, Facebook Advertising also includes detailed analytics that you can use to adjust your campaigns as they progress. Tools like the Facebook Pixel on your website will allow you to monitor the behavior of users once they have engaged with your ad so you can retarget them appropriately.
If you'd like to take a more in-depth dive into how your brand can use Facebook to increase exposure and drive traffic, click the button below to watch our video on Facebook Advertising.
Watch: Intro to Facebook Advertising
LinkedIn
Similar to Facebook, LinkedIn is a great option for advertising due to its in-depth targeting and budget customization options.
However, LinkedIn is better suited for those who are looking to target individuals in a more professional setting.
Location, job title, company name, industry, and degree are among the many different targeting options that LinkedIn provides for you to segment your ad campaigns.
LinkedIn advertising can be very effective for B2B companies, and you can even upload lists of contacts or target companies and import them directly into your campaigns as a matched audience so that those specific people are shown your advertisement.
YouTube
YouTube is the second largest search engine in the world and contains 1.9 billion active users per month, making it an excellent alternative to traditional paid media such as radio or television.
Advertising on YouTube provides capabilities that are not found in traditional media such as the ability to target audiences based on video category, demographics, and specific keywords related to your industry or products using data provided by Google.
YouTube also offers a variety of customization options for your campaigns so that you can decide exactly where and how your ads are displayed.
If you have the resources to create high quality video ads, YouTube is an excellent tool to run awareness campaigns because of its broad reach. However, it will not produce direct conversions like you would expect to see from platforms such as paid search.
If you're interested in learning more about the different types of advertising options that YouTube offers, check out our Facebook Live on the basics of YouTube advertising.
Digital Billboards
As technology continues to develop, old, static billboards are becoming outdated and replaced by more modern self-serve digital billboards.
Online platforms like Blip now allow you to purchase these digital advertisements just as you would a display advertisement online. The process is seamless and inexpensive as you can customize your budget based on how many impressions that your ad receives in a single day.
These billboards can be excellent options for small to medium sized businesses who are looking to expand beyond the more primary advertising channels to expand brand awareness.
Amazon
If you are a business with ecommerce capabilities, then another secondary platform that you can consider using is Amazon display advertisements.
Whether you sell your products on Amazon or not, you can utilize its unique shopping insights to direct your campaigns towards people who have purchased products similar to yours in the past.
Amazon advertisements are not limited to its website as they can also be seen on all Amazon owned devices and other websites that Amazon is affiliated with.
Spotify
Spotify is one of the most dominant music streaming services in the world and now offers a self-service ad platform that many large companies have already begun to take advantage of.
All you have to do is write a script and submit it to the Spotify Ad Studio where one of their voiceover experts will record the ad.
Spotify also offers targeting options such as age, gender, location, and platform so that you can target your audience no matter what genre of music they are listening to.
Leveraging Self-Service Advertising
Whether you are a small, medium, or large sized business, it's extremely important that your brand is active in the online space right now.
If you are looking for ways that you can advertise your business online, self-service advertising can help make your process seamless and easy because it allows you to design, implement, and track your advertising campaigns by yourself without needing the assistance of a middle-man.
We hope that this guide was able to provide you with some insight into the various different self-service advertising platforms available so that you can make a decision on which are best suited for your businesses needs.