Four members of the WebStrategies Team traveled to Chicago for Pack Expo 2022 and it did not disappoint. Howard, Kristin, Sean, and Preston were blown away by the turnout as there were over 44,000 attendees and 2,222 exhibitors in 19 product categories.
Excitement and exuberance to engage were clear. Tradeshows are BACK and a welcome return to normalcy after the pandemic kept us apart for too long. The manufacturers we spoke with were very pleased with the number and quality of leads generated and the customer interaction, reinforcing that tradeshows remain vital for manufacturing sales and marketing success.
There were many interested buyers of large packaging equipment! The ability to see the equipment in action draws people from around the U.S. and the world to meet and form connections with manufacturers. The exhibitors demonstrated even more sophisticated robotics and automated components than at recent shows.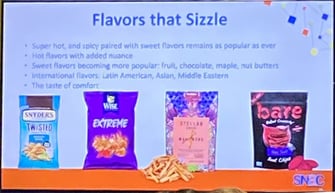 While it was a material handling show, Pack Expo included a significant number of food production equipment companies. We learned that COVID changed consumer snacking behavior. Specifically hot, spicy, and sweet snacks are emerging in popularity.
Other Pack Expo 22 Highlights:
We visited the Handle It exhibit for a first-hand look at the current technology our materials handling client uses.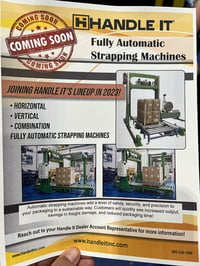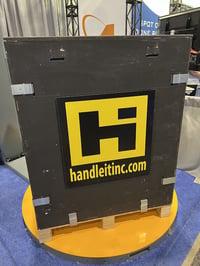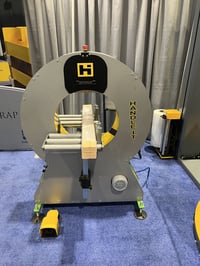 Preston gave the TGW/Pearl handle punch machine a go for some swag bags.
In addition to meeting many new faces, he and Sean connected with as many digital marketing clients as possible and appreciated the literal "facetime".
Howard was nostalgic for the 80s when Styx performed "Sail Away" at the live concert on Monday night and Kristin cheered him on as he rushed the stage.
Overall, Pack Expo appears to have been a successful event for exhibitors and attendees. We certainly enjoyed it for the reasons listed above, but also the waterfront venue on Lake Michigan provided scenic spots for breaks, and the clear weather made for an enjoyable visit.
(No one ask Howard about the traffic, please.)
We'll be back in 2023!
Additional Photos We Can't Resist