In the last episode of WebStrategies Live, we shared ideas for how to rethink your approach to mobile.
Not only should you consider the mobile experience, oftentimes you should think "mobile first" or even sometimes "mobile only."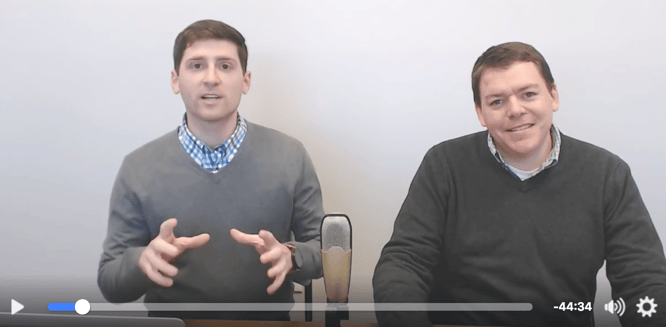 Watch the broadcast below.
Timestamps
[1:40] Why focus on mobile?
[5:30] Vincent Salazar of Google- presentation on micro-moments
[7:30] Micro-moments defined
[10:10] Three things to focus on in a mobile first world
[12:20] Why brick and mortar businesses should care about mobile
[16:30] Mobile apps
[19:30] Mobile search
[21:00] Mobile ads
[23:00] Mobile optimization
[30:30] Q&A
Resources:
Transcript
Below is a transcript of our broadcast. It's been edited for readability, and if you're interested in a certain part, you can use the time stamps above to skip right to that section in the video.
Chris: Hello, everyone and welcome to "WebStrategies Live", the video broadcast for the modern marketer and business owner, where we share with you how to generate leads and sales online. I am Chris Leone.

Phil: I'm Phil Woods.

Chris: And we're broadcasting live from WebStrategies headquarters just outside Richmond, Virginia. We've got a good one for you today. We're going to talk about a really important topic that any business online needs to be thinking about quite a bit. We're going to be talking about mobile, and how to optimize your mobile experience for your users. We have a really special guest today. Vincent Salazar, who works with Google has a great presentation to share today on the mobile experience- a lot of data related to how people are using mobile, and then how we can think about the mobile experience in a mobile-first world.

So why are we talking about mobile? Well, it sounds a little cliché to be saying, "You need to be thinking about mobile." But despite the fact that mobile usage is through the roof now in 2017, I think a lot of businesses are still not thinking about this as seriously as they should be. Let me throw some stats out to set the stage.
81% of the U.S. population has a mobile phone. By some measures, mobile is actually becoming more pervasive than TV in terms of usage. There's a great study that just came out from eMarketer that highlighted this. Among those who are 18 or older, over 95% have mobile phones, compared to about 89% who have watched TV at least once in the past week.

Mobile has finally surpassed desktop usage. This is something that we've talked about a lot in the last few years.
Another really powerful data point is that there's going to be more money spent on advertising on mobile devices than on television within three years. So attention is pouring into this. The eyeballs are following. We need to be thinking about mobile devices first, and in some cases be only thinking about mobile devices. The whole experience happens on this four-inch screen. I think that can really start to change our perspective.

Phil: Advertising budgets across all companies, all industries, all sizes- more is going to be spent on mobile.

Chris: Like we said, we have a really great guest today. Vincent Salazar, who works with Google is going to do a presentation on micro-moments. But really, we're talking about trying to drive growth in a mobile-first world. So with that, let's hand it over to Vincent.

Vincent: Hello to all the viewers out there, and thank you for taking the time to watch this episode of WebStrategies Inc. Live. My name is Vincent Salazar, and I am one-half of the dedicated support team that is assigned to WebStrategies Inc. through the Google Partner Program. We are part of a program that less than 1% of agencies across the U.S. qualify for.

In my role as an account development manager, I get to work with many different brands and I learn from many different agencies. One message that we continue to hear is, "Mobile changes everything." This isn't an evolutionary change. It's a revolutionary one. As of this winter, there are now trillions of searches made globally on Google every year. As of last year, over half of those searches happen on smartphones, more than desktops and laptops combined globally. YouTube reaches more 18 to 49-year-olds in the U.S. than any broadcast or cable TV network on mobile alone.

Across the millions of websites using Google Analytics today, we are seeing more than half of all website traffic now coming from smartphones and tablets. For many of us, our phones are the first things we pick up in the morning and the last things that we put down at night. If I'm texting my spouse or checking my friend's vacation photos, I'm not necessarily looking to engage with a brand. In fact, brands that interrupt us get in the way. But then, there are the moments that truly matter, moments when we turn to our phones to help make a decision or accomplish a task. At Google, we call these "micro-moments."
Our lives, they are filled with hundreds of these micro-moments. At the grocery store, people turn to their phones to help them choose between products. Morning commutes on a train are now an opportunity to book that long weekend getaway. Back home, their tablet might help them learn to fix a leaky faucet, or find a plumber when they give up. Shopping. Shopping happens anytime, anywhere. These "I want to know," "I want to go," "I want to buy," and "I want to do" moments represents a huge opportunity for advertisers.

As a company built on intent and context, Google is in a unique position to help with these moments, and we can do it at scale. Google Search, YouTube, Maps, Gmail, Android, Play, and Chrome, now serve over a billion users each. The Google Display Network reaches over 90% of internet users, and now includes more than 2 million publisher websites and apps. Every day, Google Analytics processes over 500 billion digital moments across devices, moments like sight engagement, app downloads, and conversions.

With millions of insights and interactions, and touchpoints every day, only Google can provide you with deep understanding of consumers' intent and context that you need to win in a mobile-first world. To start, I encourage you to focus on three things. Be there, be useful, and be accountable. I'll talk about each for just a moment. First, you need to be there in the micro-moments when your consumer is looking for answers, discovering new things, or making a decision. These moments are the most powerful opportunities for your brand to connect with people.

Identifying the critical micro moment for your brand to be there is an art and a science. It means figuring out why people turn to mobile, and when your brand can be most helpful. First, good old-fashioned methods, like talking to your customers, can generate useful micro-moments. Ask WebStrategies to look into mobile-centric searches for your brand or category. Another clue to finding out what people want in the moment, look at their questions. Ask WebStrategies to find out the most common queries, beginning with words like "what," "when," and "how" for your brand or category. Each of these queries is an opportunity for you to be there with a useful answer. These are all great starting points to understanding the moments you need to win.

It's not enough, though, to just be there. You have to also be useful. Consumers today expect relevant, helpful, and frictionless experiences, or they'll move on. To be truly relevant and useful in the moment, you need to deliver content and experiences that are tailored for peoples' context. Here are a few ways to start. When it comes to creating a useful and engaging piece of content, you need to have a clear understanding of what your customers are looking for. Instead of creating content based on what you think is interesting, focus on building content to meet a specific quantified customer need. Defining the "Why this? Why now?" for each piece of content will increase your chances of success.

If you have a physical business location, you probably already know by now that mobile search is your new front door. Every month, people visit 1.5 billion destinations related to what they searched for on Google. Leverage location signals to deliver experiences and messages that feel tailormade for the moment. For example, let customers searching near your stores know when the products they are looking for are in stock.

It's also important to ensure your site and app is mobile-optimized, with a great user experience that fosters your consumers' main goals with engaging with your brand. Mobile-first web design needs to be a focus for the small business owner, since Google has started to move towards mobile-first indexing. By identifying these gaps and focusing on customer needs, your teams will have the true north that they need to deliver great customer experiences.

Finally, you have to be accountable to driving real growth for your business. At Google, we see that the leaders who are driving growth for their companies are rethinking measurement. They have evolved past the legacy metrics that don't request the new customer journey in a mobile-first world. To begin rethinking measurement, I encourage you to think about starting with the business outcomes you want to achieve, then determine the right success metrics for those goals. After that, take a step back and look at the big picture, and find new solutions, new tools, new estimates, to better understand what is working to accomplish your goals.

Finally, embrace what's possible. Optimizations aside, marketing leaders are taking a serious entrepreneurial approach to mobile and digital, reaching further with experiments to know what else will drive results now and in the long term. The amazing thing about all of you guys being associated with WebStrategies is that you have the value of a Google Partnered agency to help come up with these questions and eventually answer them. They have the market knowledge across a wide variety of verticals to drive the performance that your business needs, as well as understanding how much time you'll need to invest to see success.

Chris: Thanks so much, Vince. Now we'll go back and talk about some of the key points of what we just heard Vince go through, and get into some practical terms here about how you guys can do this. Figure out how you can start to apply this today to your business. Let's start with "be there." Where should you be on mobile?
Should small and medium businesses be thinking about apps?

Phil: Probably not. It's such a big investment to develop and maintain. I will point out, though, the consideration about apps that we've had really good luck with is related to advertising. For example, if you're a bank and you want to promote mortgage loans, we can get ads through display networks on apps like Realtor.com's app, or Zillow's app, and things like that. So using an ad network or using app platforms as an extension of your advertising strategy, I think, is very smart.

But in terms of using apps to reach a new audience or engage your existing audience, for most small and medium businesses, probably not. Just because of the high barrier to entry and the high cost to maintain.

Chris: It's a little bit of a paradox here. The data says apps outperform mobile web browsers in terms of conversions. You see other data out there that's saying that app usage outperforms mobile browser. But here's the thing about apps. It's one of those where the rich are super-rich, and then you have everybody else. Meaning there's very few successful apps that people use on a regular basis. Apps are one of those things that people download a lot of them, and then maybe only go into the app once or twice. So there's just that kind of a high-waste experience happening for a lot of small and medium businesses and for the users who download those apps. Finance, maybe banks, credit unions who have apps where you can login and actually have a utility, that's an exception.

So if you want to take advantage of all that app usage that's happening, to Phil's point, it's more about buying essentially, advertising in that space. You could talk about influencer marketing to a degree, because those influencers are talking on platforms that are primarily accessed through apps.

If we're talking about being there and being found, we're talking about search. Search is a big one, and social advertising is really places where you can get introduced to your market on a mobile device. The mobile algorithm for Google is different than the desktop algorithm. It's different probably in a few ways. When you see search results show up on a mobile device, one of those ranking factors is how well-optimized your site is for mobile.

Your site may rank number one on Google desktop. But then, if someone goes on a mobile device and they search that same keyword, you may not be on the first page because you don't have a mobile site, or your load time is really high. So if you don't have a good mobile experience, load time, usability, responsiveness, then Google may not rank you as well.

Then, the ads that you run on those mobile devices- are you running an ad that fits the context of that placement? If it's video and they're on a mobile device, they probably don't have their sound on. So if you have an ad going, you don't want to be 100% visual. You want to have subtitles in there as well.
Then, also on these platforms, you can adjust your spend, how much you want to go to a desktop device, how much you want to go to a mobile device. So if you have an ad that is really based on audio and sound, and trying to send someone into a long application, something that you don't think they're going to be doing on a mobile device, then you want those ad dollars to be distributed more towards desktop.

Chris: Let's talk about mobile optimization. I want to challenge you to do something. If you've never done this before, this would be a fantastic exercise to figure out how you can optimize better for the mobile experience, and it's really simple. Take someone you know who's willing to give you 10 minutes of your time, pull up your site on your phone, just pull it up, and ask them to do something. Ask them to go get a quote, or to see what kind of programs you offer, or to see what your rates are, and just watch them use it.

This is the process that we talked about in the last WebStrategies Live about conversion rate optimization. You will be amazed at how clunky it probably is for the user. Just have them do one or two things, and I think you'll quickly come up with a list of five or six things that you could change on your site to make it more mobile-friendly.

One of the things we like to recommend to clients is, "Can you use the site with one hand? Can you click the links and the calls to action with your thumb?"
Phil: I think they call those "tap targets". So your menu navigation, for example, how wide or how thick is that tap target? I think you'll find a lot of sites out there that many of the links, many of the calls to action are way too small to really navigate easily on a phone, even the ones that have made a responsive design.

Chris: I'm going back to this eMarketer report that came out. Load time, they're saying, is a crucial factor in mobile conversions. So we know that load time affects search ranking.

If you have questions about load time and what your site load time is, shoot me an email, Chris@webstrategiesinc.com, and I'll put together a report and I'll show you where you are with that. But mobile, there's data that shows that not only does it affect rankings, but once they get to the site and they're clicking to different pages that then have to load, that correlates to conversion rate. So here's a couple data points again from this eMarketer report. When a site load time was 2.4 seconds, the conversion rate was 1.9%. When the load time got over six seconds, the conversion went to 0.6%.

The last anecdote I want to share with you, which is a personal experience, to me this is thinking about mobile optimization not just in terms of, "Do we have big buttons and have we really contorted our site to be really mobile friendly?" But this is putting your site into a mobile context.

I recently got a new iPhone, and I wanted a case. I heard about these cases called Peel, and they've been advertising a lot on Facebook. So I figure, "Okay. I'll go check them out." Click on the site, the first thing that struck me that I thought was really cool, and I think this is something that Shopify has incorporated into their e-commerce platforms as well, is if you want to contact the company there's a little box in the bottom of the screen that opens up your Facebook Messenger. You click that, and it opens your Facebook Messenger app, and then you send a customer support request through Facebook Messenger.

Instead of having to go and fill out a contact form on the website, which is again more Web 1.0, they said, "We're going to integrate our customer service into an app that you use every day, Facebook Messenger." The second thing that they did that was that they're using Apple Pay on their site.

So in the real world, you could go up to a payment console when you're checking out, for example, hold your phone up, and it transfers the credit card information and it pays. But on this website, when I added to my cart and I said I was ready to check out, all I had to do was put my thumb over the thumbprint scanner. It pulled up my credit card and I just clicked OK, and I purchased it and that was it.
But instead of having to click on each form and enter in my information, and then go get my credit card, which is really where you lose most of the conversions... I just put my thumbprint over the scanner, it picked it up, and it said, "That's it. We're shipping it to you." It took literally like three seconds. That to me is thinking about the mobile experience in a mobile context, instead of trying to just contort the old way of doing it into a foreign screen.

Q&A
1. "How do you optimize search results for your business in Google Maps versus Google Search?" I think a couple ways. One is making sure all of your business locations are claimed in Google Business. So all of your Google listings and Google My Business are claimed and set up, and complete, that's 80% of it. Beyond that, since each of your Google My Business locations also have a Google+ page, you could look at publishing content through those pages, potentially.

The other part is, on your site, you could use rich snippets or schema markup on the code on your site for each of those locations. That's a signal back to Google where each of your locations are listed. The organic search results are more about content than about location. So we're optimizing towards specific keywords and searches there.
2. "Do you guys do programmatic display ads?" Other than what's available through Google's Display Network, I can't say that we do a lot, largely because we don't do a lot of display ads. But also, because a lot of the display ad networks historically, and I know there are some newcomers on the market, but a lot of the programmatic networks historically have had required minimum spends that were prohibitive to many of our clients. So we don't have a lot of history outside of Google's Display Network.

If you don't know what programmatic display advertising is, the traditional way of buying ads is you say, "All right. I have this much money and I want to put this much on this website, this much on this website. But programmatic is essentially, I don't know if you want to call it "artificial intelligence", but you have a certain amount of ad spend, and then really a machine or formula, or algorithm, determines how it's going to spread those ads out based on criteria that you set.

One of the uses that we're really interested in that I think does have an application for smaller to medium business is weather programmatic ad buying, where when the weather changes or it starts to rain, or it's snowing, or it's a heatwave, or whatever, you can have ads loaded up into a system. It will read weather data and it will buy ad space when that weather hits a certain point.
HVAC companies, for example, you've got a heatwave. You know during a heatwave that air conditioning units are going to break. So that's a good time for them to promote that. Or even if the forecast is predicting a heatwave in 7 to 10 days, you could trigger advertising to try to get ahead of it, for example. The same could be said for a cold snap. There's plenty of other weather-related businesses out there that could capitalize on that type of targeting.
3. "Are you aware of a non-mobile business telling details of getting beat by a mobile competitor? Or has there been a business analysis of non-mobile versus mobile websites, for B2B manufacturers?"

There's a couple ways to look at this one. We do know that mobile websites rank higher. That's part of the algorithm. Google has explicitly said, one of the few things that they do explicitly say goes into their ranking formula is mobile friendliness.

So we could just say out of the gate that if you have two sites, one is mobile-friendly, it's responsive, lower load times, all that good stuff, and then one that's an old clunker, old website, and it's the desktop one showing on mobile and it's like 0.5 font size on your phone, Google is going to prefer the mobile one. We know that for sure.

We do have some history with some clients, for example, that maybe they had a really outdated website and we noticed as mobile became a bigger thing, their site would go down in rankings. So even though they're really well-established, they have good content, they have a good link profile, and all other things related to SEO are strong, if there are newcomers in the market and they're mobile-friendly, and they're investing in content, they're investing in links, they have social presence, and all the other things that contribute to SEO. They do all of those things, then the mobile-friendly site is going to weigh out.

If you have additional questions, feel free to reach out to me at Chris@webstrategiesinc.com.