B2B manufacturer marketing is not flashy because unlike B2C it is not about new trends and selling an irresistible product to people with disposable income. In B2B, there has to be a justifiable business need for someone to seek out products or services and since the investment is usually large, the buyer has no room for purchasing errors. That means the buyer needs a lot of clear, organized information that instills confidence that the product or service will work well in their process, integrate with the existing system, and solve their problem.
Content Marketing for Manufacturers
Content Marketing (or Inbound Marketing) should answer the questions the target audience may have about the product and then make it accessible when they search and click either organic or paid search results.
In the following five examples of B2B manufacturing clients, we'll demonstrate:
Quality content attracts visitors and generates leads. We look at web form submissions and do some sleuthing in Google Analytics, to see that people who are converting are reading content first.
Content can be generated from questions on the web forms for future buyers with similar questions.
Lead tracking forms are valuable for tracking marketing efforts. Marketers who want to know (and prove to the C-suite) what efforts are most effective should have a method to track leads, the value of the quote or work provided, and whether the contact converts to a customer.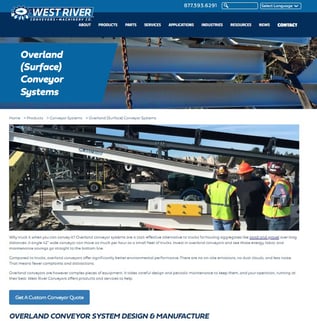 1. Manufacturing Digital Advertising (Paid Bing Ad)
A contact form was submitted on this manufacturer's website from a search campaign running on Bing that led the prospect to the conveyor systems product page. The page contains several call-to-action buttons that are linked to a form that the prospect submitted in August of 2022 which resulted in a quote for an $8 million overland conveyor.
Information submitted on the form reveals the source as a paid Bing ad in the conveyor-belt campaign which directs visitors to content on the overland conveyor product page.
Checking Google Analytics for the day the form was submitted, we can see the blog post "Engineers guide to overland conveyors" led to a contact form. It appears that the Bing ad led to content that was developed specifically to answer questions engineers have about the product.
Analyzing the type of content your target audience will search for and then providing that content on the website is an effective way to reach a wide audience that can be anywhere in the world at any time of day or night.
2. Generating Inbound Content Ideas
Observing the way potential clients phrase questions on a contact forms yields valuable insights into the way your audience thinks about your products and the triggers that may cause them to search for answers. The closer your website content and/or metadata matches user search phrases, the higher the placement that will be rewarded on the search engine results page (SERP).
For example, a manufacturer of industrial equipment for breweries and similar industries could simply list their products and industries served. Instead, we work with our client to continually generate content to address questions from its target audience. For example, when a website form was submitted asking "when to upgrade our bath pasteurizer" the blog post was written: When Is It Time to Upgrade a Bath Pasteurizer?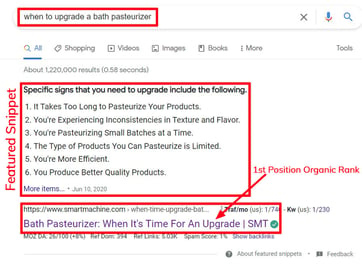 While this is a very niche question, the competition for it is very low and because the manufacturer has detailed content in a format the search engine likes, it is rewarded with top placement on the SERP. In the case of the search phrase "when to upgrade a bath pasteurizer" the page content matched Google's standards so well, it even displays a list containing the specific answers at the top of the search results page in a featured snippet.
Even as a fairly narrow topic for small industry and a small number of people who encounter the problem at one time, there were 87 pageviews in the first 2 months and it continues to receive steady traffic from potential customers who have the same concerns that the original form submitter posed.
3. Manufacturer Product Pages Attract Leads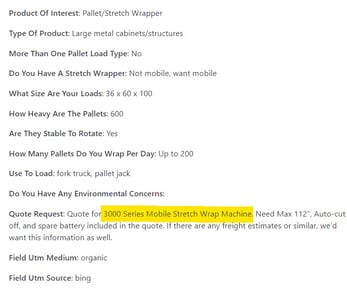 For manufacturer content marketing, we find that product pages that are content-rich are effective at attracting organic search traffic. In this example, a lead was generated on a pallet wrapper manufacturer's website. In addition to its industry pages, it has pages for its specific products as well. As evident by the contact form for a mobile stretch wrap machine and the corresponding page view in the conversion path, the visitor came to the website in search of a specific product. By providing a landing page for that product and then enough information to confirm the product is what the searcher wants, the contact form was filled out and submitted.
The lead form was submitted after the visitor viewed pallet wrapper stretch wrap content finding the page originally from a Bing organic search.
4. Manufacturing SEO using Industry Pages
The following example demonstrates that industry pages on a website provide visitors with the information they need to gain confidence that the products will meet their needs. Industry pages with rich content describing how a manufacturer addresses the needs of specific industries can engage with people searching for solutions to their problems. A manufacturer of industrial conveyor products received a sales lead after the visitor to the industry page for coal applications saw detailed that gave confidence that this manufacturer's products suit their needs.
Based on the Google Analytics goal tracking records, a contact form was submitted for a conveyor belt after the visitor viewed the industry page.

In our experience working with B2B manufacturers, we can see the content that drives traffic coming from contact form leads and use that as inspiration to publish more content that drives future leads.
5. Organic SEO Traffic to Manufacturer Service Page
In this final example, our client received a lead generated through an organic search on Bing (a popular search engine by those in manufacturing). Our client was pleased, saying, "We have been trying for a few years to get in there." Naturally, the WebStrategies team that worked on the content to attract the prospect is thrilled by the compliment.
Using Google Analytics to see the path a visitor took before submitting a contact form reveals the visitor entered the website on a manufacturer service page that ranks well for our client's targeted keywords. The copy on the webpage is robust, giving visitors a clear understanding of the service, the industries they serve, the steps involved, and frequently asked questions. From this page a visitor in need of the service gets a clear understanding of it, why it is better, and gains confidence that this service provider is trustworthy because the knowledge shared demonstrates their expertise.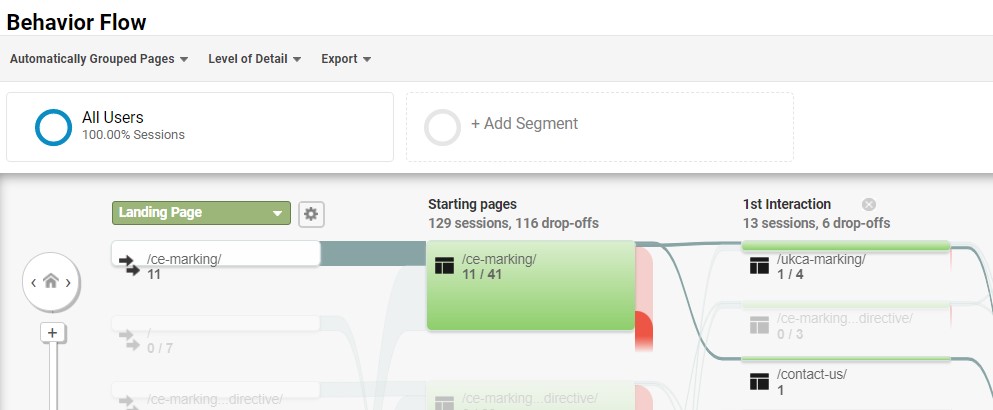 These examples are just a few of the ways content works for manufacturers to generate leads and it is a cycle that needs to be monitored, tweaked and fed regularly.
Want to learn more about content marketing for manufacturers? We have thorough on-demand videos with specific information on content to include on a website to attract leads.
SEO Tactics that get Attention from Engineers & Plant Managers
Building Your Content Calendar from A-Z
Contact us if you need more information, we're here to help.