iPhone, Incredibles, Smartphones, oh my! Smartphone gadgets seem to be one of the hottest items you can buy these days. Mobile internet searchers, social networking and location based games are all part of this shift to greater mobile usage.
But as it turns out, the sentiment of "mobile is the future!" is nothing new.
Mobile access will be the third Killer App for the Internet after email and Web browsing. [Next year], it will become common to access the Internet from portable devices with a wireless modem. Untethered use will lead to many innovative Internet services under the slogan "anyone, anywhere, anytime: connected."- Jakob Nielsen, 1998
If it's still hard for you to envision a mobile world, imagine how crazy Jakob Nielsen must have sounded 12 years ago when he thought 1999 was going to "be the year" of mobile technology!
While his vision was a bit optimistic in terms of timing, the future he saw in his mind is becoming eerily accurate a decade later.
Over the last three years, the smartphone market has exploded; transitioning to the masses. This surge in the smartphone ecosystem is being led by Apple and Google (Android operating system). Since iPhone's initial launch in 2007, Apple has sold 85 million iPhones and iPod touches while Google boasts activating 100,000 android devices a day. The recently launched iPhone 4 was reported to sell over 1.5 million units on launch day alone!
[Edit: reader Dan pointed out RIM's dominant market share in the smartphone market. While Comscore places their market share at just over 40% - compared to Apple's 24% and Google's 13% - usage of these devices to access online content is distributed much differently. Our own studies have found website traffic from mobile devices to be distributed as follows: RIM devices, <10%. Apple or Android device, 90%+. In some cases, RIM devices have contributed as little as 2.5% to total mobile traffic with Apple or Android devices contributing 97% of all mobile visits. If you are in the business of selling mobile handset accessories or cases, RIM can't be ignored. However when it comes to the consumption of online content and advertising, RIM suddenly becomes less relevant.]
Among many things, mobile is especially powerful for "search-on-the-go." In other words, having access to all of the world's (internet's) information in your hand wherever you are. Just like a desktop computer, people use search engines to find this information. For this mobile search, Google dominates the landscape with ~97% market share. This means if someone is doing a search on their smartphone, they are likely using Google whether they are using an Apple product with Apple software, an Android powered device or any other operating system.
So what are the circumstances for someone performing a "mobile search?" According to Google, 33% of all mobile searchers performed have local intent - meaning the search is performed to find a place, product or service within a certain proximity of the person doing the search. Therefore, the other 66% could be considered searches performed on mobile devices with no relevance to location (think of someone browsing the web on a train, from their couch, etc). These people are simply electing to search on their phone instead of their computer.
Some analysts are projecting mobile ad spending for local intent searches to top $4 billion in 2015 (up from $24 million in 2009). If that's the projected ad spending for what makes up only 33% of searches, imagine the amount of ad spending for the other 66%.
So with 1) millions of eyeballs on mobile devices, 2) an increasing number of mobile searches (with or without local intent) being performed each day and 3) Google dominating the mobile search market, does this mean you should starting pushing some online advertising dollars to mobile?
Well, that depends. :)
While the projected ad spending is a pretty telling sign of where things are headed, we're not just going to dump thousands of dollars towards mobile advertising because everyone else is. We need to know and understand what it can bring us and how that compares to our current desktop targeted campaigns.
Like any other campaign, we'll need to understand the return of each marketing dollar invested. The web analytics on your site and the data reported from your advertising platform will tell you all you need to know in regards to running a profitable campaign, i.e. did it generate a phone call, did someone make a purchase, did someone request a quote or fill out a Contract Us form...


In this example, we've attributed an economic value to the act of submitting a Quote Form and are comparing the performance of our mobile data to non mobile data for our Google advertising campaigns. This will allow us to quickly analyze the effectiveness of our mobile campaign for paid traffic. Similarly, we can do the same for organic, or non-paid traffic:

From this data, we can tell mobile traffic is sub-optimal compared to non-paid non-mobile traffic (All Visit segment) while also performing below what we can achieve from paid mobile traffic. We can also break this down on an individual campaign level to see how each mobile campaign stacks up to it's desktop version in terms of performance.Here's a different example:

This chart further breaks down the revenue per click, ROI, and Margin. From this report we see that our mobile campaigns, while not as large as our desktop campaign, have a stronger KPIs (namely revenue per click, or RPC, ROI, and Margin). So while we can't expect to replace our desktop campaign with mobile (yet), the data speaks to the value of our mobile audience and their contributions to our site's goals.
Going back to local relevance and local intent, we need to consider that many mobile searchers occur without the visitor ever coming to your site - meaning we won't have the above data available (at least, not through our site's web analytics).
When someone performs a search for a local business on a smartphone, it uses a series of tools including GPS technology, map data and local business listings to display relevant businesses near your area. Here's an example of a user with local intent searching for a self storage company on his iPhone.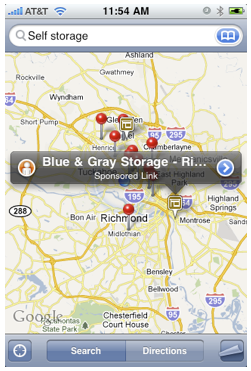 The blue dot in the middle of the screen represents the searcher's location and the red pins represent the self storage facilities nearby. One of the businesses on the map is running an online advertising campaign and has opted to show his ads to mobile devices. As a result, not only does their business show up as a red pin, but their listing is given priority when the searcher performs their search. So while Google has selected 10 self storage facilities based on the searcher's location, it has given priority to the sponsored listing.
Clicking the blue arrow displays the following screens: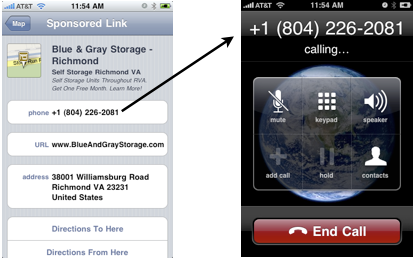 The process for the potential customer is search, select, call - and it takes place in as little as ten seconds without the searcher ever visiting the business' website. If we've used a unique phone number for our PPC campaign, we would be able to calculate the number of calls generated and determine a cost per lead of our mobile PPC campaign.
Smartphone technology and usage is growing at an alarming rate and it means more eyeballs looking for your products and services. While you may or may not be convinced that mobile is becoming a serious player, we must recognize and respect the data and feedback our campaigns can provide. As long as we can calculate the return of our campaign, we can make a data-driven decision as to what is best for our business. Widespread smartphone adoption may still be in its infancy, but the data and insight is already here.