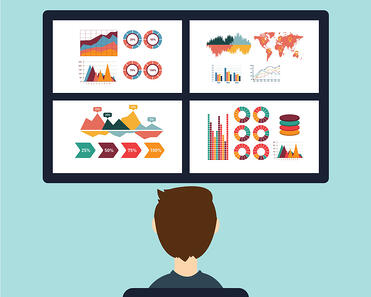 Monitoring your competition can be either constructive or counter-productive, depending on how you approach it.
A constructive approach is acquiring information to help execute your strategy. A counter-productive approach is using competitive data to create your strategy. When companies fall into a routine of mimicking, they establish themselves as followers. They constantly try to keep up with someone else's style, regardless of whether it's right for them. This breeds a destructive culture which rewards imitation over innovation.
With the above disclaimer out of the way, let's look at ways to monitor your online competition.
Track Your Keyword Rankings
A website that outranks yours for a targeted keyword is considered an online competitor. They may not sell the same thing in the same market, but they are taking site visitors away from you. Therefore, you are competing with them.
If your website relies on traffic from search engines to produce leads and sales, you should develop a list of SEO keywords that are relevant to your business, track where they rank in the search engines, and observe which websites outrank you.
Tools for monitoring your website rankings:
Compare The Usability of Your Website Versus Your Competition
Studies have shown customers will visit at least three websites before making a purchase. The larger the purchase, the more sites they'll visit. Therefore, you need to look at your website in the context of your competition. Seek to understand the customer journey as they move from one website to the next. Pay attention to the incentives your competitors offer and how they compare to yours. Dissect their value propositions and determine if they're applicable to your target market.
If the competition's website is easier to use, offers more enticing incentives, and contains more compelling messaging, you will have a hard time generating online leads.

Tools for performing website usability testing:
Compare The Number of Indexed Web pages
An indexed web page is a page found by a search engine then added to its database. If a page is not indexed by a search engine, it cannot not get ranked.
In the world of SEO, size matters. Websites with more pages tend to rank higher than their concise counterparts. Therefore, if your competitor has a larger website, content creation should be prioritized.
Resources for measuring the number of indexed web pages:
Comparing Your Domain Authority and Inbound Links
The more authoritative your website, the more likely you are to rank. Inbound links, or the links to your website from other websites, are a major contributor to your website's authority. If you want to rank above your competitors, you should monitor the inbound links your competitors are receiving, then find ways to get links of similar value.
Resources for measuring domain authority and inbound links:
Comparing Your Website Traffic With Your Competitors
Curious to know if your competitors receive as much website traffic as you? While this data isn't very actionable, it helps provide a baseline understanding of website popularity. No tool can provide a perfect look at your competitors' traffic volume, but it's enough to get started.
Tools for comparing website traffic volume:
How Often You Should Monitor Competitors
Competitive metrics should be analyzed at least once per month but no more than once per week. There are two primary reasons for this. First, most competitive metrics will not change on a daily basis. Second, the majority of your time should be focused on your business, not someone else's. Therefore watch, but don't obsess.
What's next?
Once you've identified areas of weakness, put in place a clear plan to address each area. During your ongoing check-ins, discuss what has taken place, the results achieved, and what will be done going forward to improve each area.
Monitoring your competition is a small, but important component of a successful digital marketing plan. No business exists in a vacuum, so you must be aware of your environment.
Will you be the one to stand out?