People don't like to be sold – they do like to buy. Consequently, I never recommend selling something to someone who either doesn't need it and/or won't get value from it. One of my sales and marketing theories is this – someone sells something when the need intersects with awareness. That is, when the need develops and the prospect is aware that your product or service might satisfy that need, you have a chance to make a sale. Conversely, if there's no legitimate need, there's no sale; and if the prospect with the need is not aware of your product or service, you won't make the sale.
The Importance of the Sales Funnel
One of the most important elements in sales is managing your "sales funnel" so that when the prospect's need arises, he/she is aware of your product or service and a conversation can ensue.
Your sales funnel contains information about qualified prospects with which you've had some interaction. Before going further, let's define a qualified prospect. A few weeks ago in Work It-Richmond I wrote about my method of qualifying customers – the BRATS method. The "T" in BRATS asks – "is the timing right for the prospect to implement my solution?"
As mentioned before, if it's not the right time, you won't make the sale. Generally you can't control the prospect's timing. But, you can control the extent to which he/she is aware of your product or service. That's why managing your sales funnel is important.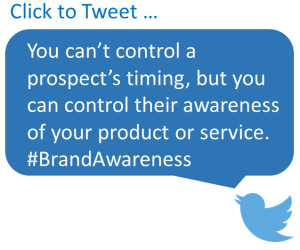 Some guidelines for managing your sales funnel…
Only qualified prospects should be in your funnel. Each prospect may not meet all the BRATS criteria, but if you believe at some point they might, they belong in your funnel.
Assess each prospect with an A, B, C or D based on when you think the right time will be. "A" prospects will likely purchase within 30 days - "B" prospects within 90 days and "C" prospects within 6 months, and "D" prospects sometime beyond 6 months. Based on the nature of your product or service, these times might be different. What's important is that you categorize your prospects based on timing.
Include pertinent information about the prospect like type of business, previous interactions, appropriate products/services, etc. A good Customer Relationship Management (CRM) system like Sales-Force, ACT or others may be appropriate.
Document every interaction you have with each prospect in your funnel.
Now that you have a solid sales funnel full of qualified prospects, how do you make sure they are aware of you on an ongoing basis so when the need arises, you are there? Here are some guidelines for managing awareness with your sales funnel…
Email marketing is a great way to stay in front of your prospects. If you do email marketing, don't send junk. Send something of value that doesn't take a lot of time to consume. A monthly email is recommended.
For "A" prospects, "touch" them once a week. After all, they are ready to buy within 30 days so you want to stay top-of-mind. More about "touches" later.
For "B" prospects, "touch" them once every 2-4 weeks.
For "C" prospects, "touch" them once every 4-6 weeks.
For "D" prospects, use your email marketing campaign to stay in touch.
[Check out Why Is Email Marketing So Effective? to find out if email marketing should play a role in your marketing mix.
What's a "Touch"?
"Touches" represent any type of interaction with a prospect. It could be an email, a phone call, a written note, a stop-in to say hello, an article, etc. – really any interaction. Make your "touches" added value. Don't just call up and say "are you ready to buy yet?" A better call could be "I thought about (one of your objections) and figured a way to solve it." I often send articles that are pertinent to the business or to a personal interest of the prospect. Whatever you do, be credible and don't waste the prospect's time.
In summary...
Enter every meaningful interaction with a potential prospect in your sales funnel. Rate each one based on when you think he/she will be ready to buy. Based on timing, "touch" them with value added interactions. You do this and no doubt your sales will increase from it.
To learn more about sales funnel management specific to your business, contact WebStrategies, Inc. online or by phone at 804-200-4545.