Updated February 13, 2018
We've issued a challenge to small and medium sized businesses for 2018: Double your blog traffic in the next 12 months.
It starts with a four stage process, at the heart of a successful content marketing strategy. Without following these steps, content marketing for your company can quickly become a waste of precious resources when your carefully crafted content isn't being seen by your target audience.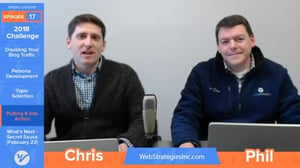 We are hosting a four part series of Facebook Live episodes to explain each step of how to double your blog traffic. Our first episode focused on persona development- researching and building concrete representations of your ideal customers.
Watch the video below to learn the how to develop your buyer personas, a critical first step in focusing your content development in the right direction.
Follow us on Facebook to catch future episodes in this series, or subscribe to be notified by email.
If you have additional questions, feel free to reach out to me at chris@webstrategiesinc.com.
Part two in our series covered how to select blog topics that create the most value for your target market, based on the persona development done in step one. Watch that video below.
In part three we put your plan into action, writing the blog posts based on the research you've done. We show you some of the most important guidelines to follow in publishing successful blog posts that get noticed by your target audience.