We've written several articles about online marketing budgets in a variety of industries, and as we've worked with security alarm companies across the country, we've identified a realistic marketing budget calculation for firms providing a combination of commercial and residential security offerings.
Security alarm companies are under more pressure than ever to not only hold on to their existing customers but to attract new commercial and/or residential customers. The increased competition and marketing spend by the Big Alarm Companies, Cable/Internet/Phone providers, and of course the DIY systems, provides both defensive and offensive marketing opportunities for mid-sized, privately owned security alarm companies.
This environment leaves security alarm marketers wondering, how much should be budgeted for marketing? And, which marketing channels are most appropriate for marketing a security company?
Use Historical Data As A Basis For Security Marketing Budgeting
If you're in the position of evaluating your marketing budget for this year and starting the budget process for 2018, first take a look at this year's budget and results. Based on your marketing performance, determine what areas performed well, and cut the areas that did not deliver the results you expected.
Should your 2018 security marketing budget be higher than 2017
?
If so, by how much?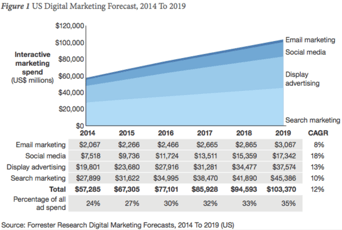 Data published by Forrester Group suggests annual digital marketing budgets will increase by 10% in 2018 and will represent 33% of a company's total marketing spend. Overall marketing spend for all channels is expected to increase by approximately 5%.
Compare Your Budget Against What Other Security Companies Are Spending
Evaluating what other security alarm companies are doing can be helpful, though there may be variations from one organization to another when considering the size, location, competition, goals, customer mix, and products and services offered. The majority of our security alarm clients spend between $2,500/month and $5,000/month on digital marketing. This includes marketing services - strategy, website content & blog updates, running Google and/or Facebook ad campaigns, analytics reporting and analysis, and email marketing. It also includes budget for digital advertising - paying Google and Facebook for clicks on digital ads.
We do know there has been and will continue to be an absolute shift in where marketing dollars are being spent. This chart from eMarketer highlights how spending has shifted away from more traditional ad platforms (TV, radio, print) to various digital marketing activities.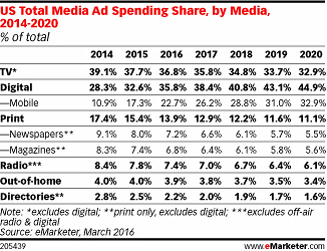 The Shift To Online Marketing
Like other industries, security companies are shifting dollars from traditional marketing channels to online channels, but exactly how much is unclear.
There is minimal independent data available which addresses security alarm company marketing trends. However, there is data available across industries that we utilize to estimate and appropriate the level of marketing spend as it relates to a firm's revenue. "The CMO Survey" shows that on average, firms spend 11% of their budget on Marketing. This can include internal staff, traditional and digital marketing activities.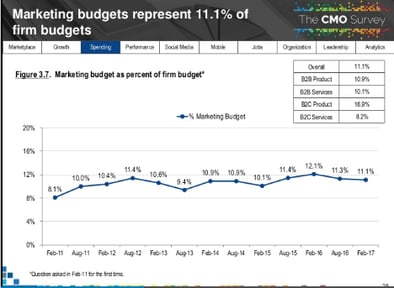 Across industries, there is a wide variation in marketing spend. Here's another chart from "The CMO Survey" that compares industry spend. On the high end, residential security alarm services are covered by the Consumer Services category, where commercial security services are in the Services Consulting or the Tech/Software/Biotech bucket. So somewhere between 6.2% and 13.9%.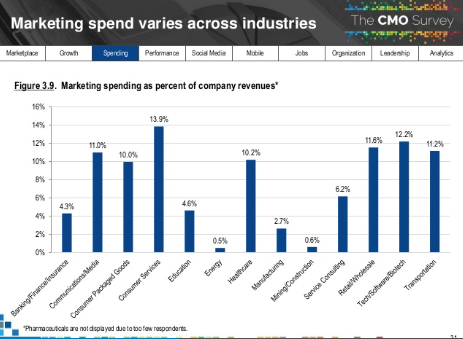 Which Marketing Channels Are Most Effective?
This is a question we get all the time, and as you might expect, the answer depends.
Here's a breakdown of overall digital marketing budget spending plans by type. As you can see, monies are being shifted to social media marketing, content marketing, personalization, video, lead generation, analytics and mobile marketing. However, the older forms of digital marketing- Paid Search (PPC), Display Ads, and email marketing are still widely popular.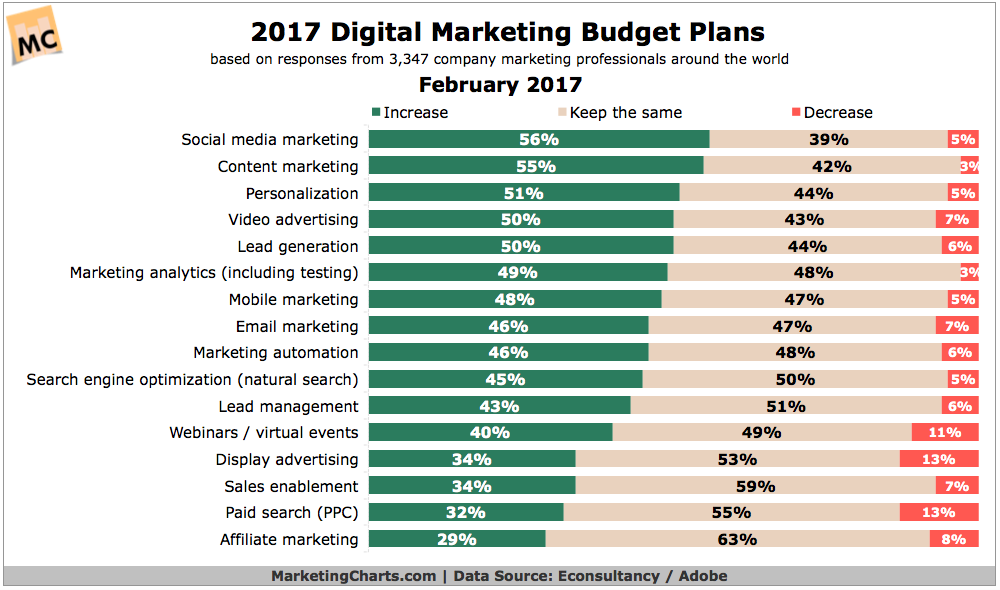 Below is a survey from "Chief Marketer" on the top B2B marketing tools used to generate leads. For our security alarm clients, email marketing is fantastic for customer retention and upsell opportunities along with nurturing prospects.
Each time we speak with an existing or prospective security client, we stress the importance of having customer email addresses and clean data on the security products and services they have. The higher the quantity and quality of the data, the more personalized marketing you can do. We find content marketing to be a major factor in enabling higher Google rankings for security related keywords.
More recently, we've shifted to hyper-targeted Facebook & Google advertising with graphic, or better yet, video ads.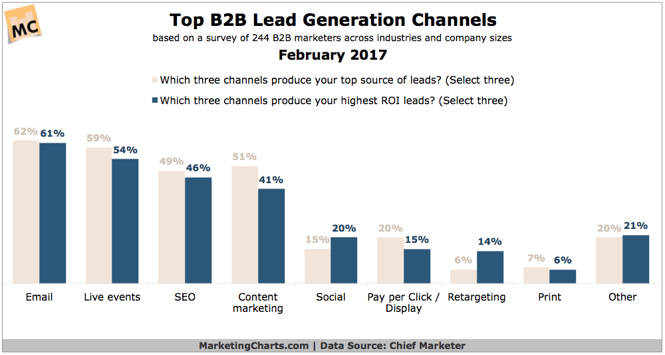 Developing Security Company Marketing Budgets For 2018
For the remainder of this calendar year and into early next year, if you aren't already doing a good job of tracking your website analytics and online marketing results, commit to investing in establishing a more robust reporting process and good quality dashboard reporting.
Really focus on identifying your target market—we recommend picking one or two at a time, and invest in developing buyer personas so your marketing dollars can attract the right buyers and your solutions solve their pain points and motivations.
Be more proactive going forward, test some new activities and shed under-performing ones. Make sure you pay attention to how effective the mobile version of your website is, as our security clients are seeing over 50% of the visits to their websites from phones. You want to capture leads from this large population.
Many organizations will spend over 30% of their marketing budget online. Will yours?
---