Love them or hate them, the guidelines of Facebook's ad platform greatly impact the ways credit unions market their services. Every year in late September, this online tech giant will undergo significant advertising changes with the ability to make—or break—your credit union's social media advertising strategy. In 2019, these rules did not necessarily change to the advantage of credit unions.
It may be said that rules were meant to be broken, but the consequences of attempting to move around Facebook's newest hard-and-fast rules could be a large drop in return on ad spend (ROAS) or even a failure to attract new members.
This means that understanding the boundaries of Facebook's new advertising guidelines, including the rapidly growing platform of Instagram, is one of the most important parts of planning out your credit union marketing strategy for 2020.
Facebook Advertising Changes Explained
The loss of organic reach through social media advertisements is nothing short of cataclysmic, with only 2% total organic reach left from Facebook on average.
If your credit union is not yet paying for boosted Facebook ads, it should be. In fact, paid promotions are the new social media norm. The new and highly astringent guidelines for paid promotional ads must be followed to avoid disqualifying your content or missing your target market entirely. How did we get from there to here?
The Old Facebook Advertising Guidelines
2018 was generally considered to be the zenith of Facebook's 'wild west' advertising strategy. With multiple tracked metrics and various third-party data collections, the average Facebook user produced a host of demographic information easily targeted by marketing professionals.
The most popular of these include:
Location and location history
Age
Gender
Key interests
Groups or favorited events
Unfortunately, some of these collection data points stretched outside what many would consider being 'public information.' Some of these more private data points created a large point of contention between Facebook and its users, such as:
Searches and deleted searches (in the platform)
Text messages, contacts, and audio message recordings
Apps and uninstalled apps
In-app purchases
Political leanings or affiliations
Some aspects of these metrics could be used with great success in a credit union marketing strategy, although Facebook's unconventional data accrual raised several concerns about personal privacy in a digital age. The nature of social media information tracking and sensitive personal data collection eventually came to a head in late 2018.
Three important circumstances prompted new rules for Facebook advertising:
Cambridge Analytica: Harvesting raw data to gather political information, analytics company Cambridge Analytica was found to be evaluating the 'emotional states' of Facebook users to uncover methods of political message marketing to viable users.
Breach of Privacy: Outraged by the news, many members of the public became politically outspoken against both Facebook and Instagram. Millions of users deleted their profiles from Facebook, Instagram, WhatsApp, and Messenger, all of which are owned by the singular company. In a single day, Facebook dropped $123 billion in value. The company needed to quickly change their approach to marketing to preserve its value and brand integrity.
Perceived Discrimination: Concerned about the use of their personal data, many Facebook users worried that their age, gender, or disabilities could prevent them from receiving equal consumer treatment. Facebook was sued by the U.S. Government in the Spring of 2019, seeking a correction of the advertising policy.
Before the data fallout of 2018, credit union marketers could simply tailor their digital ads towards any audience they desired. Advertisers were free to choose a specific gender, age range, and income bracket for their consumer base, all within a particular radius. Today, that option is gone.
The New Facebook Advertising Guidelines
The newest Facebook advertising guidelines are a far cry from the company's early 'wild west' regulations. Today, there are a host of important rules to follow and vital changes to track, the most important of which are listed here.
Facebook requires specified categories for all ads. This means that both your business and digital advertisements must fall within a clearly defined subset, such as 'financial services' or 'auto dealer.' Credit Unions must now select the "specialized" category for their ads.
Targeted demographics and income brackets are no longer supported on the site. Credit scores, employment history, and income estimations are not available for targeting.
Age targeting is disabled, meaning that all advertisements must be geared toward a pre-set bracket between 18-65+ years of age.
Geography targeting must include a required minimum radius of 15 miles.
Limited demographics are still available for some targeted ads, including marital status and education level.
Behavioral targeting methods are highly limited and include few to no options. Although interested target options still exist, they are very different from those allowed by Facebook's 2018 guidelines.
Unless Facebook's advertising terms of service are followed completely, the ads for your Credit Union will be completely rejected by the company's internal system.
Universally Effective Facebook Advertising For Credit Unions
Even if the guidelines for credit union advertising have drastically changed, there are still some excellent ways to define, target, and market to the Facebook audience your credit union is seeking.
Get Specific, Get Realistic
Keep your audience as well defined as you can, whittling it down to a core customer or persona. Think about the ways you can leverage Instagram verses Facebook audiences. The general demographics of each are wildly different. If you haven't done this already, try scripting up a marketing persona or two to help guide your thoughts.
Further narrow your marketing demographics by using a remarketing strategy on certain clicks, inquiries, or contacts. Don't be afraid to let people self-disqualify themselves from your services. There is a high chance that this will lead to more qualified site traffic.
Familiarize Yourself With Your Facebook Family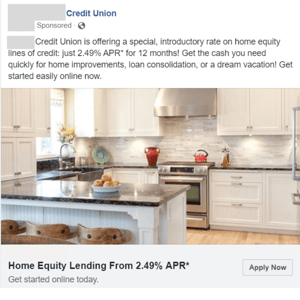 Make your ads appear natural to the platform. The more 'familiar' and trustworthy your advertisements seem to audiences, the more high-quality attention you will receive.
Dig into Facebook tools such as connection targeting, which sends ads to people who respond to your events, like your page or products, or are friends with people who interact with your Facebook page. Running ads with connection targeting helps to familiarize yourself with your Facebook family, and garner better clicks as a result.
Custom Tools For Custom Results
Use Facebook's 'Special Ad Audience' tool to run advertisements against a highly specific subset of your target market. Formerly referred to as a 'Look-Alike Audience,' this program allows you to import company-specific audience data into the Facebook advertising dashboard.
While not perfect, this is an excellent opportunity for businesses to reach new customers by targeting users who 'look like' a sample of their best current patrons.
Is Facebook Advertising For Credit Unions Still A Recommended Marketing Strategy?
Despite the slight drop in effectiveness and the higher price tag, WebStrategies still recommends that 30-40% of your total digital advertising budget be allocated to Facebook digital ads for most credit unions.
Want to learn more?
Have a specific advertising question we can help with? Let's set up a quick call and we'll be happy to help.