Over the last 11 years in the marketing space, we've identified two over-arching reasons why some marketing plans don't work. The first is a failure to adequately measure the lead and lag metrics of a campaign. The lead metrics are those actions that might ultimately lead to a qualified prospect or a sale. The lag metrics are the bottom line - leads generated, sales made, email signups, etc. You get the idea. The second reason is a failure to understand what is important to the customer. Think about it - how can you effectively communicate and motivate a buyer to consider you if you don't know what's important to him/her.
To address the first issue, in 2011 we were elected by Google to be a Google Analytics Certified Partner company, one of a select group of firms worldwide. The experience and capabilities we developed that earned us that distinction have gone a long way to us getting a handle on the first reason I described in the earlier paragraph.
But, that's not what this post is about. Instead, it's about that second reason - not knowing what's important to the customer. To solve this issue, we've begun to "crack the code", and are investing heavily in persona research. Persona research is about understanding three important elements of marketing...
What are your various buyers' personalities - who are they, what jobs do they have, how old are they, etc. You have to know your various buyers' personalities if you are going to be effective at messaging and marketing to them.
How do they navigate the buying funnel/process - at the different stages in the buying process (awareness, interest, evaluation, purchase), how do they behave, what are their problems, what are they trying to learn about, etc. Once again, knowing these issues will make you more effective at sending the right messages at the right times.
What are your various buyers' value drivers - ultimately, what is most important to them throughout the buying funnel and at each stage.
The method we apply to overcome this second challenge is "reverse-engineering" the customer. Click on the video to learn more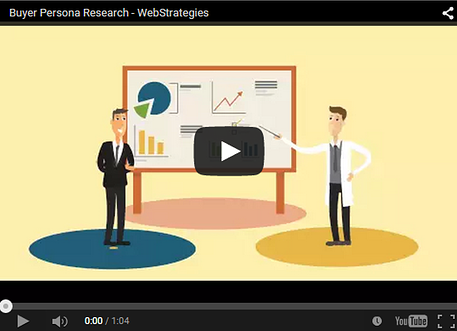 This is a process that involves the following three elements
Doing a deep-dive into the client's business - understanding the client's business objectives and pain points, getting a firm handle on their competitive advantages or lack thereof, understanding their products and services, and much more.
Conducting empathy interviews with the client's customers - extracting the right information about existing customers and extending that knowledge to create personas of potential new customers is the method for "reverse-engineering" the target market.
Apply user testing - once value drivers and buying funnel behaviors are understood, the next step is to evaluate the effectiveness of the client's online properties and compare those to a finite set of competitors to determine how effectively the client is competing online.
After all this research, it becomes a matter of aggregating the data, presenting it to the client and advising next steps.
In summary, failure to measure the right lead and lag metrics is a frequent cause of marketing plans that don't work. The second biggest cause is not knowing your target customer well enough. That's where "reverse-engineering" your customer comes into play.
Want to know more about how you can reverse-engineer your customer?